By: Arthi
Moving beyond the usual vanilla (read cost containment and risk mitigation), professionals in ICT procurement must actively engage opportunities on the horizon that will likely be more rewarding for their function in the mid-to-long term. The triad of disintermediation, standardized contracts, and centralized purchase of goods and services promises to bring new opportunities to the doorstep of ICT industry to appreciably improve margins. The rise and rise of cloud services and more enhanced cloud computing security are hastening the switch to fixed cost OpEx solutions, thus helping businesses improve predictability of their IT spending. ICTs can serve as linchpins of successful climate change actions, and this can turn out to be an onerous responsibility. However, by sowing the seeds of "green thinking" and installing life cycle assessment (LCA) into the supply chain, ICT enterprises stand to excel in social and environmental sustainability, in addition to maximizing profits.
Driving business excellence with ICT procurement innovations and staying ahead of the curve
A strong case for single-window procurement:
With better line of sight into their supply side, CPOs responsible for ICT infrastructure can capture and reduce spend outside of standard company policies in a noticeable way and, by so doing, improve their net operating income. With centralized ICT procurement programs and enabling software, it should be possible to not only curb unplanned spend, but also capture purchase analytics and ensure deep and accurate information is available at the fingertips of procurement professionals when they need it. Intermediaries in the ICT procurement circuit tend to pad up costs, and automation and digitization of procurement will slice this excess flab in no time. This means more savings. Besides, with fewer intermediaries along the supply lines, businesses will find their logistics picking up more speed and efficiency.
Reframing the conversation around consumption-based pricing:
Accessing IT infrastructure and applications via the Internet on an on-demand basis ("cloud computing") is becoming the new normal in ICT procurement. Improved security for data across end points, while in transit, and during storage on network locations is fast-tracking the ICT sector's journey to the cloud. Sluggish economic growth in many parts of the world is also accelerating this paradigm shift from historical one-time upfront investments in ICT assets (CapEx) to pay-as-you-use models (OpEx) with lowered upfront costs. Nearly 70% of all decision-makers plan to migrate from legacy enterprise software to cloud-based tools or migrate their workloads from on-premises datacenters to the cloud, according to a Q4, 2022 survey. Two-fifths of those surveyed want to increase adoption of cloud-based services. Importantly, worldwide spend by public cloud end-users is all set to touch $550 billion in 2023, up from $450 billion in 2022.
Redefining environmental impact with lifecycle assessment:
Greenhouse gas emissions by the ICT sector is a growing concern, and without meaningful decarbonization measures, CO2 emissions will hit 852 MMT annually by the end of this decade. The environmental impact of an ICT product across its lifecycle stages, from mineral mining, manufacturing, storage, transportation, use, and disposal, is substantial. The sector boasts one of the most globally spread-out supply chains. ICTs are considered a crucial piece of the "climate change mitigation" puzzle, so much so that the International Telecommunication Union (ITU) has developed a globally agreed-upon methodology to measure the impact of ICTs on climate change throughout the life cycle of their products and services. Therefore, embedding a lifecycle perspective of the environmental impact of such assets in every link of the ICT procurement process is a must for any enterprise hoping to stay relevant five years down the line.
Revolutionize operations: Transformative ICT procurement strategies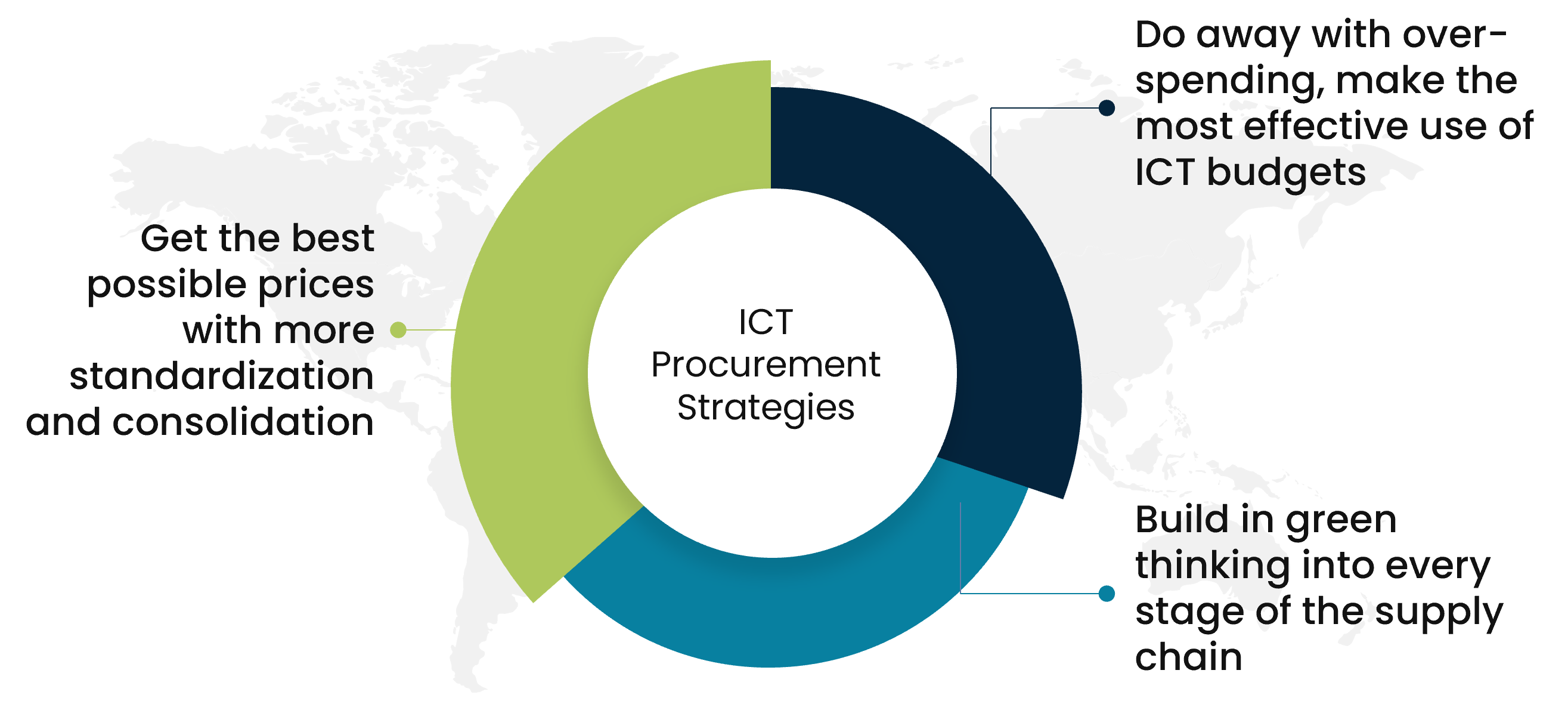 Get the best possible prices with more standardization and consolidation:
Consolidating procurement using e-procurement systems will rid procurement environments of avoidable and cumbersome manual tasks. Contrary to popular perception, an online ICT procurement process does a lot more than just shrinking the purchase cycle. Certainly, it is going to tame the menace of unapproved spend and very appreciably at that. But there is a lot more to e-procurement. The application of ICT in procurement helps CPOs discover useful information in large data sets on past purchases, buying frequency, quantity, pricing, vendor performance, and supplier obligations to make more informed decisions. Furthermore, by significantly disintermediating the purchase ecosystem, procurement teams can pare down at least 10-15% in costs. Moreover, since the system efficiently pools purchase orders, buyers can make use of economies of scale to clinch better deals from suppliers.
Do away with over-spending, make the most effective use of ICT budgets:
By switching to OpEx models, businesses can avoid the long-term service contract lock-ins associated with traditional ICT procurement spend. Moreover, by taking the OpEx route, businesses can move their non-core tasks to certified external "managed services providers," thus freeing their in-house IT teams to focus on more strategic activities. Since the onus of running servers, hardware, and database is on the cloud service provider, ICT enterprises can get them to ramp-up and ramp-down the cloud infrastructure as needed to handle workloads. Moreover, as organizations pay fixed monthly costs in the OpEx mode, they can forecast their IT spending, especially for the near-to-mid-term, easily and more accurately. Costs apart, cloud-based environments ensure ready access to online services for authorized users, no matter where they are, what device they are on, and what time of day or night.
Build in green thinking into every stage of the supply chain:
In a circular economy, the ICT sector must strive to minimize use of virgin materials while lengthening the useful lifespan of assets by up to 100%! Although not easy, such steadfast actions on climate change would have the cumulative effect of mitigating up to half of all GHG emissions by 2030. In an all-out effort to reduce e-waste and limit the amount of such scrap reaching landfills, ICT suppliers must reimagine and fabricate new products that are reusable, repairable, replaceable, and upgradeable without too much hassle. Many stakeholders increasingly look at the practice of planned obsolescence of ICT assets such as end of support for software. Replacement of working servers by data centers after just 2-3 years of service for 'security reasons,' is another example. A lot of consumers care about products' environmental, social, and corporate governance (ESG) claims, and many see planned obsolescence as unvarnished exploitation of buyers. Furthermore, from a mid-to-long-term perspective, it is important that ICT procurement organizations measure the environmental impact of an ICT asset every step of the way from production to recycling or waste.
Why Choose SpendEdge?
We have evolved over two decades into a one-stop for market intelligence with a strict focus on procurement and provide a breadth of offerings ranging from alerts and mega trend reporting to read-to-use category intelligence and bespoke reports tailored to specific client needs. ICT enterprises routinely avail our premium supply market intelligence and supplier cost analysis to effectively onboard verified customers, negotiate better prices, pare away costs, and preempt supply chain breakdowns.
Our experts help ICT players stay on top of suppliers' sustainability practices and make sure supply chain partners see activities through the lens of "lifecycle assessment" when it comes to the environmental impact of products. Green is the new currency of business success, and sustainable ICT procurement, the mantra for the sector – now and in the future. Mindful of this, we offer solutions that are not just wallet-friendly but also enable ICTs to embed sustainability into every stage of their product fulfillment chain.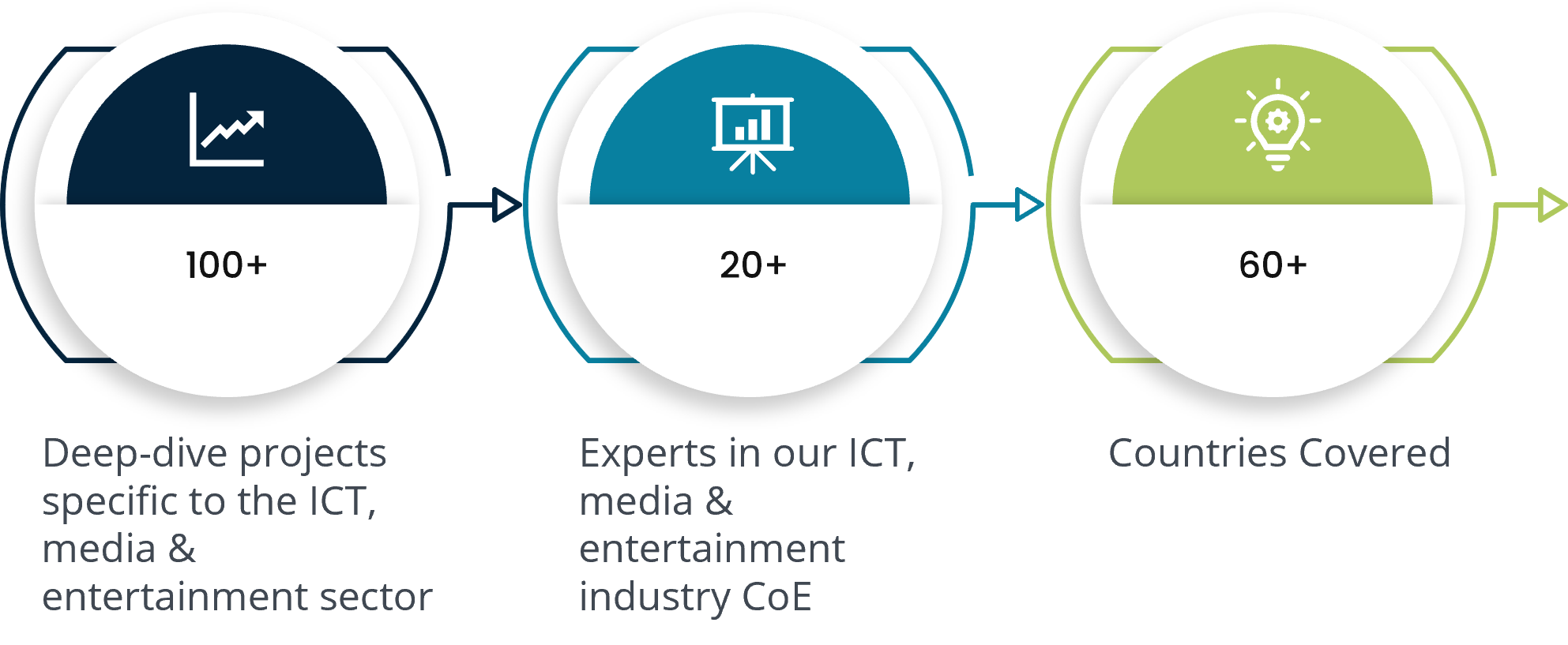 Success stories: SpendEdge's market intelligence empowers ICT procurement clients with cost savings and strategic achievements
Our client is a leader in mechanical, electrical, and plumbing (MEP) products and services of more than two decades' standing, with nearly $80 million in annual revenue and a 600-strong workforce. In early 2021, the client was prospecting for IT infrastructure and hardware suppliers. Before formalizing the deal, the client wanted to develop an in-depth understanding of pricing, cost structure, supplier power, market competition, and negotiation models in the previously mentioned markets. Around Spring 2021, the client turned to our specialists for assistance. Our experts considered 10-12 categories of products and services across IT hardware and infrastructure, software, as well as managed services. Our cost breakdown detailed all the costs associated with target IT hardware such as raw material, labor, manufacturing, administration, and R&D. Our ICT procurement market insights also capture three pricing models and their adoption level. The study also covered competitive forces, such as the bargaining power of suppliers, buyers, and new entrants; market rivalry; as well as substitution threats that shape the target market. The study also weighs up three market-defining trends across hardware, print services, and cloud platforms. The report is also a rich source of supply side insights and evaluates nearly 25 potential and incumbent suppliers based on criteria such as their global IT partnerships, hardware and infrastructure offerings, service platforms, and years of experience. The client has inked a deal with one of the vendors shortlisted by our study.
ICT supply chains are seeing increased disruptions and the need to mitigate them is a huge concern for any business in the sector, not to speak of the looming sustainability issues on the supply side. With the right ICT procurement insights, you can deflate these challenges. To know more, contact us now.
FAQ
What role does sustainability play in ICT procurement?
ICTs can reduce their carbon footprint, produce more eco-friendly products and services, and reduce or optimize their energy use.
How can market intelligence benefit ICT procurement?
Relevant market intelligence serves as early warning signs of events and help businesses plan alternative supply sources.
What are the key challenges in ICT procurement?
Fast-changing technology, antiquated procurement rules, and shortage of domain-specific procurement experts.
Author's Details
Arthi
Associate Vice President, Sourcing and Procurement Intelligence
Arthi is an Associate Vice-President with Infiniti Research. She leads one of the procurement intelligence groups within the organization supporting global life sciences and FMCG companies by proving data-driven procurement insights.