By: Ankur Rishi
Evaluating RFPs is a crucial first step in shortlisting and engaging with best suppliers. However, a few mistakes in processing are derailing the entire RFP process in many cases.
An often-underestimated process called RFP :
The RFP process, starting with requirements gathering and consolidation of vendor responses and culminating in the engagement of a right-fit vendor, can be an arduous process. This is especially so in the absence of digital supporting technologies and the right research partner who could recommend the right strategies. Nevertheless, businesses that have seen the fruits of developing RFPs based on right questions based by research will vouch for their enduring benefits. These include probing the right questions to suppliers, conducting evaluations based on the right capabilities, shrinking sourcing time by up to a half, exercising more control over spend like never before, and eliminating guess work in supplier selection. At the same time, research backed RFP development holds the potential to value-enrich the procurement organization, overall.
RFPs can be extended to a range of procurements from complex to downright simple, and everything in between. Not surprisingly, businesses that have taken early steps to harmonize their RFP process for all spend areas are reaping the benefits already. Simplification of RFP process is often thought of as a more time- and cost-saving exercise. Of course, cost optimization is a given in any RFP process. Going way beyond that, taking a structured approach in RFP development and supplier evaluations are helping many procurement organizations spread their scarce talent across higher-order procurement tasks, which have a direct impact on bottom lines. Importantly, more effective and smarter RFP evaluations can help businesses navigate risks by enabling procurement professionals to pose the right questions based on best practices from the industry clubbed with deep and accurate data derived from historical and ongoing procurement activities.
Why turbocharging the RFP activity is the need of the hour :
"I'm gonna make him an offer he can't refuse." That is certainly one of those iconic film quotes of all time that gives goosebumps. Away from the reel world, in business, vendors do make offers that the client finds hard to resist, but only from a price perspective on most occasions. Picking the lowest-priced vendor has become the default setting for a lot of RFP managers. Sugar-coated offers, pushy salespeople, and picture-perfect product demos tend to cloud the reasoning of RFP teams, and that is fraught with risks, to say the least. When emotions, gut feeling, biases, and opinions, to the exclusion of hard facts and vetted data, become the baseline in vendor assessments, that should set alarm bells ringing. Because, at stake are millions of dollars! The root cause of the problem is that, over time, the RFP process has turned into a lifeless routine. Suffice to say, RFP evaluation doesn't get the attention it deserves many a time, and I know quite a few procurement professionals who skip the process. The reason: not enough time. There might be a price to pay, not while sealing a deal, but perhaps three years into the contract, as many businesses have realized the hard way. Vendor selections based on poorly developed RFPs, unscripted approaches, and haphazardly created "initial vendor lists" can give rise to unexpected hidden costs and enlargement of the scope of work to include unplanned tasks (scope creep). All of these threaten to bloat corporate budgets (cost creep) and delay or even derail projects.
How your business can benefit from SpendEdge intelligence and solutions for RFP Vendor Selection: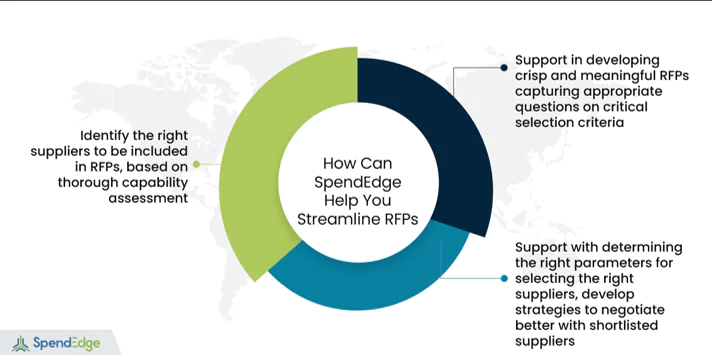 How SpendEdge can help you:
At SpendEdge, our experts work with procurement organizations across industries to not only vet their RFPs but also futureproof their sourcing workflow. At a time when RFP errors are costing companies, from retail to healthcare and chemicals, dearly by way of financial loss and reputational damage, the criticality of the RFP process cannot be overstated. With assistance from our professionals, businesses from across industries have cemented strong supply-side equations and connected the dots in relationships to secure their sourcing and keep the momentum going in uncertain times. By bonding more effectively with suppliers, enterprises, large and small, have realized appreciable dollar savings and driven incremental improvements to their processes. Our experts bring into play time-tested vendor selection criteria and scorecards to onboard the right vendors based on proven performance metrics. With this, clients can avoid the baggage of laggards in their vendor base at the very outset. We don't stop there either. Furthermore, we help businesses track supplier output on a continuous basis along key dimensions like on-time delivery, quality, and cost.   
Success Stories: How SpendEdge helped an industrial manufacturer elevate its RFP process
Our client is a mid-size industrial manufacturer with operations in North America and Europe. The business has consistently posted 2-3% average growth annually until 2022 last quarter on the back of significant projects from government agencies. Anticipating a slowdown, starting second quarter 2023, the client turned to our experts to help reduce operating costs with a view to bracing itself against imminent market shocks. The client had identified running RFPs to re-negotiate contracts with high-spend suppliers as a potential candidate in the first phase of its cost containment drive.
Our procurement specialists set to work almost instantly, and based on the client's brief, we identified several opportunities to keep costs down to a minimum while avoiding risks and pitfalls crowding RFPs. We proposed a rethink of the RFI solicitation procedure to ensure only suppliers with capabilities that closely map the client's requirements were contacted in the first place. At one stroke, this could potentially pare out the cost involved in sending out RFPs to a large number of suppliers who we identified, with the hope of choosing the best available ones! It also shrunk the window for reviewing a large pool of proposals. This also gave an opportunity to probe the right questions on pricing models, negotiation possibilities and pricing levels giving a clear idea on potential savings against current spend with incumbent vendors.
Well thought out pre-proposal meetings with potential vendors help set the compass of expectations and lay down procurement guidelines without any margin of doubt. Besides, it gives suppliers an opportunity to field their queries and get technical issues resolved before it's too late in the day. Our experts recommended that such pre-proposal conferences be invariably held for a majority of high-stake RFPs. Procurement stakeholders were also encouraged to energize such pre-proposal sessions to get vendors to talk freely without inhibitions and bring workable solutions to the table.
Throwing vague questions at the vendor, which almost always fetch equally hazy responses, can do more harm than good for procurement organizations. Besides, there is the risk of dumbing down the procurement discipline as such. With this in mind, our experts made a case for making the RFP process and associated templates more watertight, such that they return measurable responses for the most part from vendors. The client has since reimagined the RFP templates, making sure they are informed by relevant technical, functional, and operational factors. The client also carried out third-party testing of the RFP template, at our suggestion, to validate its efficacy. 
Negotiating terms and conditions of a deal is not the same as sealing a deal, that is, signing on the dotted line, in other words. Too often vendors assume the contract has landed in their laps, and when they realize they haven't actually, at least some of them tend to go ballistic. It is essential to clear the air with suppliers upfront and early in the game that the company is talking with multiple suppliers, and talking doesn't amount to closing the deal. This also formed part of our advisory to the client.
g company knocked on the door of SpendEdge. They sought to alleviate the impact of increasing chemical costs and decrease inflationary pressures. They were also not happy with the quality of dyes procured from their current vendor as it degraded with time and wanted SpendEdge to help them identify alternate suppliers.
Our expertise enabled the client to identify the vendors who charge competitive prices for the materials procured. Our analysis of the past performance of the suppliers helped the company to ensure that the quality provided is never compromised. In addition, our team also provided information about the latest regulations pertaining to the raw materials and helped assess the suppliers that complied with these regulations.
The client was incredibly pleased with the results of our recommendations as they were able to achieve a smoothly functioning procurement process.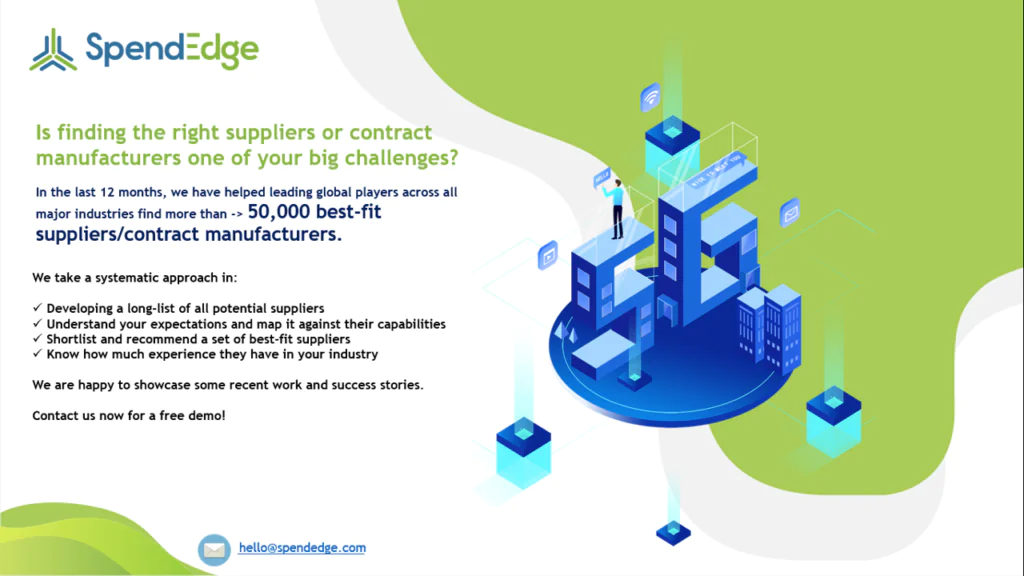 Click here to address your procurement problems
Author's Details
Ankur Rishi
Vice President, Sourcing and Procurement Intelligence
With more than 12 years of advisory experience, Ankur manages platform content and services within the sourcing and procurement vertical. Over the years, Ankur has provided consulting services to category leaders from chemicals, energy, and packaging industry, on varied topics, such as category strategy, spend analysis, commodity pricing, and clean-sheet analysis.