By: George Mathew
Procurement in the oil and gas industry involves sourcing, purchasing, and managing the supply chain for various materials required in exploration, production, refining, and distribution activities. This industry procures exploration and production equipment, refining equipment, pipeline and transportation equipment, safety equipment, and chemicals and additives. The procurement process starts with identifying the requirements. The next step is to find potential suppliers who can guarantee the best service quality. After evaluating the supplier's past performance and concluding negotiations, the best vendor is chosen, a contract is established, and the order is placed. This process involves other activities also like RFP, delivery and logistics, and inspection and quality control. The industry's procurement teams must overcome difficulties like quality hazards, supply chain concerns, and high procurement costs while acquiring these materials.
Procurement in different oil and gas segments
Upstream procurement
The primary focus of upstream procurement is on locating the materials needed for the early stages of oil and gas production, such as exploration, drilling, and well development. This involves procuring equipment, tools, chemicals, and services to support upstream operations.
Midstream procurement
Transporting and storing oil and gas falls under the purview of midstream procurement. In order to move crude from oil wells to refineries and distribution hubs, it entails acquiring pipes, storage tanks, pumping stations, and other infrastructure.
Downstream procurement
Equipment, apparatus, and services required for turning crude oil into useful products like gasoline, diesel, jet fuel, and petrochemicals are acquired through downstream procurement. This covers the purchase of catalysts, refining machinery, and maintenance services for refining facilities.
Challenges faced by oil and gas industry procurement teams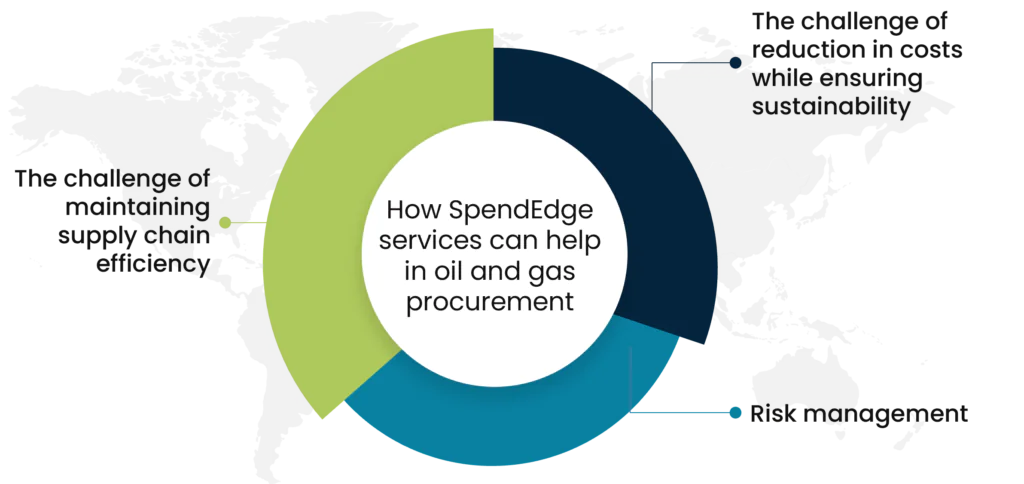 The challenge of maintaining supply chain efficiency
Maintaining supply chain efficiency is a complex and multifaceted challenge that involves managing various interconnected processes, stakeholders, and variables to ensure the smooth flow of goods and services from raw material suppliers to end customers. When it comes to oil and gas industry, heavy equipment and sensitive chemicals are procured that need to be monitored carefully. To detect supply chain problems, it is a necessity to have complete visibility into supply chain processes and activities. This will help in identifying the bottlenecks in the supply chain and resolving them quickly.
The challenge of reduction in costs while ensuring sustainability
Reducing costs while embracing sustainability is a critical challenge faced by oil and gas industries today. It involves finding ways to minimize expenditures while simultaneously adopting environmentally and socially responsible practices. The heavy equipment used for drilling and refining is costly and involves high investments that can increase procurement costs. Transition to renewable energy sources like solar, wind, and hydropower can help to reduce reliance on fossil fuels and lower energy costs and protect the environment.
Risk management
The procurement function is sensitive to a lot of risks like low quality, delays in deliveries, and transportation costs. This makes it necessary to continually identify and minimize the risks to ensure a smooth flow of goods and materials throughout the supply chain. The procurement teams must look for technologies that can determine risks and provide solutions for the same before it can cause any harm to the operations.
How SpendEdge services can help in oil and gas procurement
Detect supply chain hindrances
We employ innovative approaches for you to detect supply chain hindrances. Our supplier intelligence helps you to identify the disruptions and complexities so that you can resolve them before they impact your supply chain processes. We help you identify potential bottlenecks, be they related to equipment or chemicals procurement, and provide you with appropriate remedial measures for the detected issues. You can trace and track supply-side vulnerabilities and get detailed insights on per-unit supply chain costs. Get a 360-degree view of the supply chain process to get comprehensive information about the changes in market conditions.
Identify cost-saving opportunities
Through our pragmatic and exhaustive cost analysis, you can identify cost-saving opportunities. Gain a good understanding of suppliers' pricing and engagement models to get maximum value for drillers and other refining equipment. We identify modern sustainability practices that are used to produce clean energy and analyze potential sustainability gaps. We also provide information about suppliers who charge actual prices for the materials and follow sustainable practices and equipment. With our insights on new sustainable technologies, you can establish short-term and long-term goals for suppliers in all tiers.
Identification of procurement risks
Our analysis of the procurement process ensures that your procurement teams are equipped with accurate insights to frame the right contingency plans. Evaluate existing and potential risks associated with each supplier using our supplier risk analysis to take corrective action and strengthen overall supplier relationship management. Get insights into latest developments related to risk management tools, which you can leverage to further reinforce supply chain resilience.
The success story of an oil company that recently availed SpendEdge services
Procurement in the oil and gas industry is prone to several issues due to the complexity of the supply chain and procurement process. Recently, an oil company headquartered in Europe consulted SpendEdge for recommendations on how to reduce their procurement costs and embrace sustainable practices.
SpendEdge experts identified that the reason for high procurement costs. The company determined cost-saving opportunities with the help of our expert technology-enabled cost-modeling solutions. The experts provided the client with information about suppliers' pricing and engagement models. Our insights into the latest ESG trends and supplier sustainability analysis helped the client to embrace sustainable practices.
Our recommendations and insights helped the company to achieve a reduction in costs while simultaneously improving their sustainable practices.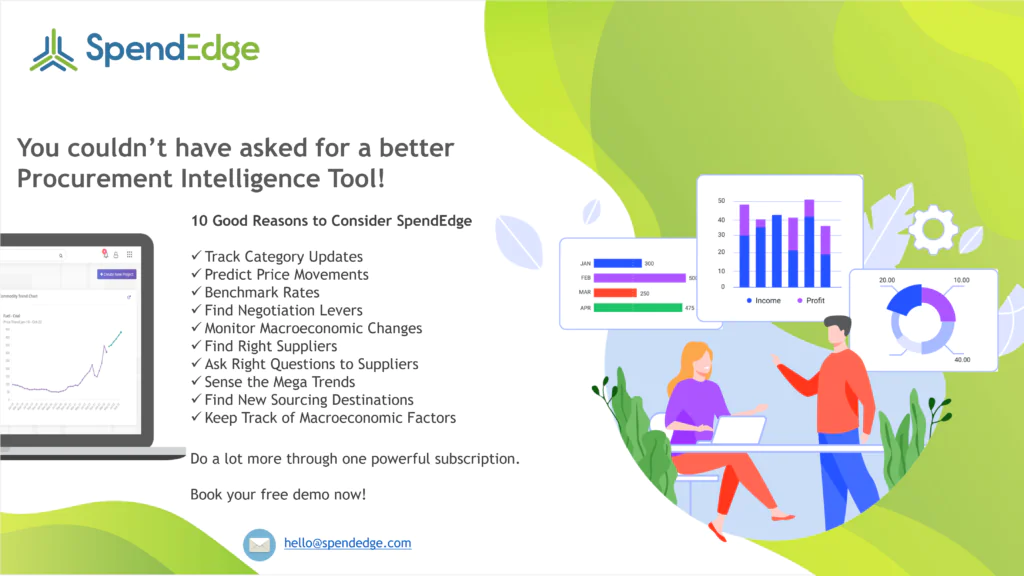 Contact us now to solve your procurement problems!
Author's Details
George Mathew
Associate Vice President, Sourcing and Procurement Intelligence
George is a procurement specialist at Infiniti Research and provides advisory services to clients across the pharmaceutical, CPG & FMCG, energy, and automotive sectors. He specializes in the procurement areas of industry benchmarking, cost modeling, rate card benchmarking, negotiation advisory, and supplier intelligence.