By: Ankur Rishi
Amid expanded ground operations in Gaza and with no ceasefire in sight, per-barrel oil prices seem to be creeping ominously toward the $100 mark. There are growing fears that central banks' efforts to rein in higher inflation are going to prove tougher in the days ahead. Any widening of the Middle East conflict is sure to squeeze fuel supply lines that are already under strain because of the Ukraine war. Pricing and supply security are not the only issues oil and gas procurement must confront in the days ahead. For years, the industry has been accused of "climate crime" since oil and gas participants directly or indirectly account for more than two-fifths of global greenhouse emissions! So, there are vociferous calls from stakeholders for the oil and gas industry to rededicate itself to the cause of sustainability and minimize the carbon footprint from prevailing operations. Moreover, young people are increasingly buoyant on renewable fuels as a career path, and oil and gas procurement faces the uphill task of making themselves more attractive for millennial workforces by way of top-of-the market compensations, flexible work policies, and more opportunities for learning and faster career advancement. 
ESG focus is a top priority for oil and gas procurement
The oil and gas industry empties tons of toxic pollutants, including various organic compounds and greenhouse gases, such as methane. The last- mentioned chemical compound is the main culprit behind up to a third of all global warming, and this has been the case since pre-industrial times. Waste and byproducts from oil and gas exploration degrade ambient air, water, and soil, besides causing negative health outcomes in humans and animals. Among social impacts, land use changes, an inevitability in oil and gas exploration, are resulting in the displacement of local communities. The worst hit are the defenseless populations in low-income economies. Time and again, studies have flagged the role of large transnational and state-owned oil, gas, and other extractive enterprises in perpetuating corrupt practices in governance in postcolonial nations.
Nothing can be worse than higher fuel prices
As the conflict in Gaza rages, oil prices are up 3%, with per barrel Brent futures hovering around $90.48 and West Texas Intermediate (WTI) just shy of $86 a barrel. The $90 mark, a magic number in oil and gas trading, has been dented, and that's when the world starts to confront the challenge of inflation in the real sense. A third of the world's oil supplies comes from the Middle East, and reports say the American leadership is moving swiftly to avoid any expansion of the theater of war, which might squeeze oil supplies via the Hormuz Strait. This narrow waterway is a nautical chokepoint for almost a fifth of global oil supplies and more than a third of liquefied natural gas (LNG) shipments. So, that's a wake-up call for oil and gas procurement organizations.
Talent retention is a big issue
The sector is challenged with skills shortages, with many millennials, boasting between 5 and 10 years of service, mulling exit options. The way things are not enough freshers are signing up for jobs in an industry that is struggling to overcome its "image problem." Just for this reason, a growing number of technology natives want to give the sector a miss. Billed as a game-changer with bottomless potential, renewables look rosier for the millennial generation from a career standpoint. Lack of flexible career progressions and avenues for training and development, not to speak of attractive pay packages, are also hindering talent retention efforts in the oil and gas industry. Truth be told, oil and gas procurement organizations have a big job on hand.
How can SpendEdge can help: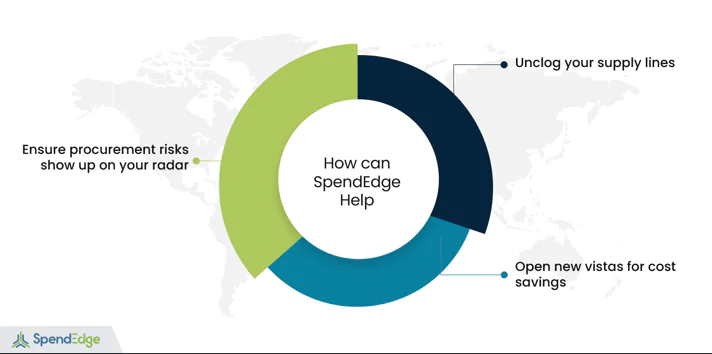 Unclog your supply lines
Supply-side experts at SpendEdge work closely with clients, including in oil and gas procurement, to uncover potential disruptions and vulnerabilities in the supply network before they start to adversely affect production and delivery. Our supply chain track 'n' trace services are designed to provide clients with clear visibility of the supply network at a granular level, so they can control costs at a per-unit level while mitigating risks.
Ensure procurement risks show up on your radar
Our incisive procurement analysis, including in oil and gas procurement, is enabling client teams to develop the right backup plans to insulate the sourcing organization from various business risks. Our experts evaluate current and potential risks at a per-supplier level, so clients can take timely action to plug supply-side vulnerabilities and always ensure a smooth flow of goods and services. Our risk management tools put timely alerts at the fingertips of oil and gas procurement teams to help them improve the bounce-back capabilities of their supply networks.
Open new vistas for cost savings
Clients across industries are leveraging our cost analysis framework to uncover new cost-saving opportunities in oil and gas procurement that they thought never existed.  For instance, businesses have succeeded in getting the most value from driller and refinery equipment purchases thanks to an improved understanding of supplier pricing and vendor engagement models.
Success story: Resetting benchmarks for an oil and gas procurement organization in North America
Our client is a frontrunner in the realm of oil and gas development in North America, and its hydrocarbon generation is bolstered by vast reservoir acreages in prolific oil-producing regions in the US. The client's operations stretch across more than a dozen countries around the world. By mid-2022, well productivity has jumped by almost a quarter year on year. Impressive well outputs and surging crude prices have been driving strong margin growth for the client. With rigorous fiscal discipline, the hydrocarbon enterprise continues to generate positive cash flows from its income-generating assets while delivering respectable returns to investors. However, return on investment (RoI) is not the client's sole consideration. The company is also resolved to minimize the environmental, social, and governance (ESG) footprint of its oil and gas infrastructure in line with the pathway to Net Zero envisioned by 2050. The business has its heart set on generating less-carbon-intensive barrels through far-reaching efficiency improvements in its oil and gas procurement organization. To achieve this, the company sought to ascertain how its procurement function fared in relation to the gold standards in industry and discover so-far-hidden opportunities for improvement. The client was on the lookout for a partner with proven capabilities and experience in oil and gas procurement benchmarking. And after a bit of searching, the company reached out to our experts at SpendEdge in 2022 third quarter. Essentially, the client wanted to develop an in-depth understanding of the best practice mantras that successful oil and gas procurement organizations across industries live by.
Backed by more than two decades of experience, including in the oil and gas sector, our experts performed an in-depth examination of how the best-run oil and gas procurement teams in multiple sectors excel in what they do in every single engagement.  Sectors as diverse as automotive, pharma, retail and energy formed the subject matter of our study. What followed was careful and thorough research in which our teams first identified the core purpose of the sourcing function – that is, its reason for existence – at best-in-class oil and gas procurement organizations. Next, the experts put their minds to gathering deep and accurate data pertaining to the rules, roles, and responsibilities of the sourcing function. Among the key performance indicators (KPIs) we considered were the annual purchase spend, volume of merchandise, and sourcing efficiency. The engagement models deployed at the best-of-their-kind oil and gas procurement organizations were also sifted as part of the research. Our study provided what the client wanted, namely, visibility of key metrics best-of-class businesses employ to quantify procurement efficiency. These parameters included total cost savings, cost avoidance, procurement cycle time, and the percentage of suppliers responsible for a lion's share of the spend. The study also considered the ROI in oil and gas procurement, as well as spend under management as a percentage of total spend. The report also captured the very latest oil and gas procurement trends, apart from a thoughtful analysis of oil and gas procurement spend by peer businesses.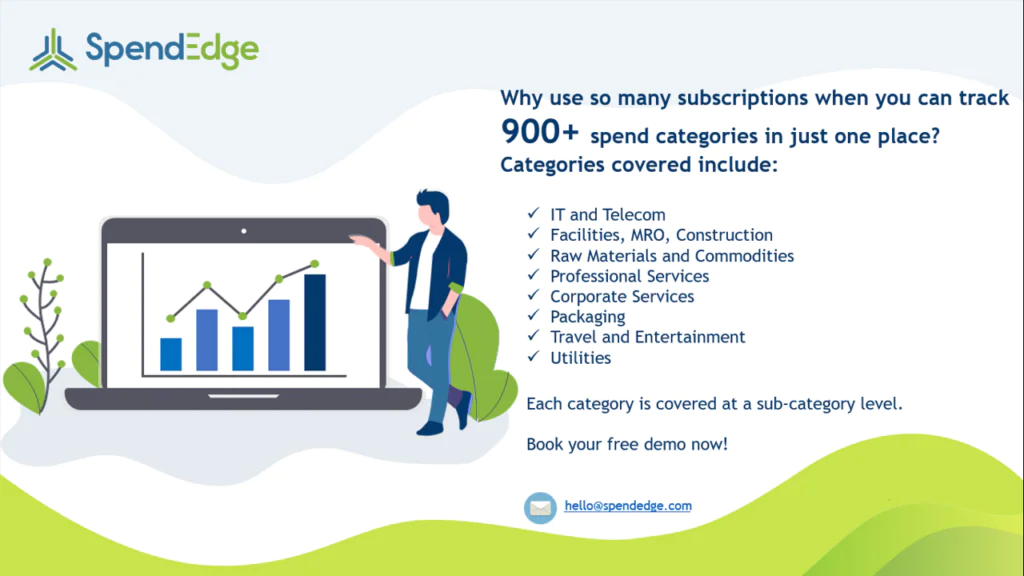 Contact us now to solve your procurement problems!
Author's Details
Ankur Rishi
Vice President, Sourcing and Procurement Intelligence
With more than 12 years of advisory experience, Ankur manages platform content and services within the sourcing and procurement vertical. Over the years, Ankur has provided consulting services to category leaders from chemicals, energy, and packaging industry, on varied topics, such as category strategy, spend analysis, commodity pricing, and clean-sheet analysis.