By: George Mathew
All businesses encounter supplier-related risks, which involve the issues arising from external sources or parties that could disrupt organization's operations. Organizations without clear insight into their suppliers and contracts are unable to perform an analysis of supplier-related risks, leaving them unaware of potential challenges they might confront.
The supply chain holds immense importance for any organization, as it involves a conversion of raw materials, natural resources, and unfinished products into the final goods, which is then delivered to the end customer. As a result, if any stage of the supply chain fails to provide necessary inputs for the next phase, it can cause disruptions across the entire supply chain.
Effectively managing both known and unknown supply chain risks is an evolving procedure that necessitates teamwork and flexibility to guarantee a robust supply chain. By dealing with various risks, companies can strengthen their supply chain's capacity to manage disruptions and continuity. Supply chain risk management involves evaluating, identifying, and alleviating potential risks within a company's supply chain. Implementation of these strategies to manage risks can aid businesses in cutting expenses, improving operational effectiveness, and elevating customer support.
The surge in globalization in recent decades has led to a significant escalation in supplier risk. Modern companies are now responsible for organizing and managing strategies globally, to fulfill regulatory standards, evaluate risk, and minimize them, all while maintaining the optimal productivity levels. This challenge becomes even more intricate in the multifaceted global market. Currently, supply chain managers confront a multitude of financial risks, spanning from stakeholder returns to adherence to regulations. Neglecting to enhance supplier risk management can expose the company to substantial financial setbacks, including reputational damage, regulatory penalties, and production interruptions.
Proactive steps to handle risks : Supply Chain Risk Management
Assessing and analyzing potential vulnerabilities within the supply chain
Identifying and assessing risk involves recognizing potential uncertainties or events that could affect organizations' goals or projects, and then assessing their likelihood and potential impact. The evaluation of relevant supply chain risks must be extensive and should include both the supplier and the location where they provide manufacturing or services. Moreover, it is essential to secure suitable visibility and confirmation from the organization's immediate supplier concerning their vital supporting suppliers through supply chain mapping, due to potential for disruptions or damage to reputation that they might pose. Effectively managing risk starts with its initial recognition. The risk management process commences by developing a risk profile and end with active monitoring to ensure that it continues to operate efficiently.
Measuring supply chain risk informs smart business choices
Supply chain risk quantification involves assessing the potential impact and probability of risks within a supply chain. This process helps organizations prioritize and manage risks effectively by assigning numerical values to different risk factors, such as disruptions, delays, or shortages. There are instances where a supplier might possess strong financial stability, yet it is essential to highlight situations where their manufacturing facility faces significant threats such as natural disasters or geopolitical challenges. Additionally, staying informed about aggregated data concerning potential vulnerabilities within the supply chain's single point of failure is crucial.
Strategies to reduce risk leading to business success
Recognizing specific risk factors is vital for the organizations. The process of assigning measurable values to the various risks present within a supply chain in important. This involves assessing factors such as the probability of a risk event occurring, the potential impact it could have on operations, finances, and reputation, as well as the interconnectedness of risks within the entire supply chain network. By quantifying these risks, organizations can prioritize mitigation strategies, allocate resources more effectively, and make informed decisions to enhance the resilience of their supply chain.
Dealing with supply chain disruptions and restoring operations
Responding to supply chain disruptions involves identifying the root causes, assessing the impact, and implementing strategies like diversification, inventory management, and communication with the stakeholders. To recover from uncertainties, companies can prepare a contingency plan to deal with the unexpected interruptions in the businesses, as well as adjust processes, building redundancy, and leveraging technology to enhance flexibility and resilience.
How SpendEdge can help with Supply Chain Risk Management: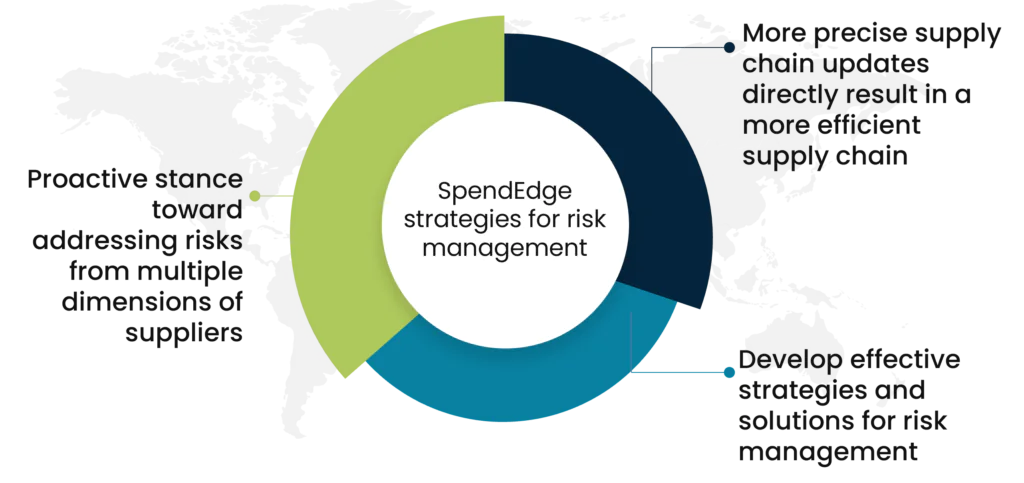 More precise supply chain updates directly result in a more efficient supply chain
Our procurement advisors provide expert guidance and recommendation to businesses while making purchasing decisions. Our specialist advisors help clients in staying updated on supply chain developments. This includes monitoring factors such as supplier capabilities, disruptions, regulatory changes, and the global market shift that could impact the supply chain.
Develop effective strategies and solutions for supply chain risk management
Our experts help in developing streamlined approach on sourcing, vendor selection, contract negotiation, and cost managements. Our advisors also help identifying the potential risks impacting the organization's procurement processes, asses their impact and likelihood, and develop strategies to minimize or eliminate them.
Proactive stance toward addressing risks from multiple dimensions of suppliers
D-Risk, an innovation by SpendEdge, serves as a valuable resource for assessing and controlling supplier risks. Our procurement experts employ this tool to aid businesses in appraising and alleviating potential supplier-related risks. This involves scrutinizing internal and external risk factors, geopolitical influences, operational stability, and expenses, as well as reputation concerns.
Our advisors also possess the capability to assist in analyzing supplier financial data, delivering into their management of revenue and cash flows during periods of economic growth and favorable trends.
Success Story: How SpendEdge helped a pharmaceutical client
Our client is a global pharmaceutical company that produces a wide range of prescription medicines and over-the-counter drugs. The client operates in a highly regulated environment where product quality and safety are of utmost importance. To ensure consistent quality and compliance with regulations, the company relies on a network of suppliers for various raw materials, active pharmaceutical ingredients (APIs), and packaging materials.
The client is in need for effective supplier risk management to mitigate these potential supply chain risks, as pharmaceutical industry is prone to various risks, including disruptions in supply chain, regulatory non-compliance, quality issues, and geopolitical uncertainties. A single supplier failure or quality lapse could lead to significant financial losses and reputational damage.
Our procurement advisors developed a rigorous supplier selection process that helped the client in evaluating potential suppliers based on their financial stability, functional capabilities, regulatory compliance history, quality management practices, and ability to meet the client's requirements. Our advisors also categorized potential risks into different levels of severity and established strong relationships with key suppliers, fostering open communication and collaboration.
Our experts implemented a monitoring system to track supplier performance, financial health, and regulatory compliance in real-time. Furthermore, they diversified client's supplier base for critical materials. Additionally, our experts implemented redundancy measures to swiftly transition to alternative suppliers, when necessary, as means to alleviate potential risks.
The supply chain risk management solutions offered by our experts helped the pharmaceutical client to reduce risk exposure, enhance compliance, develop agile response to issues, strengthen partnerships, and minimize financial losses.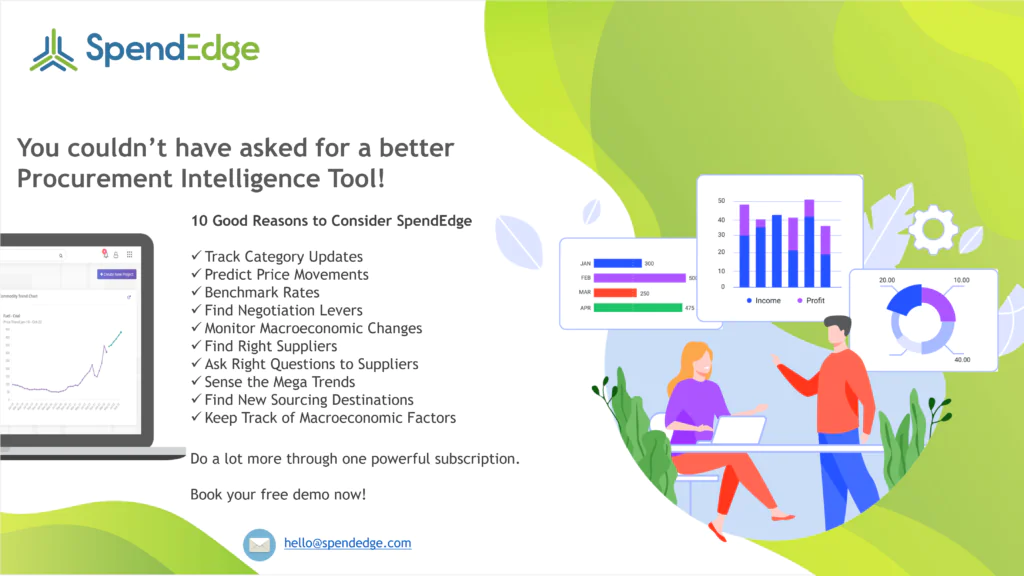 Contact us now to solve your procurement problems!
Author's Details
George Mathew
Associate Vice President, Sourcing and Procurement Intelligence
George is a procurement specialist at Infiniti Research and provides advisory services to clients across the pharmaceutical, CPG & FMCG, energy, and automotive sectors. He specializes in the procurement areas of industry benchmarking, cost modeling, rate card benchmarking, negotiation advisory, and supplier intelligence.