By: George Mathew
CRM (Customer relationship management) software is a cloud-based software that allows companies to manage and analyze customer data in real time. It provides a centralized hub for businesses to access information such as sales pipelines, customer interactions, billing details, and more. The platform offers a customizable dashboard layout that displays Key Performance Indicators (KPIs) relevant to different departments within the organization. This helps teams stay on top of their goals by providing an overview of important metrics.
CRM can be a valuable tool for streamlining your procurement process, but like any technology, it requires proper implementation and use to achieve the best results. Here are some tips for success with Dashboard CRM to Tailor the dashboard to meet specific business needs by selecting relevant metrics, and customizing fields, filters, or views as per requirements. Track KPIs regularly to assess progress towards achieving goals and identify areas where improvement is needed.
How can CRM software benefit the procurement function?
CRM enhances procurement supplier network:
CRM systems play a pivotal role in bolstering procurement supplier networks by delivering real-time data. They empower users to track categories, suppliers, issues, and projects seamlessly, supplying automated streams of up-to-the-minute information essential for informed and efficient decision-making. This enables procurement professionals to stay on top of market dynamics, supplier performance, and project progress, resulting in more effective supplier management, enhanced strategic sourcing, and optimized procurement processes. In essence, CRM's real-time data provision ensures that procurement teams are well-equipped to make informed decisions, foster supplier relationships, and drive efficiency within their supply chain operations.
CRM facilitates stronger relationships:
CRM fosters stronger relationships, be it with customers or suppliers, by establishing a corporate memory. It enables organizations to accumulate and analyze crucial customer data, including their preferences, needs, and interactions. This collective intelligence ensures a more personalized and responsive approach to meeting customer and supplier expectations. By accessing historical data, organizations can anticipate requirements, resolve issues proactively, and tailor offerings to individual preferences. This, in turn, strengthens relationships, building trust and loyalty. Ultimately, CRM's ability to create a corporate memory empowers businesses to deliver exceptional experiences, enhancing customer and supplier relationships and, in doing so, driving long-term success.
CRM aids procurement in time and cost savings:
CRM significantly contributes to time and cost savings in procurement by establishing a centralized database. This database streamlines operations, enabling efficient management of supplier information, contracts, and purchase orders. Through real-time updates and transparency, procurement professionals can make informed decisions swiftly, reducing delays and costly errors. Additionally, it minimizes manual data entry, automates routine tasks, and optimizes resource allocation. By centralizing information and providing real-time data, CRM enhances procurement efficiency, cuts down administrative overhead, and accelerates the procurement cycle, ultimately resulting in substantial time and cost savings for organizations, all while fostering better supplier relationships.
How can SpendEdge help companies use CRM software and enhance their procurement?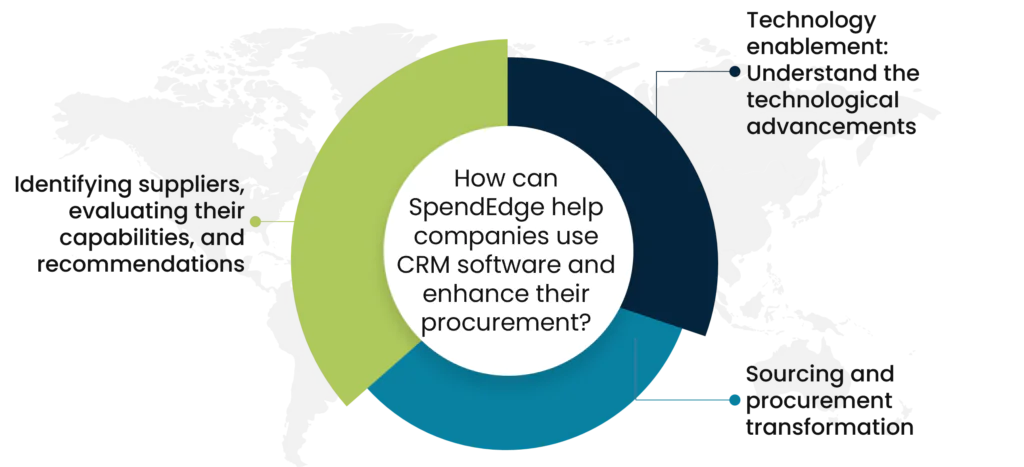 Identifying suppliers, evaluating their capabilities, and recommendations:
SpendEdge specializes in the comprehensive process of identifying potential suppliers, rigorously evaluating their capabilities, and providing well-informed recommendations. Our in-depth analysis includes supplier background checks, performance history, financial stability, and compliance with quality and ethical standards. But what truly sets us apart is our commitment to your specific business objectives. We don't just stop at evaluating suppliers – we strive to understand your unique goals, risk tolerance, and quality standards. We believe in going the extra mile to ensure that the suppliers we recommend are not just capable but perfectly aligned with your strategic vision.
Technology enablement: Understand the technological advancements
SpendEdge's technology enablement services focus on understanding your unique technology needs. We conduct compatibility audits to assess your existing technology infrastructure and provide insights to optimize it. Our experts work closely with you to develop robust application architecture that seamlessly integrates with your current systems, ensuring technology investments are aligned with your strategic objectives, maximizing efficiency and performance. Our approach includes conducting comprehensive compatibility audits to assess your current technology infrastructure. We delve deep into your systems to identify potential bottlenecks and areas for improvement. This in-depth analysis serves as the foundation for providing actionable insights to optimize your existing technology setup.
Sourcing and procurement transformation:
SpendEdge excels in partnering with organizations to catalyze transformative change in sourcing and procurement. We're not just consultants; we're collaborators. Together, we develop and implement a tailor-made strategy that not only streamlines your business operations and processes but also addresses supply chain optimization, and cost reduction initiatives, enhances supplier collaboration, improves risk management, and establishes performance measurement mechanisms. The outcome is a highly strategic and agile procurement function that plays a pivotal role in achieving your overall business success, delivering efficiency, savings, and sustainable growth.
Success story: How SpendEdge helped a US-based cosmetics company procurement streamlining its business operations through CRM implementation
Cosmetics manufacturers procurement refers to the sourcing and acquisition of raw materials, packaging components, equipment, and services necessary for the production of cosmetic products. This specialized procurement process involves selecting suppliers for ingredients such as botanical extracts, chemicals, fragrances, and packaging materials like bottles, labels, and caps.
The client manufacturers procure a variety of chemicals and materials from different suppliers. They were struggling with managing customer data efficiently, fragmented communication, a lack of customer insights, and manual processes.
SpendEdge's sourcing and procurement experts evaluate the client's existing technology infrastructure and business processes to identify areas of improvement. After a thorough analysis, our team recommends implementing a customized CRM solution and devising a seamless adoption strategy to address the client's pain points and enhance their operations. Our solutions streamlined business operations, improved customer service, and drove revenue growth for the client.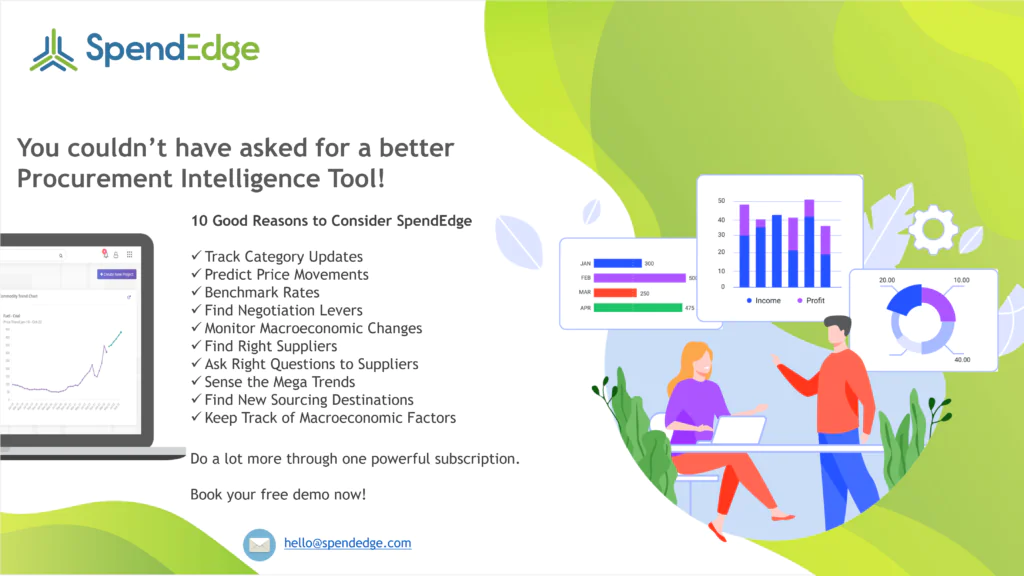 Contact us now to solve your procurement problems!
Author's Details
George Mathew
Associate Vice President, Sourcing and Procurement Intelligence
George is a procurement specialist at Infiniti Research and provides advisory services to clients across the pharmaceutical, CPG & FMCG, energy, and automotive sectors. He specializes in the procurement areas of industry benchmarking, cost modeling, rate card benchmarking, negotiation advisory, and supplier intelligence.