By: George Mathew
In today's highly competitive business landscape, the success of your company is often intricately tied to the performance of your suppliers. Whether you're in the manufacturing, retail, or service industries, the quality and reliability of your supply chain partners can significantly impact your bottom line and customer satisfaction. To ensure your suppliers are consistently delivering their best, it's essential to implement effective supplier performance improvement strategies.
Supplier performance management (SPM) is a business strategy employed to assess, evaluate, and oversee supplier performance, aiming to reduce expenses, mitigate risks, and promote ongoing enhancement. Supplier performance management offers a comprehensive insight into the potential risk a supplier might introduce, enabling the implementation of measures to minimize or eliminate this risk within the context of your supply chain.
Key Industry Insights and Best Practices on Suppliers Performance Improvement
Supplier Relationship Management (SRM): Building strong relationships with your suppliers is essential. Invest time and effort in getting to know your suppliers, understanding their capabilities, and aligning your goals. Regular communication and collaboration can lead to better performance.
Supplier Audits and Assessments: Conduct regular supplier audits and performance assessments. Evaluate factors like quality, on-time delivery, cost-effectiveness, and compliance with regulatory standards. This data can help you identify areas for improvement.
Supplier Scorecards: Develop supplier scorecards to track and measure key performance indicators (KPIs) consistently. This provides both you and your suppliers with a clear picture of their performance over time.
Risk Management: Identify and assess potential risks within your supply chain. Develop risk mitigation strategies and contingency plans to address disruptions like natural disasters, political instability, or economic downturns.
Challenges in Improving Supplier Performance
Challenges Faced by Smaller Vendors in Adopting EDI Technology and Managing Inventory Effectively
Smaller vendors might encounter challenges when attempting to adopt technology such as Electronic Data Interchange (EDI), which streamlines transactions and accelerates order fulfillment, a practice commonly utilized by larger vendors. This discrepancy can result in operational inefficiencies and non-adherence to the EDI standards expected by larger institutions.
Inadequate inventory management can further exacerbate these issues, potentially resulting in problems like overstocking, stock shortages, and improper allocation of inventory. These shortcomings can ultimately lead to lost sales, dissatisfied customers, and harm to the vendor's reputation.
Striving for Synchronized Supplier-Customer Alignment: Pursuing Quality, Efficiency, and Innovation
In an ideal world, suppliers would align their business practices with the needs of their customers. This alignment would encompass shared ethical values, a dedication to continuous improvement, adherence to similar standards of excellence, and more. Think about high-performance systems or lean enterprises as examples. The overarching objective is to enhance quality, reduce costs, and expedite delivery times. Suppliers who achieve this may inadvertently disadvantage those who do not. For suppliers unaccustomed to prioritizing continuous improvement, they might struggle to meet their customers' ever-growing demands for swifter, more affordable, and superior goods or services."
Navigating Regulatory Compliance Challenges in Global Supplier Relationship Management
Supplier relationship management teams face a significant hurdle in guaranteeing that suppliers adhere to regulatory demands, such as those pertaining to pharmaceutical ingredients, environmental controls, and manufacturing standards. The complexity of monitoring compliance escalates when dealing with multiple suppliers across diverse countries. A pivotal responsibility lies in fostering strong collaboration and coordination with suppliers while ensuring the fulfilment of service-level agreements
How SpendEdge Can Help Improve Your Suppliers' Performance
---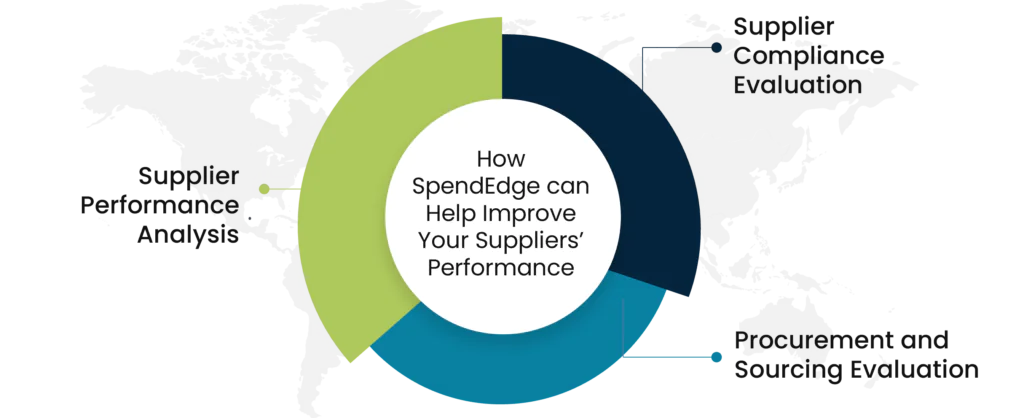 ---
Elevating Supplier Performance Analysis Through Comprehensive Data Integration
SpendEdge serves as a crucial intermediary in the comprehensive data-gathering process, drawing insights from a diverse spectrum of sources that encompass supplier-generated reports, internal organizational records, and industry-standard market benchmarks. This extensive data repository is meticulously scrutinized and subjected to a sophisticated analytical framework, culminating in a nuanced and in-depth assessment of supplier performance
Strategic Procurement and Sourcing Evaluation: Uncovering Operational Efficiencies and Supply Chain Enhancement
SpendEdge undertakes a comprehensive review and analysis of the existing procurement and sourcing methodologies utilized by both the client organization and its network of suppliers. This exhaustive evaluation aims to meticulously identify any instances of misalignment, operational bottlenecks, or inefficiencies that may be impeding the smooth flow of the supply chain. By delving deep into these intricacies, the assessment equips stakeholders with a profound understanding of their procurement landscape, paving the way for targeted enhancements, process optimizations, and strategic realignments
Comprehensive Supplier Compliance Evaluation: Enhancing Regulatory Adherence, Quality, and Ethical Practices
SpendEdge possesses the capability to perform a comprehensive and meticulous evaluation of your suppliers' prevailing compliance status. This assessment extends across a spectrum of critical domains, encompassing regulatory adherence, stringent quality standards, environmental compliance, and ethical practices. Our thorough examination is geared towards providing you with a holistic view of your supplier's performance in these vital areas.
The Success Story of How SpendEdge Helped a Manufacturing Company in France
Our client, a manufacturing company based in France, faced ongoing challenges with suppliers' performance, resulting in production delays, quality issues, and increased costs. The company recognized the need to enhance supplier performance to meet its production goals and maintain product quality.
We initiated a comprehensive evaluation of our client's existing supplier base. By employing our extensive industry knowledge and best practices, we identified key supplier selection criteria focusing on quality, reliability, and financial stability. Following that, we worked collaboratively with our client to define a set of key performance indicators (KPIs) tailored to each supplier. These metrics encompassed critical aspects such as on-time delivery, defect rate, and lead time.
Our client has encountered a comprehensive focus on supplier performance, particularly on-time delivery, resulting in a significant reduction in production delays. This newfound reliability allowed our client to consistently meet its production schedules, leading to improved customer satisfaction.
Author's Details
George Mathew
Associate Vice President, Sourcing and Procurement Intelligence
George is a procurement specialist at Infiniti Research and provides advisory services to clients across the pharmaceutical, CPG & FMCG, energy, and automotive sectors. He specializes in the procurement areas of industry benchmarking, cost modeling, rate card benchmarking, negotiation advisory, and supplier intelligence.