By: George Mathew
An important aspect of any retail business is to manage inventory is the most optimal manner. This means ensuring that neither too little nor too much stock is on hand. Optimally managing inventory helps retailers meet customer demand without running out of stock while simultaneously minimizing wastage by not carrying excess stock.
Effectively managing retail inventory helps reduce costs and obtain a proper understanding of sales patterns. Retail inventory management tools and methods give retailers important information with which they can optimally run their businesses. When implemented properly, it provides benefits such as lower inventory costs, reduced out-of-stocks, reduced spoilage and obsolescence, better multi-channel and omnichannel performance and order fulfillment, less shrinkage, improved supply chain management, and better forecasting of future sales, growth, and capital needs.
Effective inventory management techniques for the retail category:
Optimally order stock
It is important for the success of a retail business that the ideal amount of stock is ordered at the right time. Inventory should be managed based on customer demand to ensure that the most demanded products are never out of stock. This can be achieved by setting data-backed levels for safety and par stock, analyzing reorder thresholds, optimizing order sizes with economic order quantity (EOQ) and using the open-to-buy technique to plan purchases. It is also important to track which products are the best and worst performers and understand indicators of customer demand and seasonal fluctuations and know the turnover rate and GMROI.
Collaborate with suppliers and vendors by being transparent
Another step that retailers should take to effectively manage inventory is to follow a collaborative approach with suppliers. It is important for retailers to be transparent and share sales and product forecasts with vendors so that lead times can be precisely determined. It is also important to monitor suppliers' service levels such as the percentage of complete orders and fulfillment times and clearly communicate the areas where improvements are required the actions needed to achieve the improvement goals. In addition, retailers must also undertake contingency planning to identify alternative suppliers of the most important items for situations where the primary supplier cannot deliver.
Be up to date with latest technology offerings
Retailers must also look to leverage the latest available technology to optimally manage inventory. Technology can help in automating several tasks and instantly improve accuracy and efficiency of inventory management initiatives. The right tools can help retailers integrate point-of-sale (POS) system with inventory management, thereby eliminating the need to manually enter data, which will reduce errors and enhance the quality of data. Automated systems can also notify about reducing stocks and simplify the process of coordinating inventory in multiple locations. Technology can also be used to perform regular inventory audits and train staff, thereby improving the overall inventory management process.
How SpendEdge can help achieve efficient retail inventory management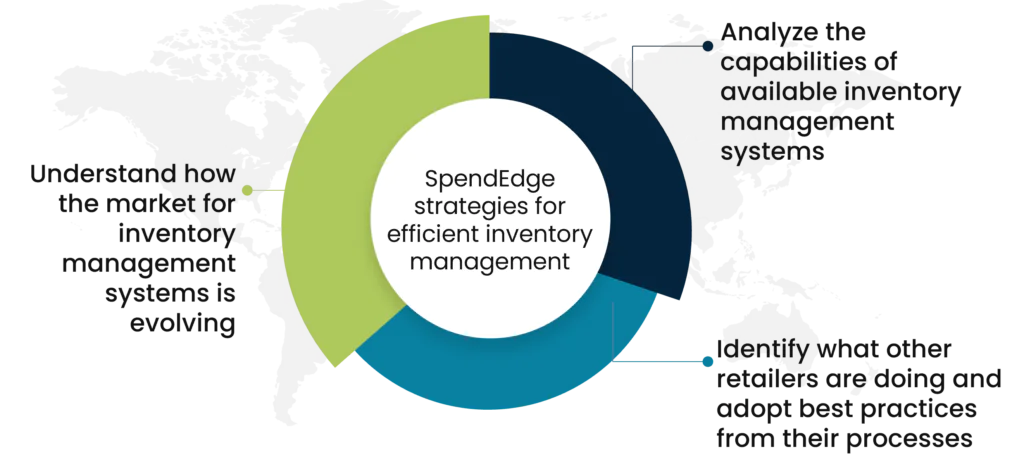 Analyze the capabilities of available inventory management systems
SpendEdge's seasoned analysts can help retailers understand even the most intricate details of various inventory management systems available in the market. In addition, our experience analyzing the operational and functional capabilities of companies providing these products ensures that only the best products and companies are shortlisted for retailers to choose from.
Identify what other retailers are doing and adopt best practices from their processes
Considering the competitive nature of the retail business and how every dollar saved matters, it is important to have a close view of the inventory management processes being followed by peers. SpendEdge's experts help retailers understand what their competitors are doing – which vendors they engage with, the engagement models being used, the KPIs they use to measure performance and the SLAs included in the contract. Through a proper analysis of what other retailers are doing and industry standards related to measuring performance of suppliers, our analysts are able to provide the most pertinent best practices to successfully manage inventory and obtain cost reduction and cost avoidance.
Understand how the market for inventory management systems is evolving
Through SpendEdge's category updates service, retailers can gain insights on the most important developments in the inventory management systems market. This can help retailers preempt costly supply-side risks with timely issues and metric alerts. Advanced notifications provided by our experts help retailers minimize costs associated with demand/supply imbalances. Also, alerts on impending supply shortages due to factory shutdowns or issues with tier 2 suppliers can help retailers plan inventory better.
Success story: How SpendEdge helped a retailer with inventory management system implementation
SpendEdge recently helped a US-based retail chain select the most optimal inventory management system based on their requirements. The client had a good understanding of the fast-moving categories and had effectively managed inventories at most of its stores across the country. However, it was witnessing increased stockouts for certain categories while overstocking for other categories. In addition, they were troubled with spoilage as well. The company wanted to check if they should change their inventory management system to improve outcomes since the contract with the existing vendor was due for renewal in less than three months.
SpendEdge's team of experts did a thorough analysis of the capabilities of various inventory management systems available in the market. The features, cost and support provided for each of the systems were benchmarked. In addition, the most important SLAs to be included in the contract along with KPIs to determine the effectiveness of the system were provided to the client. Our insights helped the client to narrow down on a small set of suppliers who were invited to the RFx stage. Eventually the client changed its existing vendor and selected one from SpendEdge's top 5 recommended vendors. In addition, the SLAs provided was used to create a watertight agreement.
.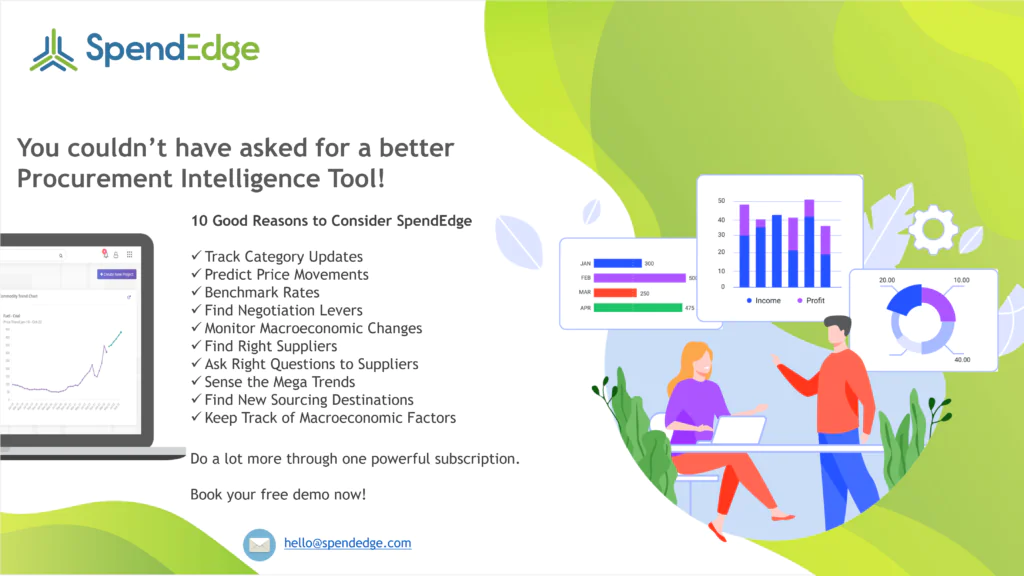 Contact us now to solve your procurement problems!
Author's Details
George Mathew
Associate Vice President, Sourcing and Procurement Intelligence
George is a procurement specialist at Infiniti Research and provides advisory services to clients across the pharmaceutical, CPG & FMCG, energy, and automotive sectors. He specializes in the procurement areas of industry benchmarking, cost modeling, rate card benchmarking, negotiation advisory, and supplier intelligence.