By: George Mathew
The vulnerability of global supply chains has been exposed by the emergence of COVID-19, escalating trade restrictions, and geopolitical conflicts, leading to discussion on enhancing their resilience. Many companies have embraced a multifaceted strategy to separate their procurement function from risk and enhance their resilience.
Several investment priorities including diversifying suppliers, digitization risk assessment, inventory optimization, promoting sustainability, strengthening supplier relationships, adopting technology, and crafting contingency plans. These priorities aid in improving procurement in business operations.
Key investment priorities for building resilient procurement functions in preparation for future shocks:
Establishing a unified category structure for clear cross-unit spend visibility
Spend accuracy is essential for financial control. This involves creating detailed budget, tracking expenses diligently, conducting periodic audits and considering technology solutions such as expense management software to enhance accuracy and efficiency.
Efficient management of costs across the entire value chain
End-to-end value chain cost management is a comprehensive strategy for optimizing procurement process. It includes analyzing costs, improving efficiency, using data analytics, considering Total Cost of Ownership (TCO), continuous monitoring, and benchmarking for improvement.
Effective supplier collaboration to reduce costs and mitigate risks
Supplier collaboration is strategic approach in procurement function that emphasizes building strong and mutually beneficial relationships with suppliers. This involves open communication, sharing forecasts and demand data, and collaborating on contingency plans to ensure smooth supply chain.
Enhancing organizational agility to generate value
Organizational agility plays a vital role in enhancing procurement in businesses. To effectively mange procurement process, companies can adopt flatter structures, empowering agile teams, and streamline the processes. Centers of Excellence (COEs) centralize expertise, while Shared Services Centers (SSCs) improve resource efficiency and standardize functions, ensuring scalability and cost effectiveness. These changes enable quicker decision-making and adaptability in today's dynamic business environment.
Leveraging digital adoption and data analytics for smarter decisions
Embracing digital tools for real-time tracking, and use of data analytics to monitor enhances supply chain resilience, allowing business to adapt swiftly to disruptions and make informed decisions.
How SpendEdge can assist companies in enhancing their procurement resilience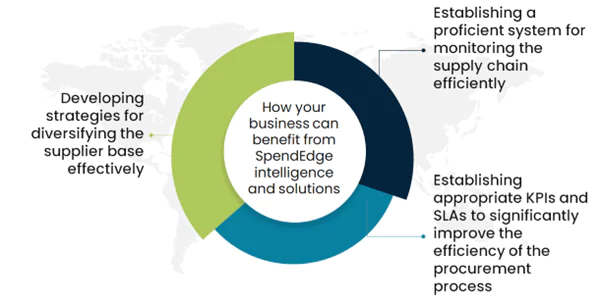 Establishing a proficient system for monitoring the supply chain efficiently
Our procurement advisors have a pivotal role in ensuring organizations stay well-informed about supply chain developments and uncertainties. They actively monitor and evaluate potential disruptions in the supply chain, such as alterations in transportation, regulatory issues, or geopolitical events. Furthermore, they offer valuable guidance on how these factors could influence procurement strategies.
Additionally, our specialists help analyze the impact of fluctuations in raw material or commodity prices on procurement expenses. They offer advice on mitigating potential risks, including negotiating with suppliers, exploring alternative sourcing options, or adjusting inventory strategies. Furthermore, our experts assist organizations in maintaining a balance between excessive inventory and falling below predetermined thresholds. They utilize data analytics to optimize inventory levels, ensuring products are available when needed without incurring unnecessary carrying costs.
Establishing appropriate KPIs and SLAs to significantly improve the efficiency of the procurement process
Our sourcing advisory specialist play a pivotal role in enhancing procurement resiliency by providing in-depth market analysis, supplier evaluation, and risk assessment. Our experts also help in defining clear supplier Key Performance Indicators (KPIs) and Service Level Agreements (SLAs) to ensure supplier accountability. Furthermore, our experts' regular performance evaluations against these standards, enabled by data-driven analysis, allow organizations to identify issues promptly.
Developing strategies for diversifying the supplier base effectively
Our procurement consultants, well-versed in supplier diversification, Best Cost Country Sourcing (BCCS) and Low-cost Country Sourcing (LCCS), offer valuable insights to identify wide range of suppliers that are emerging optimal countries for sourcing products or services. They meticulously assess factors like costs, transportation, quality, labor availability, and proximity, enabling organizations to make informed decisions and adopt cost-effective procurement strategies.
Success story: How SpendEdge helped a prominent automobile company in enhancing its procurement functions 
Our client is a leading player in the automobile industry, specializing in the manufacturing of electric vehicles (EVs).
The company was exposed vulnerabilities in the supply chain, causing disruptions and shortages of essential parts such as lithium-ion batteries, especially in the wake of recent global disruptions. The client wanted to enhance its resilience to such uncertainties.
Our experts conducted an in-depth analysis of client's existing procurement process, identifying bottlenecks, inefficiencies, and areas of improvement. Our specialist advisors collaborated with the client to map its supply chain, identifying key suppliers, dependencies, and potential risks. Furthermore, they established appropriate KPIs and SLAs to improve procurement efficiency, aligned with the company's goals and industry standards.
Our assessment helped the client to transform its procurement process, ensuring better adaptability to supply chain uncertainties and achieving significant cost savings and operational improvements in the ever-evolving automobile industry.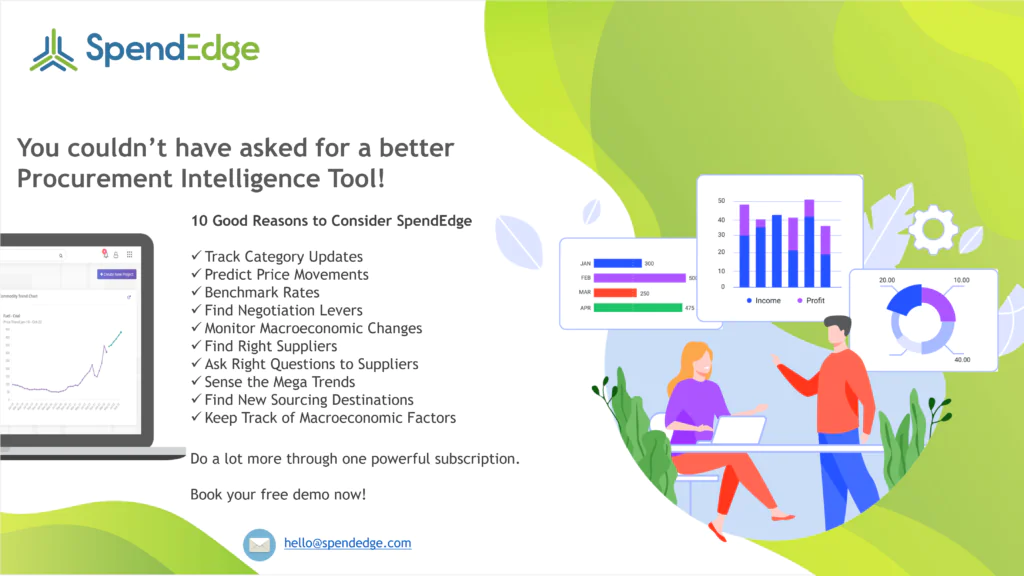 Contact us now to solve your procurement problems!
Author's Details
George Mathew
Associate Vice President, Sourcing and Procurement Intelligence
George is a procurement specialist at Infiniti Research and provides advisory services to clients across the pharmaceutical, CPG & FMCG, energy, and automotive sectors. He specializes in the procurement areas of industry benchmarking, cost modeling, rate card benchmarking, negotiation advisory, and supplier intelligence.