By: Manpreet Kaur
Effective procurement management strategies are crucial for organizations of all types and sizes, whether they are in the public or private sector. These strategies encompass a range of activities aimed at sourcing, acquiring, and managing resources to meet an organization's needs. An efficient procurement function provides great support to organizations seeking to optimize their operations, reduce costs, manage risks, and enhance their overall competitiveness. By prioritizing procurement as a strategic function, organizations can achieve long-term success and sustainability in today's complex business environment. Developing and implementing a well-crafted strategy is essential for achieving these advantages and establishing an efficient procurement organization that contributes to their overall success.
Challenges/Problems faced in the Procurement Management:
Performance Measurement: Developing key performance indicators (KPIs) and metrics to measure the effectiveness of the procurement strategy and continuously improve it is important but can be complex.
Data Management: Effective procurement relies on accurate and timely data. Managing and analyzing data to inform procurement decisions can be challenging, especially if data sources are disparate or inconsistent.
Risk Management: Identifying and mitigating risks in the procurement process is crucial. This includes not only supply chain risks but also financial, legal, and reputational risks.
Internal Alignment: Ensuring that the procurement strategy aligns with the organization's broader goals and objectives is essential. Procurement professionals must work closely with other departments to understand their needs and objectives.
Supplier Selection and Management: Finding reliable and reputable suppliers can be challenging, and maintaining positive supplier relationships is essential. Selecting the right suppliers and managing these relationships effectively is a key aspect of procurement strategy.
Complexity of Goods and Services: The diversity and complexity of goods and services needed by an organization can make procurement challenging. Different categories of items may require different procurement approaches.
How SpendEdge can help the industry in overcoming the challenges
Procurement Organization Analysis:
A thorough procurement organization analysis helps organizations enhance efficiency, reduce costs, mitigate risks, and align procurement strategies with broader business objectives. This analysis involves evaluating and assessing the structure, processes, performance, and overall effectiveness of a company's procurement function. We at SpendEdge can provide you visibility and better understanding of how other organizations like yours are able to run and manage their procurement organizations effectively, what kind of strategies they have adopted, how do they measure performance of the procurement function, how are they structured, how successful they have been in the way they manage their procurement processes, what are the pros and cons etc.
Risk Assessment: 
Assessing risks in the overall procurement management plan is a crucial step in ensuring the successful execution of a procurement strategy. It involves identifying, analyzing, and mitigating potential risks that could impact the overall procurement process. We can evaluate the existing procurement management plan and can provide an industry level assessment to help you identify the types of risks that you might face while setting up a new strategy, the level of impact the risks can have on the overall process and what could be the best way to mitigate them as per the best practices that are being followed in the industry.
Vendor Management:
Vendor management is indeed a critical aspect of the procurement process, and vendors are key stakeholders in ensuring its success. Effective vendor management involves various strategies and protocols to ensure that vendors are selected, monitored, and managed in a way that aligns with the organization's goals and objectives. We can help in identifying potential vendors who can meet an organization's procurement needs. Factors such as vendor service capability, product portfolio, reputation, pricing, quality, and past performance are considered during the selection process. We can  do an in-depth analysis to understand the operational and functional capabilities of vendors, identify the associated risks, market position, their key clients, recent news about them etc. We can also compare different vendors, their contracting practices, pricing models, cost structure and provide recommendations on the best fit vendors.
The success story of how SpendEdge was helpful to one of its clients.
A leading US based company with operations in over 30+ countries across the globe was looking for a partner who could support in conducting a detailed procurement organization benchmarking analysis.
The client wanted to gain visibility on the best practices that are followed by other successful procurement organizations across various industries.
To support the client requirements, we conducted a deep-dive benchmarking analysis with focus on industries such as Automotive, Pharma, CPG etc. In this study we first identified the overall mission of the purchasing department across best-in-class procurement organizations and gathered insights on the structure of organizations' purchasing departments and their overall scope/responsibilities. We also assessed their annual purchase spend, volume, efficiency, and engagement models. This report provided detailed visibility on key parameters/metrics that are used by companies to measure procurement efficiency such as total cost savings, cost avoidance, implemented cost reduction savings, procurement cycle time, % of suppliers accounting for 80% of the spend, procurement ROI, managed spend as a % of total spend etc. We also captured emerging procurement trends and peer analysis in this study.
This study helped the client get better visibility on the emerging procurement best practices, commonly observed KPIs and procurement trends. We also provided detailed comparison of different procurement organizations covering their geographic presence, their structure and overall procurement strategy.
.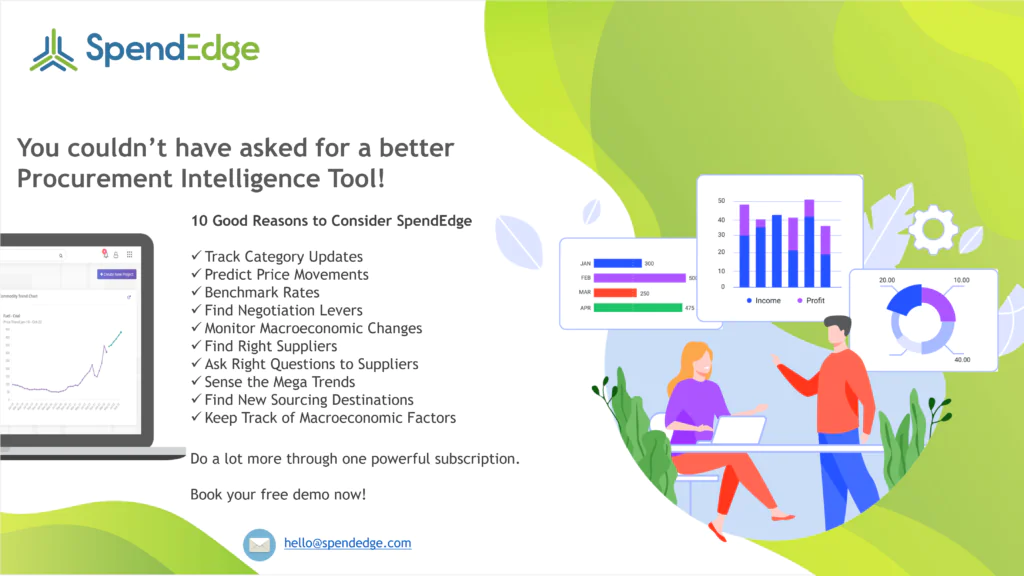 Contact us now to solve your procurement problems!
Author's Details
Manpreet Kaur
Assistant Manager Presales – Sourcing and Procurement Intelligence
Manpreet is a presales specialist at Infiniti Research and has expertise in sales, business strategy execution, and innovative solution design. She is actively involved in supporting clients from F&B, CPG, Healthcare, Pharma, Chemicals, BFSI, Oil & Gas and Automotive sectors.