By: George Mathew
Organizational efficiency, defined simply, looks at how to increase the output a company can produce with a certain quantity of resources. The more output the organization can produce with the same resources, the more effective it is. The purchasing function plays a pivotal role in generating cost savings and organizational efficiency. Firstly, it directly impacts cost control by negotiating favorable terms with suppliers, securing bulk discounts, and identifying cost-effective alternatives. Efficient procurement minimizes wastage and reduces operational expenses. Moreover, strategic purchasing ensures timely access to essential resources, preventing production delays and ensuring customer satisfaction. Streamlined procurement processes also enhance overall organizational efficiency by reducing administrative burdens and enabling better resource allocation.
Challenges faced by procurement experts while purchasing
Implementing risk mitigation strategies that enhance the purchasing function:
Contemporary purchasing can be a challenging task due to its complexity. Managing global supplier networks, implementing digital technologies, and ensuring ethical sourcing demands skilled professionals. Failing to adapt to these practices can lead to supply disruptions, compliance issues, and inflated expenses. Balancing cost-saving measures with ethical, sustainable, and socially responsible sourcing is another challenge. Moreover, the fast-paced nature of contemporary procurement requires continuous learning and adaptation. Enhancing the effectiveness and efficiency of customer purchasing strategies poses challenges related to supplier selection, negotiation, technology adoption, and supply chain optimization, requiring strategic planning and skilled professionals to navigate complexities.
Green initiatives in purchasing for sustainable development:
Implementing green initiatives in purchasing faces several challenges. These include identifying eco-friendly suppliers, ensuring product sustainability, managing higher initial costs, and navigating regulatory compliance. Balancing environmental goals with cost-effectiveness remains a central challenge. To achieve green purchasing, procurement departments need to keep an eye on and assess the ethical standards of their suppliers. Policies like dangerous working conditions or corporate corruption may conflict with a procurement team's ethical objectives and prompt them to look for a supplier with a more humane business model.
How SpendEdge can help you overcome the hurdles in purchasing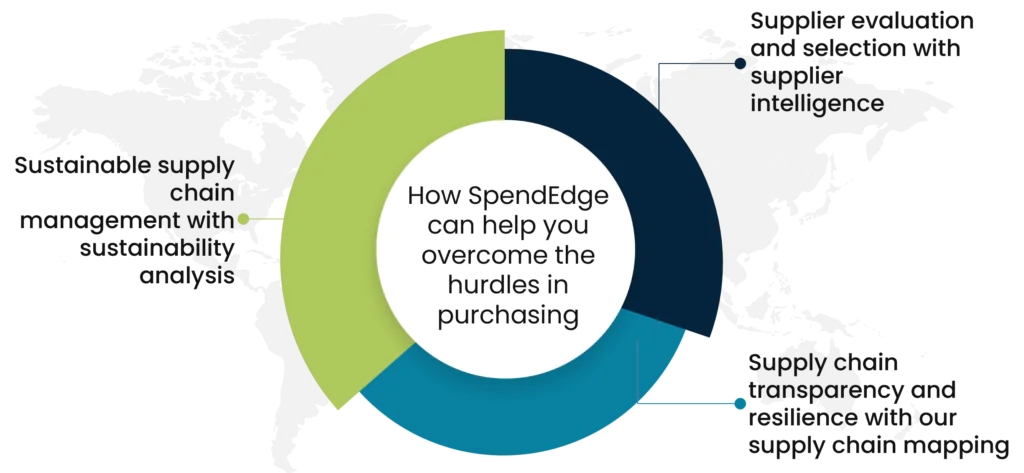 Sustainable supply chain management with sustainability analysis:
Evaluate the sustainability practices adopted by suppliers along the value chain to lower social and environmental risks and improve the brand image with the aid of our meticulous supplier sustainability analysis. You can identify modern sustainability practices adopted globally and in geographies specific to your company's operations and assess the strategies adopted by your suppliers. Determine the sustainability gaps and address them. Analyze the environmental and social risk elements for each supplier, monitor compliance challenges facing the supply chain, and leverage relevant insights to make appropriate decisions. These steps lay the path to a sustainable supply chain and future for the organization and society.
Supplier evaluation and selection with supplier intelligence:
With the help of our supplier intelligence, you can sift through the pool of suppliers to effectively understand the available options and streamline your search to include only suppliers that can meet all or most requirements. You can evaluate supplier capabilities with our valuable insights into detailed information about supplier performance specific to each KPI. Sort suppliers into quadrants based on operational and functional capabilities and rank them to identify best-fit suppliers. We also provide additional information about the most suitable suppliers for engagement.
Supply chain transparency and resilience with our supply chain mapping:
Get a 360-degree view of the supply chain process and improve your knowledge of supply origins and associated bottlenecks. Determine supplier responsibilities in accordance with comprehensive supply chain insights, and study and classify risk factors based on impact and probability. Frame appropriate solutions to overcome the risks well before they impact operations.  Trace and track supply-side vulnerabilities with origin and transit data. Have a good understanding of spend with per-unit supply chain costs which will help you fashion a lean supply chain through continuous KPI improvements. We provide you with dashboard views of how exactly your supply chain is performing.
SpendEdge success story (How it helped one of its clients achieve organizational efficiency in the CPG sector)
Organizational efficiency is highly affected by poor procurement practices and the best solution for achieving this is implementing an effective procurement strategy. A company headquartered in France was having trouble with its procurement process and contacted SpendEdge for an effective solution. The client wanted to enhance the efficiency of its procurement operation. It was struggling to manage supplier relationships, track inventory, and control cost-effectively, thus looking to implement a purchasing strategy.
After a critical evaluation and analysis of the situation, experts at SpendEdge helped in evaluating the client's supplier base and identified key suppliers who could provide a wide range of products. By analyzing historical sales data, our experts also helped to improve client's demand forecasting accuracy. This allowed for better inventory planning, reducing stockouts, and excess inventory.
Through strategically revamping the purchasing strategy, the client successfully improved organizational efficiency in the CPG sector and streamlined supplier relationships with accurate demand forecasting.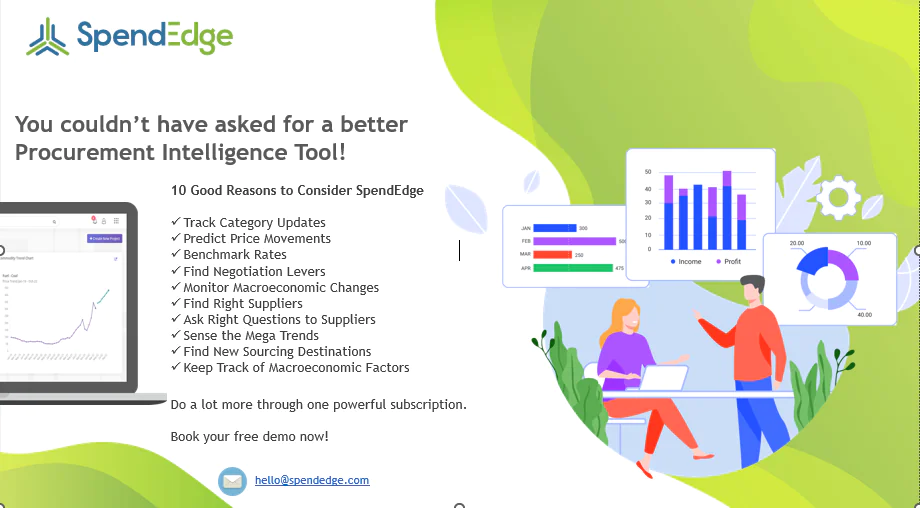 Contact us now to solve your procurement problems!
Author's Details
George Mathew
Associate Vice President, Sourcing and Procurement Intelligence
George is a procurement specialist at Infiniti Research and provides advisory services to clients across the pharmaceutical, CPG & FMCG, energy, and automotive sectors. He specializes in the procurement areas of industry benchmarking, cost modeling, rate card benchmarking, negotiation advisory, and supplier intelligence.