By: George Mathew
In recent years, procurement in businesses has evolved significantly, shifting from a focus solely on cutting costs to a strategic approach. Modern procurement emphasizes strategic sourcing, sustainability, digital transformation, data-driven decision making, supplier relationship management, risk management, and regulatory compliance.
Given the complexity of modern procurement strategies, the involvement of procurement or purchase consultants has become essential. These experts provide valuable insights, industry knowledge, and specialized skills to assist businesses in effectively managing their procurement processes. By aligning procurement strategies with overall business goals, organizations can ensure long-term value, resilience, and competitive advantage.
Improving efficiency through strategic procurement practices:
Assists in optimizing operations management and waste reduction
A purchasing consultant is instrumental in strategic procurement, streamlining operations, and reducing wastage within organizations. By optimizing processes, negotiating favorable deals, and ensuring supplier reliability, they enhance efficiency. Their expertise in risk management, supplier evaluation, and technology integration minimizes wastage by preventing overstocking and ensuring timely deliveries. Additionally, their focus on compliance and ethical practices safeguards the organization, making them indispensable for efficient and resource-conscious operations.
Creates strategic plans to boost productivity and optimize resource use strategically
A procurement consultant's role in strategic procurement is pivotal for businesses seeking increased productivity and improved resource allocation. By optimizing supply chains, negotiating favorable terms, and enhancing procurement processes, consultants streamline operations and identify cost-saving opportunities. Their specialized knowledge ensures efficient supplier relationships, informed decision-making, and effective risk management. Engaging with consultants results in significant cost savings, improved efficiency, and heightened profitability for the organization.
Formulates strategies to mitigate risks and improve decision-making
Purchasing consultants play a critical role in strategic procurement by mitigating potential risks and improving decision-making processes for businesses. Through their expertise, they assess and manage supplier-related risks, ensuring a stable supply chain. Their insights and data-driven approach enable businesses to make informed decisions, optimizing procurement strategies. This proactive risk management and enhanced decision-making result in increased operational resilience, reduced vulnerabilities, and improved overall business performance. Ultimately, engaging a purchasing consultant leads to a more secure and efficient procurement process, safeguarding the organization from potential setbacks and supporting sustainable growth.
Setting up a system for quality assurance and regulatory compliance
Purchasing consultants are instrumental in ensuring quality control and compliance in strategic procurement. They meticulously evaluate suppliers, establish stringent quality standards, and oversee compliance with regulations and industry standards. By doing so, they guarantee the procurement of high-quality goods and services while adhering to legal requirements. The benefits include improved product quality, reduced risks of non-compliance, and enhanced reputation. Engaging a purchasing consultant leads to efficient quality control processes, ensuring that businesses receive reliable products or services that meet industry standards, thereby fostering customer satisfaction and trust.
How SpendEdge can assist organizations in formulating personalized procurement strategies that align with their distinct needs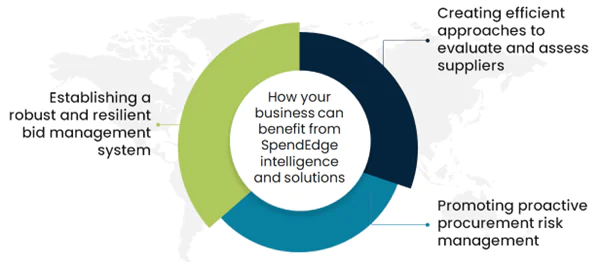 Creating efficient approaches to evaluate and assess suppliers
Our dedicated procurement consultants are instrumental in supplier analysis, meticulously identifying the most cost-effective suppliers for raw materials or services. Through thorough evaluation, they assess suppliers' capabilities, considering factors such as quality, reliability, and cost-effectiveness. By leveraging market intelligence and data analysis, they pinpoint suppliers offering competitive prices without compromising quality. This comprehensive analysis also delves into production capacity, delivery timelines, and technological expertise. Armed with this information, our consultants provide well-informed recommendations, enabling organizations to make strategic decisions, optimize costs, and maintain a robust and resilient supply chain.
Promoting proactive procurement risk management
Our seasoned purchasing consultants aid clients in the identification and mitigation of potential project or business risks. These encompass financial, operational, supply chain disruptions, regulatory hurdles, geopolitical considerations, and market volatility. Our specialists also provide support in comprehending the possible repercussions and making well-informed choices concerning both security and legal compliance, safeguarding sensitive data and preventing legal complications.
Establishing a robust and resilient bid management system
Our specialist procurement consultants' expertise in bid management empowers businesses to conduct comprehensive demand assessments, fostering a precise grasp of their capital expenditure needs. Our specialists facilitate precise assumptions, optimizing procurement strategies and expertly navigate contract negotiations to secure advantageous terms aligning with organization's business objectives. Our procurement consultants guide businesses in making accurate projections regarding capital expenditure, factoring in elements such as equipment expenses, maintenance, and potential regulatory shifts.
Success Story, how we helped leading CPG company in optimizing their procurement strategies
Our client is a prominent US-based company in the Consumer-Packaged Goods (CPG) industry, specializing in manufacturing and distributing a wide range of products.
The client faced challenges in their procurement processes, including supplier evaluation and assessment, risk management, and overall cost optimization.
Our specialized procurement consultants conducted a comprehensive market analysis to identify potential suppliers with a proven track record in delivering high-quality raw materials and implemented a supplier assessment framework, evaluating suppliers based on criteria such as reliability, quality, production capacity, and ethical practices. Our specialists established communication channels with suppliers to foster transparent relationships and ensure alignment with client's values and goals.
Furthermore, our procurement consultants conducted a risk assessment of the supply chain and developed a risk mitigation plan, including diversification of suppliers, inventory optimization, and contingency planning to minimize the impact of disruptions.
Our solutions helped the client successfully navigate their procurement challenges in the competitive CPG industry. The strategic enhancements not only strengthened their supply chain resilience but also positioned them for sustainable growth and long-term success in the market.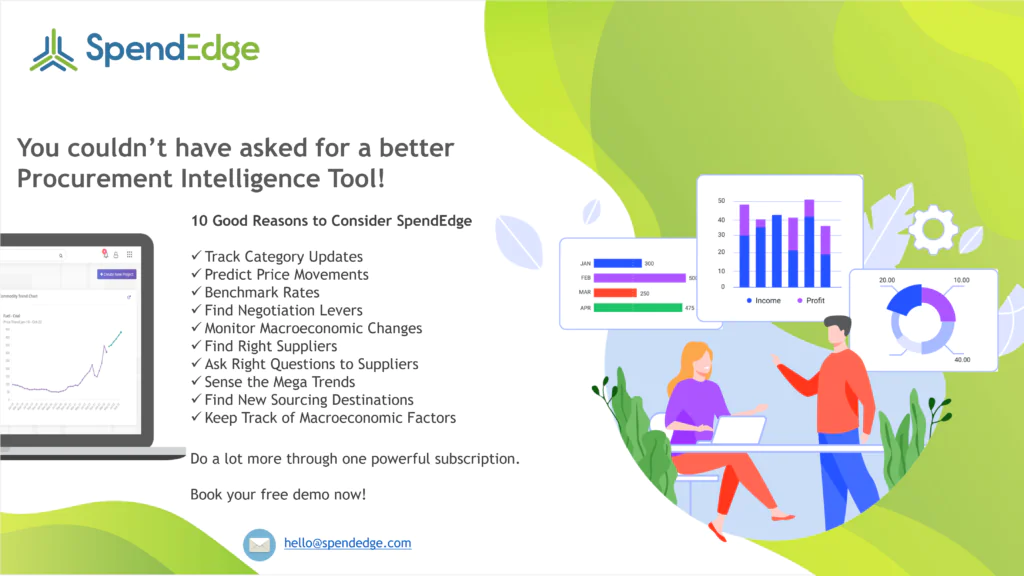 Contact us now to solve your procurement problems!
Author's Details
George Mathew
Associate Vice President, Sourcing and Procurement Intelligence
George is a procurement specialist at Infiniti Research and provides advisory services to clients across the pharmaceutical, CPG & FMCG, energy, and automotive sectors. He specializes in the procurement areas of industry benchmarking, cost modeling, rate card benchmarking, negotiation advisory, and supplier intelligence.