The mining industry extracts valuable minerals and resources from the Earth, driving economies worldwide. It faces environmental and ethical challenges, requiring sustainable practices for future viability. The mining industry procures a wide range of valuable resources, including minerals like gold, copper, and iron ore, energy sources such as coal and uranium, and industrial materials like limestone and gypsum. These resources are essential for various industries, from construction and manufacturing to energy production and technology development. The global expenses of procurement in the mining industry go up to $200 billion annually. So, procurement plays a pivotal role in the mining industry and the mining industry demands a better procurement function due to cost pressures, resource scarcity, and sustainability concerns. Efficient procurement reduces operational expenses, ensures a stable supply of critical materials, and promotes responsible sourcing, aligning with evolving environmental and social expectations.
Challenges faced by procurement teams in the mining industry
Volatility of commodity prices:
Volatility in commodity prices is a key obstacle that the mining sector must overcome. Supply-demand dynamics, geopolitical events, and global economic conditions are only a few of the causes of this volatility. Commodity price fluctuations can affect mining businesses' profit margins, project feasibility, and investment choices. Businesses must search for companies that conduct commodity tracking and price forecasting studies to manage the inherent risks brought on by variable commodity prices in the mining industry.
The challenge of rising labor costs:
Rising labor costs stand as a major problem for the mining industry, particularly in remote or inhospitable regions where mining often takes place. This issue arises due to factors such as skilled labor scarcity, increased safety regulations, and demands for higher wages. Escalating labor expenses can erode profit margins and hinder cost-effective operations. To address this, procurement leaders or category managers are seeking procurement intelligence support especially to obtain rate benchmarks.
Getting equipment and machinery at the right cost from suppliers:
Due to price fluctuation and the demand for quality, it can be difficult to find equipment that is both affordable and reliable in the mining business. It's critical to cultivate supplier connections while weighing customization requirements and to look at funding possibilities while taking regulatory and transportation expenses into account. It's important to consider long-term maintenance expenses, and ongoing market research is necessary for competitive pricing. To get mining equipment at the proper price, it's essential to use an effective procurement strategy and do a cost-benefit analysis.
How can SpendEdge help players in the mining industry with procurement?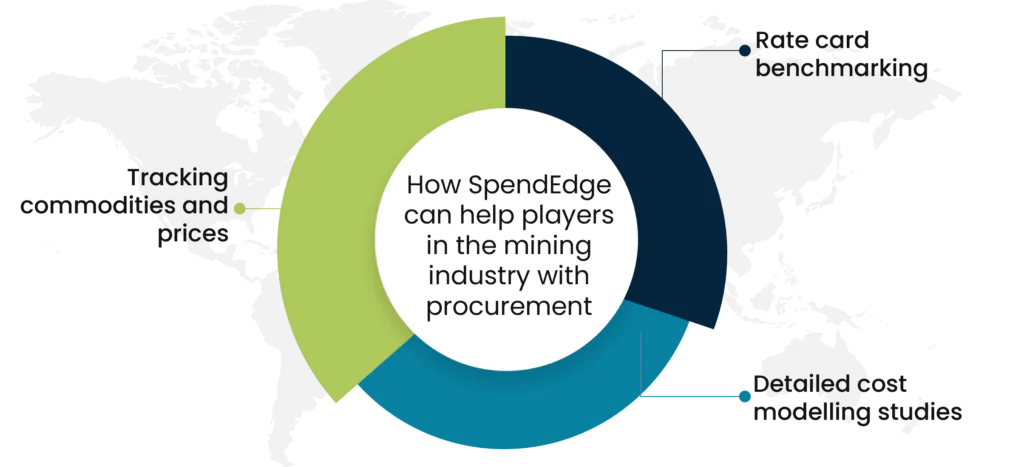 Tracking commodities and prices:
At spendedge, we track various commodities on a regular basis and provide visibility on their prices and forecasts, effectively discriminating between commodities with high and low risk based on reliable price data, making cost-conscious buying selections. Analyze historical pricing patterns for all the essential commodities for your organization. Examine how downstream and feedstock factors affect the price of commodities. For reliable price projections, combine univariate and multivariate models.
Rate card benchmarking:
SpendEdge conducts a rate card benchmarking analysis to find businesses that can supply mining labor even in remote locations at competitive rates. With the aid of our expertise, businesses may learn the hourly labor rates paid and create supplier comparisons to comprehend pricing variance. We assist you in describing the cost and availability of the mining labor market, then you can also evaluate billing rate components such as overhead, profits, salaries, and benefits. Enhance your negotiations with supplement suppliers by utilizing valuable knowledge of billing methodologies.
Detailed cost modeling studies:
At SpendEdge we conduct detailed cost modeling studies to understand the manufacturing process of equipment/machinery, identify major cost components for the product or service under focus involved, and get a better understanding of the key factors that drive costs. Analyze each cost component by breaking down the total cost into various components using pie charts and graphs and understand the percentage contribution of each component to the total cost. Gain visibility into cost-saving opportunities and negotiation tactics to make proper use of these opportunities. One opportunity can be to strengthen negotiations with suppliers as the true cost of a product or service is known in advance.
The success story of SpendEdge helping a mining company with procurement function
The mining industry faces procurement challenges, including volatile equipment prices, quality versus cost decisions, and complex logistics. Regulatory issues, financing, and maintenance costs also add complexity. A strategic approach and cost analysis are crucial to address these issues and secure necessary equipment efficiently.
To address such types of problems a leading European mining company wanted to identify the key cost drivers for manufacturing specific equipment that the client was interested in. To gain visibility on the overall manufacturing process and the negotiation strategies that can be used to get the best price from manufacturers.
SpendEdge experts identified the key cost components such as raw materials, equipment, labor, etc., and conducted a detailed analysis to get a clear cost breakup, identified price variations based on different geographic locations and manufacturers, identified negotiation levers that can help in getting the best price possible.
We provided a detailed assessment of the cost drivers and the price movements, recommendations on how to mitigate the price fluctuations, and supported the best negotiation strategies.