E-procurement, which stands for electronic procurement, is a term used in professional purchasing and e-commerce for B2B transactions. it is a modern purchasing solution for companies to automate several parts of the process, saving a considerable amount of time. Using this method has several advantages, including increased efficiency, cost savings, and improved accuracy.
E-procurement offers several benefits to businesses. It streamlines purchasing processes, reduces paperwork, and increases efficiency. By automating procurement, businesses can save time and money while gaining better control over expenses. It also enhances transparency and allows for data-driven decision-making. Additionally, e-procurement enables access to a broader supplier base and fosters competition, leading to cost savings and improved supplier relationships.
Latest trends in the E-Procurement market
Mitigating risks is the prime focus:
In the upcoming year, procurement teams will continue to concentrate on risk reduction and make sure they have backup plans in place in case of interruptions. To do this, procurement teams must evaluate the risks connected to their suppliers, including their resistance to natural catastrophes, geopolitical risk, and financial stability. They must assess their contracts as well to make sure they are adequately protected in the case of an interruption. Procurement risks can include financial losses, reputational damage, legal liabilities, and disruptions to the supply chain.
Increased supplier diversity:
In today's business world, diversity and inclusion have become increasingly important considerations for every department, including procurement. Procurement teams are expected to evaluate their supplier diversity programs and ensure they are promoting a diverse supplier base, including small and minority-owned businesses. In addition, procurement teams must prioritize supplier diversity in their own hiring and talent management practices. This involves attracting and retaining a diverse workforce and implementing training programs that promote inclusion and diversity. By focusing on sustainability, technology, risk mitigation, supplier relationship management, and diversity and inclusion, procurement teams can ensure they meet the needs of their businesses while driving value and minimizing risks.
Emphasizing sustainability: the latest trend
Businesses are increasingly becoming concerned about sustainability, and this concern is only set to grow in the future. Procurement teams will play a vital role in reducing the environmental impact of the products and services they source. They will need to assess suppliers based on their sustainability practices, such as their use of renewable energy and waste reduction efforts. We can also expect more businesses to set sustainability targets and require their suppliers to meet them. This will necessitate close collaboration between procurement teams and suppliers to ensure the latter complies with these requirements. Additionally, supplier selection will increasingly be influenced by their sustainability practices.
E-Procurement: How can SpendEdge help procurement teams with its services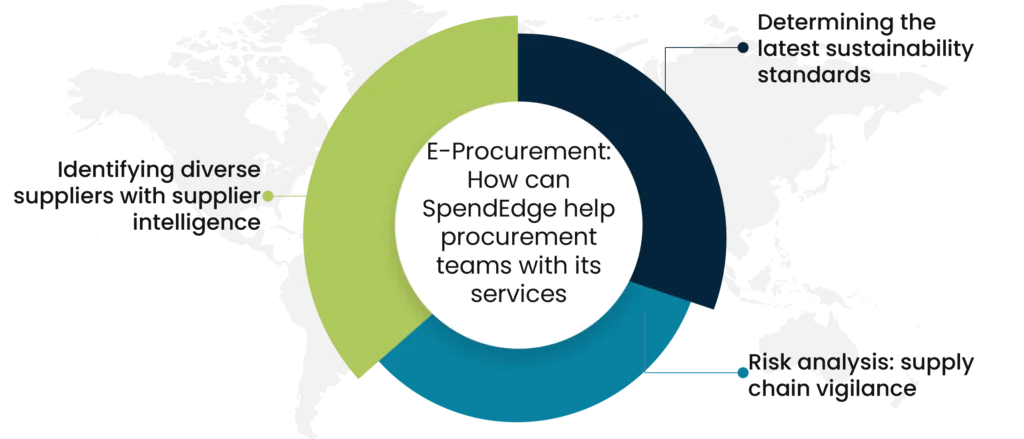 ---
Risk analysis: supply chain vigilance
At SpendEdge, our mission is to provide you with a comprehensive view of the entire supply chain process. Our platform allows you to track and trace supply-side vulnerabilities by providing origin and transit data. You can also gain insight into your spend through per-unit supply chain costs, and receive alerts about supply shortages caused by various factors such as industrial shutdowns or subcontractor failures. Our platform allows you to gain knowledge about supply origins and associated bottlenecks and make informed decisions to mitigate disruptions. Additionally, we help you identify new opportunities for supply chain optimization and resilience and develop multiple regional suppliers for backup plans.
Identifying diverse suppliers with supplier intelligence:
Our supplier intelligence solutions can help you develop a diverse pipeline and onboard certified vendors according to the diversity and inclusion program. This not only improves business outcomes but also demonstrates your commitment to your workforce. Our methodology for selecting suppliers goes beyond traditional filters like revenue, profits, performance, and service quality. We look for vendors who can bring the desired value to your business. Our experts use statistics and modeling techniques, as well as large, carefully curated data sets, to make accurate predictions about various supplier risks. We assign risk scores based on probability and severity so that companies can focus on the prioritized risks first.
Determining the latest sustainability standards:
At SpendEdge, we help you identify modern sustainability practices that are adopted globally and, in the geographies, specific to your company's operations. We help you assess the strategies of suppliers in your network and address any existing or potential sustainability gaps. Our team evaluates social and environmental risk factors for each supplier and monitors compliance challenges facing your supply chain. With the aid of our insights, you can establish short-term and long-term goals for suppliers in all tiers and pave the way to a sustainable future for your organization and society.
The success story of how SpendEdge helped one of its clients with procurement intelligence
As the world progresses toward a sustainable future after the pandemic it has become compulsory for companies to lay down sustainability measures to provide sustainable products to their customers. To achieve this, they need to procure sustainable materials and supplies to manufacture eco-friendly products.
A Global Life Sciences Company based in Europe was looking to implement sustainable procurement practices. They had been procuring from a supplier but were facing issues with the quality of the products. To address this, the company wanted to track the sustainability initiative of its supplier. In addition, they also wanted to identify new suppliers to expand their supplier base.
Our SpendEdge professionals came to the rescue of the company and helped the client identify modern sustainability practices that are adopted globally. Our experts helped the client assess the strategies of suppliers in their network and address any existing or potential sustainability gaps. Our expert also assisted the company in identifying new sustainable suppliers by leveraging its unique methodology of analyzing suppliers.