By: Manpreet Kaur
Corporate travel sourcing refers to the process by which organizations acquire goods and services related to business travel. This category of procurement focuses on securing the necessary resources, such as airline tickets, hotel accommodations, car rentals, and other travel-related services, to support employees' travel needs for business purposes. An efficient sourcing strategy for corporate travel can lead to cost savings, improved travel experiences for employees, and better control over the organization's travel-related expenses. It requires a strategic approach that balances cost considerations with the need to meet business objectives and ensure employee well-being.
The impact of COVID-19 on the corporate travel industry has prompted a fundamental shift in the way businesses approach travel. It forced businesses to adapt their travel policies, prioritize employee safety, and find ways to reduce costs in a challenging economic environment. Companies now require a proactive and adaptable approach that places a strong emphasis on safety and flexibility as well.
Challenges/Problems faced in the procurement process.
Supplier Selection: Organizations need to identify and select suppliers or travel agencies that can provide cost-effective and reliable travel services. This involves evaluating potential suppliers based on criteria like cost, service quality, reputation, and geographical coverage. Sometimes, finding the supplier that can match all the criteria can be a task.
Cost Management: Managing and controlling travel expenses is a primary concern for most organizations. Travel costs can quickly spiral out of control if not properly managed. Procurement teams must negotiate with travel suppliers to secure favorable rates and terms.
Global Reach: For organizations with international travel needs, finding a supplier that can provide global coverage and support can be challenging. Different regions may have unique requirements and regulations that the supplier must navigate.
Policy Compliance: Ensuring that the supplier can help enforce travel policies is crucial. Travel policies may include guidelines for booking, expense reporting, and preferred vendors. The supplier must have the technology and expertise to support policy compliance.
Traveler Safety: Ensuring the safety and well-being of employees while they are on the road is a top priority. Developing and implementing effective emergency response plans and keeping travelers informed about potential risks is challenging.
Supplier Negotiations: Negotiating contracts with travel suppliers to secure favorable rates and terms requires skill and market knowledge. Achieving the best deals while maintaining positive vendor relationships is a constant challenge.
How SpendEdge can help the industry in overcoming the procurement challenge
Identification of Best Fit Suppliers
Supplier intelligence is crucial for a successful corporate travel program. It involves selecting suppliers and partners who can provide a wide range of services, from transportation and accommodation to travel technology and support. We can support in identifying companies that can provide complete B2B solutions for managing corporate travel processes. These processes include management of organizations strategic approach to travel (travel policy), negotiation with all vendors, day-to-day operation of the corporate travel program, traveler safety and security, credit-card management, and travel and expense data management. We can also assess supplier capabilities to understand if they fit client criteria and can support with all the needed services.
Technology Benchmarking for Better Management of Travel Expenses
One of the key trends that is observed in corporate travel is that major corporate travel service providers are integrating with technology partners to provide full scale corporate travel support services such as booking tools, expense management, and travel budgeting. Technological integration eases the process of travel booking, improves traveler experience, and reduces complexities for the buyer. We can help you in conducting technology benchmarking analysis which would cover identification of industry benchmarks with respect to latest technologies adopted for the successful management of corporate travel programs, comparing different suppliers who are technologically advanced and their success rate in provided end-to-end corporate travel services and understanding whether their systems and technology can be easily integrated to organizations existing tools and platforms.
Industry Best Practices Benchmarking
We can help you to understand what the other industries are doing in corporate travel services. Some of the areas that we would explore in this kind of analysis would be understanding what kind of procurement and sourcing strategies are adopted by companies? How do they typically contract with suppliers and what are the terms? Do they prefer a single supplier for handling their corporate travel program or do they prefer multiple suppliers? How successful have they been with their current practices and many more.
The success story of how SpendEdge was helpful to one of its clients.
A leading CPG company with operations in over 30+ countries across the globe was looking for a partner who could provide end-to-end corporate travel services. Client also wanted better visibility on the pricing models and the engagement best practices that are being followed in the industry.
Some of the major issues that client wanted to address through this exercise was lack of expertise in managing the overall travel process, inefficient booking, limited negotiation power, expense control, inadequate support to address travel disruptions, changes or emergencies.
To help the client overcome these challenges, we conducted deep-dive research focused on identifying leading suppliers that are operating in the market and have strong capabilities in providing end-to-end corporate travel services. We also assessed their operational and functional capabilities such as geographic presence, technological innovations, service portfolio etc. In addition, we captured insights on market scenario (demand and supply scenario) along with prevalent engagement and pricing models, pros and cons of the engagement models, key cost drivers, cost saving opportunities and engagement best practices.
Based on our assessment, we provided recommendations on best fit suppliers. Provided insights on the negotiation strategies that can be adopted to get the best price from suppliers. Also, helped the client understand the best engagement and contracting practices that can be followed.
.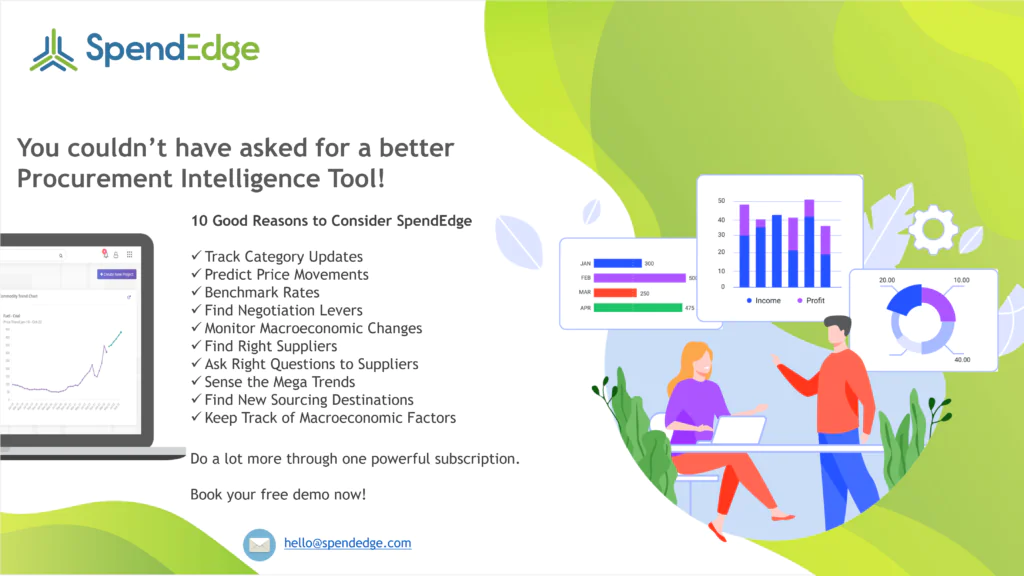 Contact us now to solve your procurement problems!
Author's Details
Manpreet Kaur
Assistant Manager Presales – Sourcing and Procurement Intelligence
Manpreet is a Presales Consultant at Infiniti Research and is responsible for designing best fit solutions for clients belonging to different industries such as BFSI, Chemicals, Retail & CPG, F&B, Pharma and Healthcare, Energy, IT & Telecom and Automotive sectors. She specializes in sales, business strategy execution, and innovative solution design.