By: George Mathew
Large-scale construction projects require careful consideration of the engineering, procurement, and construction (EPC) procurement process. EPC procurement encompasses the sourcing and administration of materials, equipment, and services needed for the building and commissioning of significant projects, ranging from infrastructure projects and power plants to oil refineries and chemical plants. It involves the design, procurement of necessary materials and equipment, and the actual construction or installation of a project.
EPC procurement typically starts with the project's conceptualization and encompasses feasibility studies, detailed engineering, vendor selection, and construction management. This turnkey approach ensures that a single entity is responsible for the entire project, streamlining communication, reducing risks, and enhancing project control. EPC procurement is commonly used in complex projects like industrial plants, infrastructure development, and energy facilities, ensuring a cohesive and efficient execution from start to finish.
Managing challenges and risks in EPC procurement is a constant endeavor, especially due to the long lead times associated with the procurement of major equipment and materials. Most EPC projects involve the sourcing and delivery of large, specialized equipment and materials, and the timeline could sometimes stretch from months to even years from production to delivery. The long lead time usually impacts project schedules and budgets, making it critical for supply chain organizations to work closely with suppliers and ensure timely delivery. Therefore, it is essential to have a well-planned procurement strategy and effective risk management in place to mitigate any potential delays or cost overruns.
Strategies for managing risks in the EPC procurement process
Collaborating and maintaining healthy relationships with the stakeholders:
Facilitating seamless cooperation among an array of stakeholders, such as project managers, engineers, suppliers, and logistics providers, is indispensable in the intricate landscape of EPC procurement. Supply chain professionals are responsible for fostering robust partnerships with these key players, harmonizing collective vision, and ensuring alignment on project milestones, cost considerations, and project timelines. The foundation of strong inter-stakeholder relationships is not merely desirable but paramount to the ultimate success of the project, as it enhances communication, resolves issues efficiently, and maximizes overall project efficiency.
Assess potential risks and develop a risk management plan:
A well-integrated risk management strategy, tailored to the specific business domains, stands as a critical requirement for supply chain organizations. Within this complex framework, elements like procurement, logistics, supplier dynamics, and other variables hold the power to influence the outcome of projects and introduce potential risks. Consequently, it becomes imperative to establish a dynamic risk management plan, one that's primed for immediate implementation, with the ability to swiftly detect and analyze potential threats. This proactive approach not only identifies these risks but also outlines strategic responses, ultimately serving as a safeguard to protect the enterprise from potential pitfalls and setbacks.
Invest effort in assessing the capabilities of suppliers:
To ensure the reliability of partners and suppliers in delivering goods and services as per schedule and up to the required quality standards, businesses must prioritize a diligent examination of these entities. This entails a meticulous scrutiny of their historical performance, stringent quality control mechanisms, and financial robustness. In addition, assessing a supplier's ethical practices, their ability to adapt to changing market conditions, and their environmental sustainability practices is also essential. This comprehensive due diligence not only safeguards the business against potential disruptions but also promotes a long-term, mutually beneficial relationship with suppliers, fostering a more resilient and sustainable supply chain.
Gain a comprehensive technical know-how of the latest advancements:
Embracing cutting-edge technology plays a pivotal role in mitigating the inherent risks associated with EPC procurement. By harnessing sophisticated software solutions such as blockchain, artificial intelligence, and data analytics, businesses can achieve a comprehensive understanding of their supply chain dynamics. These tools empower organizations to not only proactively identify potential risks but also enhance decision-making processes. Furthermore, technology enables real-time tracking of inventory, supplier performance, and demand fluctuations, fostering agility and adaptability within the supply chain. In this way, businesses not only manage risks but also unlock opportunities for greater efficiency and competitiveness in the EPC procurement landscape.
How SpendEdge can help businesses with implementing EPC procurement with its services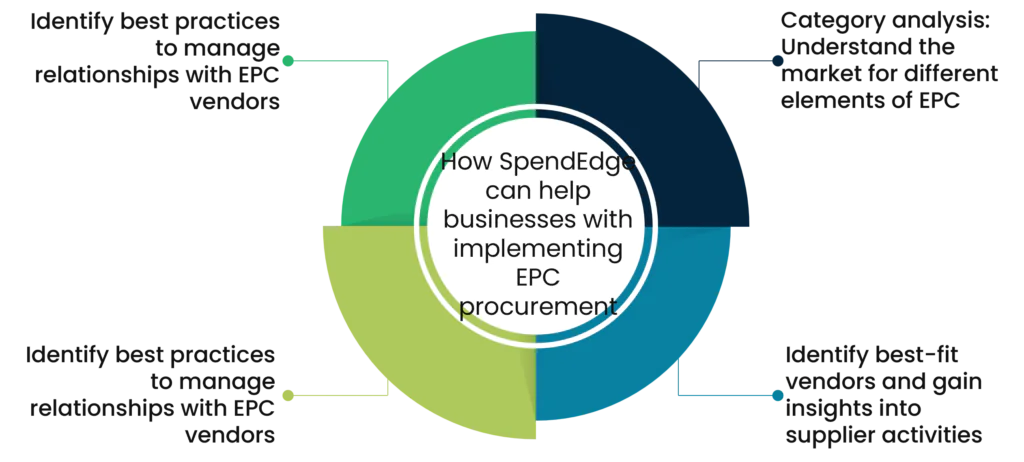 Category analysis: Understand the market for different elements of EPC
Delving into the comprehensive market landscape for different components of EPC, encompassing a range of services, involves tracking market trends, staying abreast of recent industry developments, and scrutinizing the strategies adopted by suppliers. This in-depth analysis enables businesses to identify potential risks and challenges that may disrupt the supply chain.
Identify best-fit vendors and gain insights into supplier activities:
The quest for optimal supplier relationships goes beyond vendor selection. It entails an in-depth exploration of supplier profiles, understanding their current activities, and assessing the associated risks. This intelligence aids in making informed decisions regarding existing or potential suppliers, paving the way for more strategic and secure partnerships.
Supplier evaluation: Identification of supplier KPIs and SLAs
The quest for optimal supplier relationships goes beyond vendor selection. It entails an in-depth exploration of supplier profiles, understanding their current activities, and assessing the associated risks. This intelligence aids in making informed decisions regarding existing or potential suppliers, paving the way for more strategic and secure partnerships.
Identify best practices to manage relationships with EPC vendors:
Gaining insights from industry peers is a valuable approach to refining the management of relationships with EPC vendors. Understanding how other companies within the same sector navigate these collaborations and implement best practices not only offers valuable strategies but also helps in risk mitigation and performance optimization.
Middle East-based oil and gas company helped by SpendEdge: A success story
Our client, a Middle East-based oil and gas company, wanted a list of vendors that could provide EPC services in the GCC. They also wanted a comprehensive overview of the best engagement model and sourcing best practices followed by other companies for procuring EPC services. They were specifically focused on finding out the best practices for mitigating claims, securing supply, and minimizing the sourcing cycle without affecting costs for different contract types.
SpendEdge analysts developed an exhaustive list of EPC vendors that provided services within the GCC along with a detailed analysis of their capabilities. In addition, the best practices being followed by other oil and gas companies in the region, especially related to vendor management and engagement models, were shared with the client. Also, since claim management was a specific focus area for the client, SpendEdge analysts assessed the main causes of claims and disputes in the construction sector in the region. Along with those, factors influencing project delays and cost overruns in the Middle East were also assessed. As a last step, our analysts provided recommendations to the client on the best claims mitigation practices.
Based on the vendor analysis and the claims mitigation strategies identified by SpendEdge analysts, the client was able to proactively take measures to improve their procurement process and assess the capabilities of vendors. In addition, they were able to put in place strong claims mitigation strategies in order to reduce the risk of cost overruns and other disputes.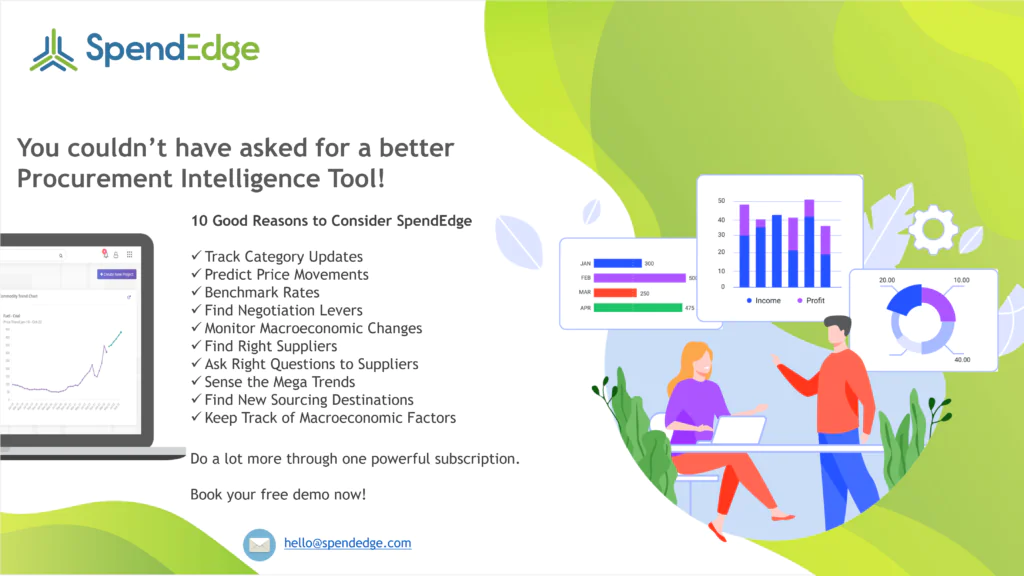 Contact us now to solve your procurement problems!
Author's Details
George Mathew
Associate Vice President, Sourcing and Procurement Intelligence
George is a procurement specialist at Infiniti Research and provides advisory services to clients across the pharmaceutical, CPG & FMCG, energy, and automotive sectors. He specializes in the procurement areas of industry benchmarking, cost modeling, rate card benchmarking, negotiation advisory, and supplier intelligence.