By: Ankur Rishi
CPOs swear by it. Asked to mention one thing in procurement that they hold close to their heart, most procurement professionals will say "cost savings" without a second thought. Procurement might have assumed the status of an enterprise-wide strategy today, but in the eyes of many business stakeholders it is invariably tied up with cost savings in procurement. After all, cost is not a bad word, and every cent saved is a cent of profit. Everything changes with time, and so cost reduction is no longer about engaging with low-hanging fruits. Advanced cost savings initiatives with emphasis on the longer term is the cynosure of many eyes in the procurement function. Without a doubt, contemporary digital technologies and tools (e.g., AI, ML, KPI dashboards, value analysis and value engineering, VAVE) are going to be the key enablers of this paradigm shift toward strategic cost savings initiatives. At the functional level, the strategy will translate to continuous cost-performance tracking of suppliers, tighter control over what were once considered uncontrollable spends, and the development of no-frills products without sacrificing an iota of quality and performance.
Criticality of supplier cost management
Managing suppliers applying 'procurement savings' as a key criterion is significant in today's increasingly competitive environment since it could potentially impact the firm's ability to excel in the market vis-à-vis its rivals. After all, by bringing more costs under control, the firm can hope to better its margins and bottom line, and suppliers account for a significant chunk of costs. Hence, the criticality of supplier cost analysis for enterprises of all sizes, small, medium, and big. Though the benefits of mathematically determining the cost associated with the supplier base are almost limitless, supplier cost analysis and procurement cost savings strategies are not getting the attention bandwidth they most certainly deserve at many enterprises. This attention deficit is costing them dearly, including by limiting their negotiation capital with suppliers and curbing their capability to land more cost-efficient deals.
The imminent need to tackle the endemic called maverick spend
Uncontrolled spend represents one of the biggest and most common drains on corporate budgets, and the problem is far worse than anyone ever imagined. Such purchases made outside of pre-defined spending rules are known to burn away up to four-fifths of a procurement organization's total spend! CPO are unanimous that maverick expenses need to be cut back pitilessly to improve cash flow efficiency and ensure procurement savings. But alas, we can't control what we don't measure! Like some computer virus that operates on a system in stealth mode, maverick spending happens unrestrained and out of sight of the procurement teams. To see what is hidden from their view, procurement organizations need to prioritize adoption of centralized procurement systems into which the majority of purchases can be funneled to consolidate the sourcing process, leading to potential procurement savings.
How value engineering helps lower cost
C-suites have a certain yen for cost savings initiatives, but the age-old cost reduction steps that got their procurement organizations here and this far are just not enough to lead them very far into the future. It's time to energetically adopt cutting-edge procurement cost savings strategies, value engineering being key among them. Stripped down to barebones, value engineering is about proactively assisting the supply side to review new or existing products with a view to pin down and "annihilate" unwanted costs. The end goal is to ensure the happiest possible balance between cost and product performance. Accordingly, this approach nudges suppliers to scout for more wallet-friendly input materials and processes – without putting product quality and performance on the line. Value engineering, if well-conceived and applied accurately at the right points along the supply chain, can help procurement organizations post 30-40% in procurement savings. On the other hand, businesses that are snail-scaling value engineering continue to struggle with cost overruns and profitability.
How SpendEdge can help you savings in procurement: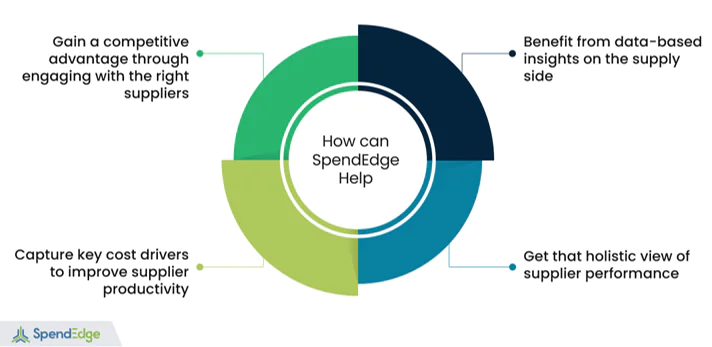 Gain a competitive advantage
By embedding cost analysis in their supply chain, businesses across sectors can hope to build out their competitive advantage and produce better goods and services while maintaining a lower cost structure with various cost savings initiatives. At SpendEdge, our experts assist clients in taking products and services to market faster than the competition through faster and identification of best-fit suppliers and supporting better negotiations so clients can make improved decisions that positively impact their bottom lines.
Capture key cost drivers to improve supplier productivity
Our cost modeling experts undertake "microscale" analysis of key cost elements to fathom out how they impact overall cost structures and procurement savings. This enables procurement organizations to gain better visibility of supply side performance, ensure tasks are running within budget, and, further, realize procurement savings.
Benefit from data-based insights on the supply side
With demonstrated "big data" expertise and technology infrastructure, our teams gather terabytes of supply-side data from diverse sources and "crunch" them using high-speed and efficient processing frameworks to derive meaningful insights. Over the years, our clients, across verticals, have benefited from our supplier reports and contextualized category alerts to make smarter decisions to realize procurement savings.  Backed by such insights, clients have successfully rolled out cost savings initiatives across their procurement organizations.
Get that holistic view of supplier performance
Going beyond cost savings initiatives, our experts perform a thorough and broad-spectrum study of suppliers' prevailing compliance status for adherence to regulatory mandates. Our research encompasses the environmental, social, and governance pillars of compliance. The depth and breadth of our compliance checks is geared towards meeting the inadequately met need in the market for comprehensive views of supplier performance. This way, we ensure cost savings initiatives in procurement go hand in hand with compliance obligations.
Success story: A thorough cost-breakdown analysis enables an oil and gas player to realize procurement savings, improve margins
Our client is a notable player in the American oil and gas industry with operations across the globe. Diminishing oil and gas reserves are a growing concern for businesses in oil and gas, and available data suggests shale growth is nearing its peak in the US, which has dominated global shale gas production for a decade. Inflationary pressures are on the rise, and with uncertainties arising from extreme weather, labor disputes, and faltering material supplies, budgetary overruns are turning into a persistent issue for the industry. Our client is convinced that a detailed examination of the key cost elements associated with the "moving parts" of its supply chain will enable the business to rein in supply side costs and realize significant procurement savings. Time and resource constraints prompted the client to bring in an external consultant, namely SpendEdge, for these cost savings initiatives.  
With years of experience in delivering cost analysis breakdowns (e.g., graphs, charts, tables) for crucial supply chain components (demand planning, sourcing, inventory, production, order fulfillment, product returns), our experts at SpendEdge set to work to ascertain the impact of each supply side factor on overall business costs and procurement savings. Devising a winning cost analysis template was the important first step in the cost standardization journey. To this end, our experts carried out in-depth primary (e.g., interviews, discussions with investors, employees, customers, suppliers) and secondary research (e.g., premium industry databases, various online sources). Our study employed historical cost trends for major cost drivers as a basis for determining cost movements in the future and ensuring cost savings in procurement. 
Based on the findings of our cost analysis study, the client has rolled out standardized procurement practices, which are also cost savings initiatives, across the enterprise. This means the client is now able to ensure consistency in how suppliers are onboarded, products are sourced, and contracts are reached. In turn, this simplifies procurement activities and makes them more efficient while ensuring products meet mandatory standards, apart from rising customer expectations.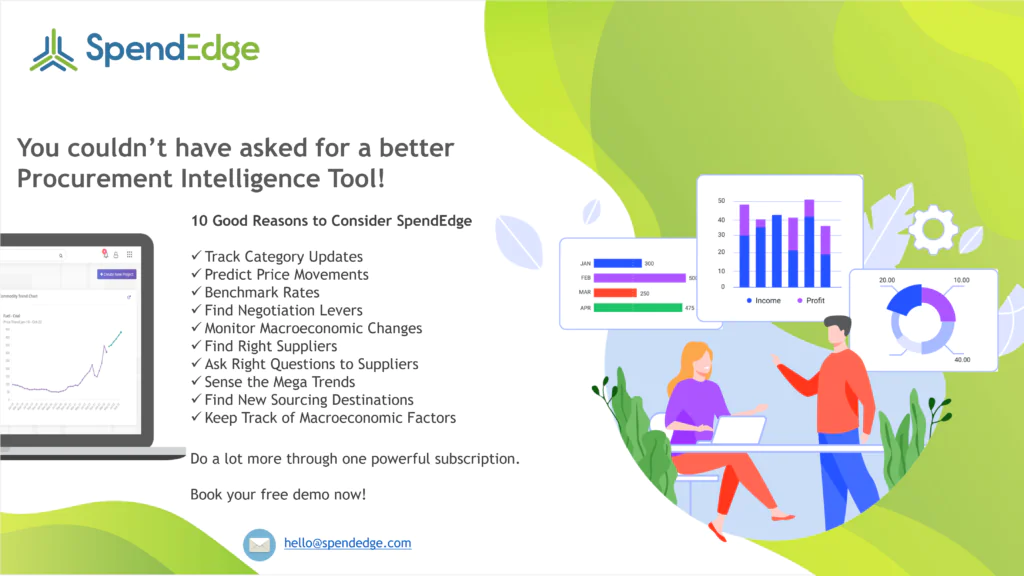 Contact us now to solve your procurement problems!
Author's Details
Ankur Rishi
Vice President, Sourcing and Procurement Intelligence
With more than 12 years of advisory experience, Ankur manages platform content and services within the sourcing and procurement vertical. Over the years, Ankur has provided consulting services to category leaders from chemicals, energy, and packaging industry, on varied topics, such as category strategy, spend analysis, commodity pricing, and clean-sheet analysis.