By: George Mathew
The increasing demand for global procurement support services is propelled by the complexities of modern supply chains, technological advancements, and the need for cost optimization. As businesses expand globally, they require specialized assistance in navigating international markets, managing risks, and ensuring regulatory compliance. Since many organizations lack robust global procurement strategies, there are significant untapped opportunities for enhancement in this area. Shifting the focus from merely reducing costs to prioritizing globally integrated and coordinated sourcing strategies is likely to enhance an organization's competitiveness.
Digital tools and data analytics have become essential in streamlining procurement processes and identifying cost-saving opportunities. Outsourcing procurement activities allows companies to focus on core competencies while experts handle the intricacies of global sourcing and supplier management. Building strong relationships with diverse and sustainable suppliers is also a key driver, ensuring stability and innovation in the supply chain.
Creating well-defined procurement strategies is crucial for attaining excellence in global sourcing:
Centralized procurement knowledge is essential for organizations seeking streamlined processes and cost efficiency
The decentralized procurement expertise often creates a communication gap between suppliers and internal teams. This decentralized process contributes to unauthorized spending and inadequate adherence to guidelines within the organization.
The centralized procurement approach streamlines procurement processes, ensures consistency, and facilitates better supplier management. By providing quick access to standardized information, organizations can make informed decisions, negotiate favorable deals, reduce costs, and effectively mitigate risks. Centralized procurement knowledge enhances efficiency, strengthens supplier relationships, and aligns procurement activities with overall business objectives, ultimately driving operational excellence.
Utilize procurement technologies to discover cost-saving opportunities
Leveraging procurement technologies is essential for businesses aiming to discover cost-saving opportunities and streamline procurement processes. Advanced tools, such as procurement software and analytics platforms, enable businesses to analyze vast amounts of data, identify supplier performance patterns, and negotiate better deals. Automation of routine tasks reduces human error and saves time, allowing procurement professionals to focus on strategic activities. Additionally, these technologies enhance transparency in the supply chain, enabling businesses to make informed decisions and optimize their spending. By harnessing the power of procurement technologies, companies can enhance efficiency, cut operational costs, and ultimately improve their overall competitiveness in the market.
Creating a Procurement Center of Excellence (CoE) in alignment with organizational objectives
Establishing a Procurement Center of Excellence (CoE) that aligns with organizational goals is pivotal for businesses. By centralizing expertise and best practices, the CoE ensures procurement activities directly contribute to core objectives such as cost reduction, risk management, and sustainability. This alignment fosters collaboration between departments, enabling strategic decision-making and efficient procurement processes. Additionally, the CoE focuses on implementing cutting-edge technologies and talent development initiatives, optimizing procurement, enhancing supplier relationships, and ultimately driving the company's success.
How SpendEdge can help organizations excel in global sourcing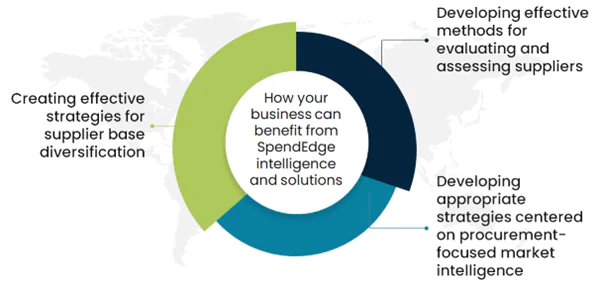 Developing effective methods for evaluating and assessing suppliers
Our specialist sourcing advisors plays a vital role in supplier analysis, identifying the most affordable suppliers for raw materials or services, evaluating their capabilities, and making recommendations. Through in-depth supplier analysis, our advisors assess various suppliers based on criteria such as quality, reliability, and cost-effectiveness. Utilizing market intelligence and data analysis, they identify suppliers offering raw materials or services at the most competitive prices without compromising quality. Evaluating supplier capabilities involves assessing production capacity, delivery timelines, and technological proficiency. Based on this comprehensive analysis, our sourcing advisor then provides informed recommendations to the organization, enabling them to make strategic decisions, optimize costs, and ensure a robust supply chain.
Developing appropriate strategies centered on procurement-focused market intelligence
Our sourcing advisors leverage supply market intelligence (SMI) to aid enterprises effectively manage risks, discover cost-saving opportunities, and attain a competitive edge. By continuously monitoring and analyzing market trends, pricing fluctuations, and supplier performance, our experts provide businesses with critical insights. This information aids in risk mitigation, allowing companies to proactively address supply chain disruptions and adapt to market changes. Moreover, by identifying cost-saving opportunities, our experts enable organizations to optimize procurement strategies and reduce operational expenses.
Creating effective strategies for supplier base diversification
Our procurement consultants, well-versed in supplier diversification, Best Cost Country Sourcing (BCCS), and Low-cost Country Sourcing (LCCS), provide valuable insights to identify a wide range of suppliers from emerging optimal countries for sourcing products or services. They thoroughly evaluate factors such as costs, transportation, quality, labor availability, and proximity, enabling organizations to make well-informed decisions and implement cost-effective procurement strategies.
Success story: How SpendEdge helped a leading chemical company to optimize their global sourcing
Our client is a prominent US-based company in the chemicals industry, with a global footprint and an extensive supplier network.
The client faced challenges in identifying suitable suppliers, evaluating their capabilities, and ensuring compatibility with their specific technology requirements.
Our experts conducted a thorough analysis of the chemical industry's supply market, identifying potential suppliers globally. Rigorous evaluations were carried out, assessing suppliers' production capabilities, quality standards, and delivery reliability. Recommendations were made based on this analysis, ensuring that the chosen suppliers met client's stringent criteria for excellence and reliability.
Furthermore, our advisory team performed a compatibility audit, assessing the technological infrastructures of suppliers. This audit enabled the smooth integration of suppliers' systems with client's needs.
Our solutions helped the client to optimize their global sourcing, resulting in significant cost reductions and improved supply chain resilience in the chemical industry. The seamless technology integration boosted operational efficiency, ensuring a steady supply of high-quality raw materials.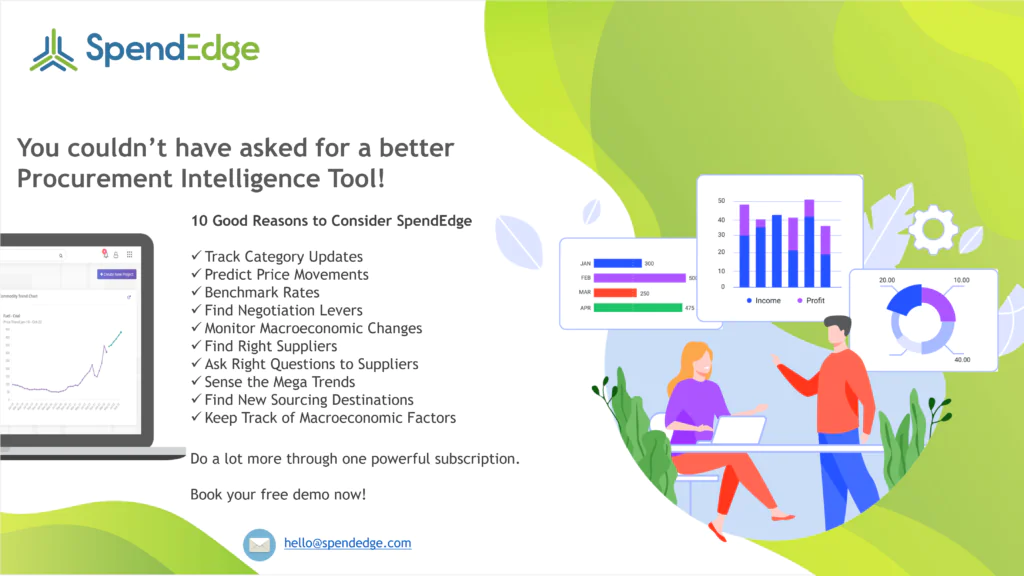 Contact us now to solve your procurement problems!
Author's Details
George Mathew
Associate Vice President, Sourcing and Procurement Intelligence
George is a procurement specialist at Infiniti Research and provides advisory services to clients across the pharmaceutical, CPG & FMCG, energy, and automotive sectors. He specializes in the procurement areas of industry benchmarking, cost modeling, rate card benchmarking, negotiation advisory, and supplier intelligence.