By: George Mathew
The procurement landscape refers to the overall environment and factors that impact the process of acquiring goods and services by an organization. It encompasses supplier relationships, sourcing strategies, regulatory compliance, market dynamics, and technology integration. A thorough understanding of the procurement landscape is crucial for effective supply chain management and cost optimization.
With its excellent analytical skills, machine learning (ML) has opened up a number of possibilities, from automating repetitive operations to revealing unknown territory for procurement teams. The potential of ML to automate time-consuming and repetitive operations and functions lies at the core of this change. And this frees up procurement teams across organizations to devote more of their time and skills to strategic initiatives that have a bigger influence on the success of the company. These include fostering strong supplier connections, managing complex contract negotiations, and enhancing decision-making to drive corporate profitability.
Applications of machine learning: Machine learning in procurement
Spend management: Analysis of companies' spend
Machine learning (ML) in procurement enhances spend management by automating and optimizing various processes. ML algorithms can analyze vast datasets to identify cost-saving opportunities, detect anomalies in spending patterns, and predict future expenses. They enable smart procurement decisions through supplier performance evaluation, risk assessment, and market trend analysis. By automating routine tasks like purchase order processing and invoice validation, ML reduces errors and operational costs. Additionally, predictive analytics can help negotiate better deals and contract terms, ensuring optimal utilization of resources. Overall, ML empowers procurement teams to make data-driven decisions, resulting in more efficient spend management and improved cost control.
Enhance supplier identification and management:
Machine learning transforms supplier identification and management by streamlining the entire process. ML algorithms can scour vast databases and external sources to identify potential suppliers based on specific criteria, including quality, reliability, and cost-effectiveness. They can assess suppliers' performance by analyzing historical data and real-time metrics, aiding in decision-making. Additionally, ML enhances risk management by detecting and flagging potential issues early on, such as financial instability or compliance concerns. It also facilitates predictive analytics for demand forecasting, ensuring efficient supplier relationships. Overall, ML improves supplier identification, evaluation, and ongoing management, leading to more informed decisions and optimized supplier partnerships.
Upgradation and evaluation: Contract management and performance evaluation process
Machine learning plays a pivotal role in contract management and performance evaluation within the procurement process. ML enables the automatic extraction and analysis of contract data, ensuring compliance with agreed terms and conditions. It can predict potential risks or deviations and trigger alerts for proactive management. By continually assessing supplier performance against predefined benchmarks and KPIs, ML ensures adherence to service level agreements and contract deliverables. Moreover, ML-driven analytics help identify opportunities for contract optimization, cost reduction, and efficiency improvements. Overall, machine learning enhances the entire contract lifecycle, from initial negotiations to ongoing evaluation, fostering more strategic and successful supplier relationships.
Compliance management enhancement:
Machine learning significantly enhances compliance management by automating and optimizing various aspects of it. ML algorithms can continuously monitor vast volumes of data, identifying discrepancies and deviations in real time. They provide proactive alerts and risk assessments to ensure adherence to legal and regulatory requirements, reducing the potential for compliance breaches. ML can also assist in document analysis, parsing, and extracting key compliance-related information from unstructured data sources. This not only reduces manual labor but also enhances accuracy. Furthermore, machine learning enables predictive modeling, helping organizations anticipate and address compliance challenges effectively. It empowers businesses to maintain regulatory integrity, reduce risks, and streamline compliance processes.
How SpendEdge can help companies with its market intelligence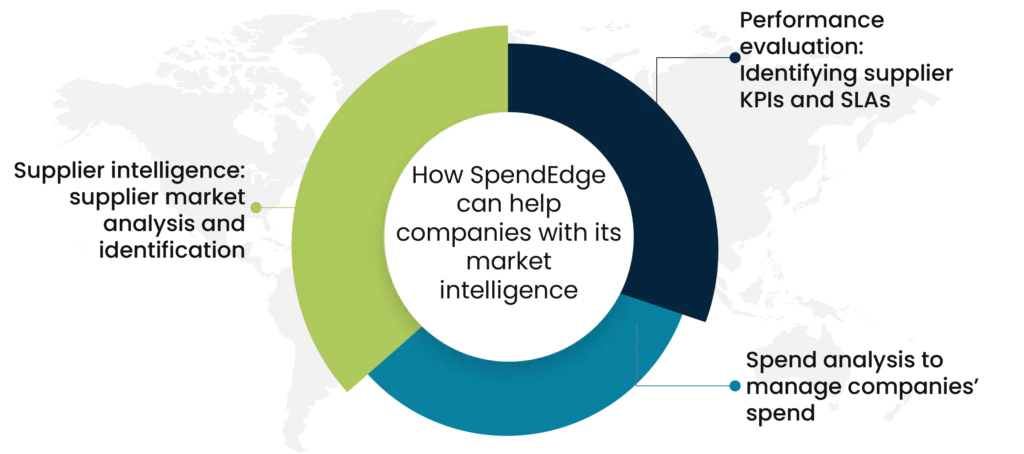 Supplier intelligence: supplier market analysis and identification
We leverage data-driven insights to identify potential suppliers, examining market trends, financial stability, and reputation to find the best suppliers who deal in machine learning technologies. SpendEdge's expertise allows businesses to make informed decisions when selecting new suppliers. By evaluating supplier capabilities and assessing market dynamics, we ensure that organizations choose partners who can meet their specific requirements and contribute to their success, ultimately enhancing supplier selection and market intelligence for strategic procurement decisions.
Spend analysis to manage companies' spend:
At SpendEdge we aid companies in spend analysis by leveraging data analytics to assess and manage their spending comprehensively. We collect, cleanse, and categorize financial data to provide a detailed breakdown of expenditure patterns. This empowers organizations to identify cost-saving opportunities, reduce inefficiencies, and optimize procurement strategies. Our insights enable informed decision-making, leading to better supplier negotiations and overall cost control. By enhancing spend visibility, we help companies achieve substantial savings, improve financial performance, and streamline their spending processes.
Performance evaluation: Identifying supplier KPIs and SLAs
Our SpendEdge experts conduct performance evaluations by identifying essential supplier Key Performance Indicators (KPIs) and Service Level Agreements (SLAs). We collaborate with businesses to establish clear, measurable performance metrics, tailored to specific objectives. This enables organizations to objectively assess supplier performance, track deliverables, and ensure compliance. SpendEdge's expertise ensures that KPIs and SLAs align with broader procurement goals, facilitating data-driven evaluations. By providing this strategic framework, they enable businesses to cultivate robust supplier relationships, enhance performance, and maintain accountability, contributing to overall procurement success.
The success story of how SpendEdge helped one of its clients
SpendEdge recently helped a US-based food and beverage retail company. Since the client deals with a large variety of products sourced from multiple companies, it was getting difficult to manage inventory effectively using the current procurement software. The client wanted to know if its peers were using better technology solutions in their procurement process and which vendors could support their objective for a more improved procurement function.
SpendEdge analysts conducted a best practices analysis wherein the processes being followed by retail companies across the globe were assessed. The technology being used and process improvement steps that have been implemented by the companies in recent years were also evaluated. In addition, a list of vendors that provide a suite of technology products to support the procurement function was also identified. Their capabilities were mapped to identify the best-fit vendors that could support the client's needs.
Our recommendations helped the client make changes in their procurement process which helped them manage inventory and vendors better. They saw improvement in order placement, tracking, and making vendor payments. Also, from the list of technology vendors shared, the client was able to shortlist the products from 4 vendors. The client plans to evaluate the products and select the best fit within the next six months.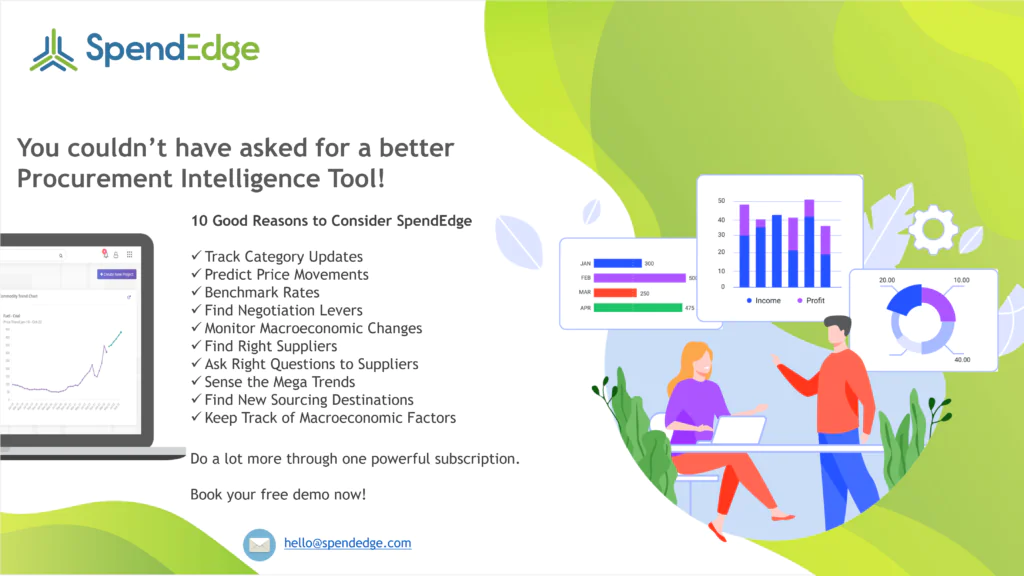 Contact us now to solve your procurement problems!
Author's Details
George Mathew
Associate Vice President, Sourcing and Procurement Intelligence
George is a procurement specialist at Infiniti Research and provides advisory services to clients across the pharmaceutical, CPG & FMCG, energy, and automotive sectors. He specializes in the procurement areas of industry benchmarking, cost modeling, rate card benchmarking, negotiation advisory, and supplier intelligence.