In the current dynamic and competitive business landscape, companies are constantly seeking ways to enhance efficiency, reduce costs, and improve customer satisfaction. One critical aspect of achieving these goals is efficient inventory management. Vendor Managed Inventory (VMI) has emerged as a strategic approach that allows businesses to optimize their supply chains by entrusting suppliers with the responsibility of managing inventory levels. This essay explores the concept of VMI, its advantages, challenges, and its impact on supply chain operations.
Understanding Vendor Managed Inventory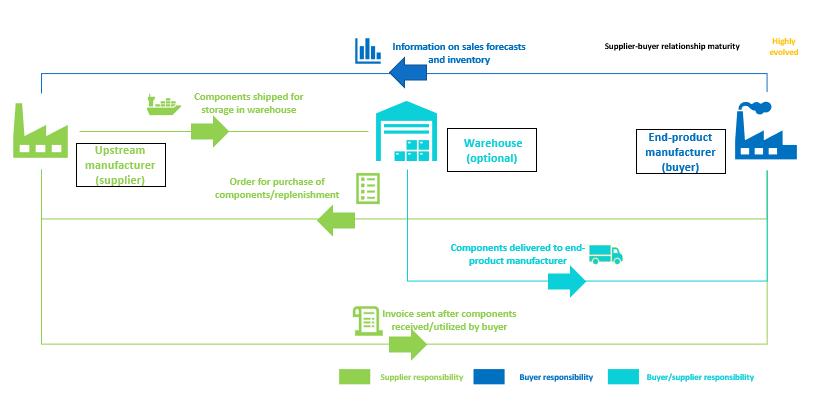 Vendor Managed Inventory, often referred to as VMI, is a collaborative inventory management system in which the supplier takes a more proactive role in controlling the inventory levels of the products they provide to the customer. Instead of the traditional method where customers place orders based on their perceived needs, VMI relies on suppliers monitoring and managing inventory levels on behalf of their customers. This approach is facilitated by close communication and data-sharing between the supplier and the customer, often through advanced software and technology.
Advantages of Vendor Managed Inventory
Reduced Inventory Costs: One of the primary benefits of VMI is the reduction in inventory holding costs. With suppliers actively monitoring and managing inventory, businesses can maintain leaner inventories, reducing the need for storage space and lowering carrying costs. Inventory carrying cost is the opportunity cost of capital invested in periodically consumed stocks along with the safety stock. It includes costs related to storage in third-party warehouses such as rent, shelves, handling equipment, salaries, and insurance. This cost is incurred for the stock stored at the supplier's location (for the buyer) as well as the third-party warehouse (for the supplier). Higher lead time for replenishing inventory leads to higher carrying costs for the buyers and suppliers and VMI lowers the lead time as suppliers place orders for supply parts according to end-product demand data.
Enhanced Supply Chain Visibility: VMI fosters a higher degree of transparency and visibility in the supply chain. Suppliers have real-time data on customer inventory levels and can adjust production and deliveries accordingly. This leads to better demand forecasting and minimizes the risk of stockouts or overstock situations.
Improved Customer Service: VMI enables suppliers to respond quickly to changes in demand or unexpected disruptions. This ensures a more consistent supply of products to the customer, improving customer satisfaction and loyalty. A shift to a vendor managed inventory program enables small and frequent shipments, since the vendor can anticipate customer orders. The customer benefits from potentially receiving better product availability and shifting the cost of managing replenishments partially to the vendor. As the inventory is managed by the vendor, the manufacturer is more focused on providing great service to the end customer, which increases overall service levels.
Streamlined Order Process: VMI simplifies the ordering process for customers. Instead of placing frequent orders, they can focus on strategic planning and core business activities while the supplier handles routine replenishment. Considering the orders for the final products can be irregular throughout the year, a manufacturer must maintain excess inventory to meet the demand during seasonal peaks. By implementing VMI, the manufacturer can transfer the responsibility of maintaining inventory of the raw materials or components for the final product to the suppliers.
Cost Efficiency: By reducing the need for safety stock and minimizing stockouts, VMI helps businesses optimize their resources and reduce operational costs. For products with a finite shelf life, implementing VMI can result in lower quantities of perished goods, which are stored by the manufacturer due to any decrease in sales.
Reduced Bullwhip Effect: It is observed that the VMI model decreases the magnitude of the bullwhip effect, which is a phenomenon that sees material orders increase in contrast to demand swings further up the supply chain. In a VMI environment, vendors are in a better position to anticipate inventory needs and customer orders with visibility into sales patterns, stock level, and demand forecasting. Supplier can know how much of the manufacturing inventory (be it work in process inventory, raw materials inventory, or finished goods inventory) is in their warehouse at a given time with more accurate understanding of product demands. As a result, suppliers can decrease the amount of in-transit inventory in the pipeline and safety stock on hand. This leads to more stable production schedules and inventory levels.
Challenges in Vendor Managed Inventory Implementation
While Vendor Managed Inventory offers numerous advantages, it is not without its challenges.
Data Sharing and Integration: Effective VMI relies on seamless data sharing and integration between the supplier and the customer. This can be a complex process, especially if the parties use different systems or have varying levels of technological sophistication. In addition, VMI suppliers must manage their upstream supply chains to manage their supply at additional effort so that they can be able to supply to the downstream buyer in case of immediate order quantity variations.
Trust and Collaboration: Successful VMI requires a high degree of trust and collaboration between the supplier and the customer. Both parties must be willing to share information and work together closely. Buyers usually enter VMI programs with suppliers that they trust the most and are more likely to enter long-term agreements. Such long-term contracts are guaranteed business for the suppliers. It also makes the supplier plan long-term strategy and align operations to suit the buyer's needs.
Supplier Reliability: Relying on a supplier to manage inventory carries risks. If the supplier encounters production or delivery issues, it can disrupt the customer's supply chain. As a vendor's responsibilities increase, they can result in higher unit costs for supply parts due to issues, including frequent transportation. Frequent transportation can result in increased unit costs due to Less Than Truckload (LTL) shipments.
Costs of Implementation: Implementing VMI systems and processes can be costly and time-consuming. Businesses must weigh these upfront expenses against the expected long-term benefits.
Loss of Control: Customers cede a degree of control over their inventory when adopting VMI. As the buyers inside information is shared with the vendor, it leaves the customer at risk in the event the relationship is terminated. Some businesses may be uncomfortable with this loss of control, particularly if they have historically managed their inventory in-house.
Best Practices for Vendor Managed Inventory Implementation

Centralization of Inventory: In a VMI program, the inventory can be located either at the vendor's location or the customer's location. In the case of the former, it enables the vendor to use it as buffer against short delivery cycle, unsynchronized production cycle, and respond quickly to demands or usage needs. However, the vendor incurs high inventory holding costs due to storage, material handling and tracking, and threat of inventory obsolescence. If the inventory is located at the customer's location in a distributed manner, for example, at the manufacturer's production line or at the retailer's shop floor. In this case, the vendor replenishes inventories at all consumption areas such as stores, production lines, and machines. This increases the workload for the vendor compared to the customer. In an alternate approach, the supplier can deliver to a customer's central warehouse. This approach will enable optimization of deliveries of products or raw materials, which are procured from several vendors to plants, stores, construction sites, or other points of consumption. This approach lowers safety stock levels, total overhead cost, transportation cost, and achieves economies of scale.
Replenishment Decisions – Supplier Managed: In a VMI program, the replenishment decision can be fully made by the supplier, where it has the authority to decide on quantity, time for delivery, and location. This provides the supplier with autonomy and flexibility in managing inventory on behalf of the customer. With the supplier's authority, generated orders will be more accurate and represent true demand in the marketplace, improve and optimize manufacturing and distribution activities, and reduce out-of-stock costs by prioritizing the customer orders. However, when the customer has the authority to make the replenishment decision, the supplier will be unable to maximize distribution activities through full truckloads.
Data Accuracy: The demand information shared with the supplier includes sales data, stock withdrawal, production schedule, inventory level, goods in transit, back order, incoming order, and return. With increasing visibility into demand information, the supplier has ample time to arrange for inventory replenishments. Sharing sales data and inventory levels can improve the supplier's production planning. The supplier can use the data to understand the seasonal changes at the factory to identify critical times. However, by using this type of data, the supplier may require extra time to compare the production data of its own production capacity and decide regarding its own investments and production.
In other alternatives, demand data contains the resetting of forecasts based on actual market trends. The data related to each month is updated week by week. The supplier can take advantage of this information and plan its own production capacity based on the customer's requests. Forecasts are also used in combination with the current allocations. The data, usually transmitted by using EDI, is used for the daily check of target stock, replenishment needs, and for updating the delivery plan. Therefore, a high level of data accuracy is required.
Implementation of a Scorecard System: The balanced scorecard offers four perspectives: financial, customer, internal business process, and learning and growth perspective. The financial perspective can include metrics such as reduction in distribution/ordering costs, and cost of shipments delivered. The customer perspective can include qualitative metrics such as customer satisfaction and customer retention. Here, the end-product user must be considered as a customer. The internal business process is the most important perspective for a VMI arrangement. Metrics such as inventory turnover, frequency of joint forecasts, days of supply, on-shelf availability, and out of stock events can be used for measuring supplier performance. The implementation of a balanced scorecard with approximately five to seven KPIs for the supplier involved in consignment can help build trust when implementing VMI.
Conclusion
Vendor Managed Inventory is a powerful supply chain management strategy that offers numerous benefits to businesses. It reduces inventory costs, enhances supply chain visibility, improves customer service, and streamlines order processes. However, successful implementation requires careful consideration of challenges such as data sharing, trust, and the costs of implementation.
In an increasingly competitive business environment, VMI can provide a significant competitive advantage by enabling businesses to operate more efficiently, respond quickly to changing customer demands, and ultimately achieve better customer satisfaction. As technology continues to advance and supply chain complexity grows, VMI is likely to become an even more critical tool for businesses seeking to optimize their supply chains and remain competitive in the global marketplace.