By: George Mathew
Understanding Artificial Intelligence's (AI) impact on procurement necessitates defining AI as computer systems mirroring or surpassing human abilities in tasks such as decision-making. AI encompasses RPA, natural language processing, and deep learning. AI is revolutionizing procurement by streamlining processes, enhancing efficiency, and optimizing decision-making. Machine learning algorithms analyze vast datasets to predict demand, improve inventory management, and identify cost-saving opportunities. AI-driven supplier relationship management enhances supplier selection, performance monitoring, and collaboration. Chatbots and virtual assistants assist in handling routine inquiries and requests, improving customer service. AI in procurement offers opportunities such as predictive analytics for demand forecasting, cost optimization through data-driven decisions, automated supplier selection and negotiation, improved risk management, and enhanced supplier relationship management. These advancements enhance efficiency, reduce costs, and enable strategic decision-making, making AI a valuable tool for modern procurement professionals.
Challenges faced by procurement teams while implementing Artificial intelligence in procurement function
AI in procurement can cause inherent risks such as security and compliance:
The challenge of security, privacy, and compliance in AI-powered procurement lies in safeguarding sensitive data and ensuring adherence to regulations. AI systems require access to extensive data, raising concerns about data breaches and cyberattacks. Privacy issues emerge when handling personal or proprietary information. Moreover, complying with various data protection and industry-specific regulations can be complex. Maintaining transparency and accountability in AI algorithms, data handling, and decision-making processes is crucial. Additionally, gaining robust cybersecurity measures, robust data governance frameworks, and ongoing monitoring is challenging to ensure AI-driven procurement remains secure, respects privacy, and complies with legal requirements.
Difficulty in navigating cultural and linguistic diversity in procurement:
Navigating cultural and linguistic diversity in procurement can be challenging due to its complications as there are diverse cultural and linguistic backgrounds and it is difficult to correctly recognize and interpret contextual nuances to avoid misunderstandings or miscommunications. Off-the-shelf AI solutions pose challenges in accurately comprehending nuanced language and specialized jargon unique to enterprises. These solutions often struggle to grasp the complexities of industry-specific terminology and context. Tailoring them to navigate such linguistic jargon effectively and align with specific business demands significant customization and fine-tuning, which can be time-consuming and resource-intensive.
How SpendEdge can help by providing services as solutions for artificial intelligence issues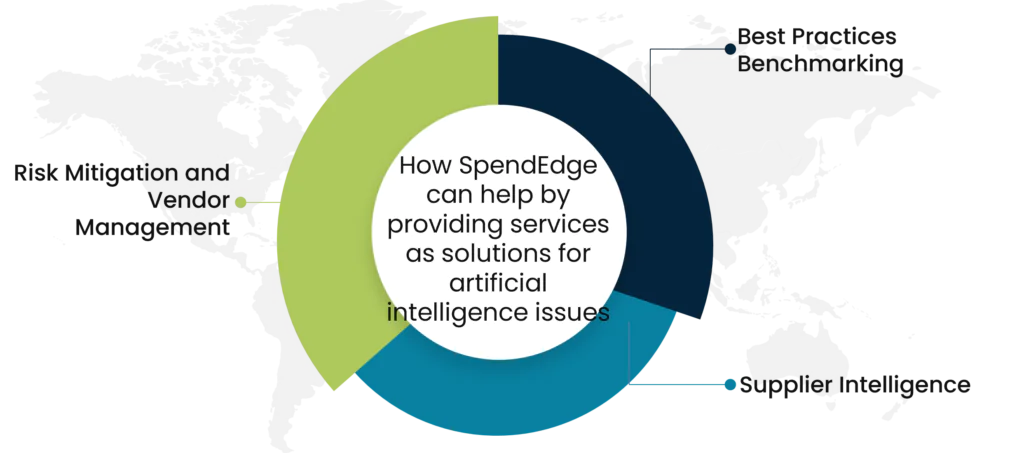 Supplier Intelligence:
Our supplier intelligence serves as a valuable resource, offering clients a curated list of AI solutions providers while meticulously mapping their capabilities. This strategic approach aids in recommending vendors who align seamlessly with the client's specific needs and objectives. By leveraging data, clients can make informed decisions, ensuring their investments in AI technology are optimized for maximum performance and return on investment.
Best Practices Benchmarking:
At SpendEdge, our specialist's methodologies go beyond vendor recommendations; they delve into the broader landscape by analyzing the AI solutions adopted by the client's competitors. This comprehensive benchmarking approach provides valuable insights into industry best practices, allowing clients to stay ahead of the curve, adopt cutting-edge technology, and maintain a competitive edge in their market.
Risk Mitigation and Vendor Management:
The implementation of AI carries inherent risks. SpendEdge plays a pivotal role in evaluating these risks and recommending robust mitigation strategies. This includes assessing the potential implications of AI implementation, such as data security and compliance concerns, and providing actionable steps to minimize these risks. Furthermore, our intelligence extends its expertise to vendor management, ensuring clients maintain strong, mutually beneficial relationships with their AI solution providers, ultimately fostering long-term success in their AI initiatives.
The success story of how SpendEdge helped a client with expert solutions
The client was a manufacturing company that deals with the production of automotive parts and was headquartered in Italy. It is a well-known multinational corporation that operates across many countries.
The client was facing critical issues relating to the procurement of materials such as tire rubber and brake mechanisms. They had a complex supply chain with multiple suppliers across the globe, making it difficult to monitor and optimize their procurement operations effectively. Their manual procurement processes were time-consuming, error-prone, and often led to increased costs due to inefficiencies.
We provided a meticulously curated list of vendors capable of delivering the desired service. Our approach extended beyond mere listing, as it involved a thorough comparison of the capabilities of these vendors' solutions. This in-depth analysis allowed us to recommend the most suitable vendors to the client, ensuring that the chosen providers align seamlessly with their specific requirements and objectives.
Our client has seen a significant reduction in procurement costs. within the first year of implementation. These cost savings were not merely superficial; they penetrated deep into the company's bottom line, boosting profitability and financial resilience.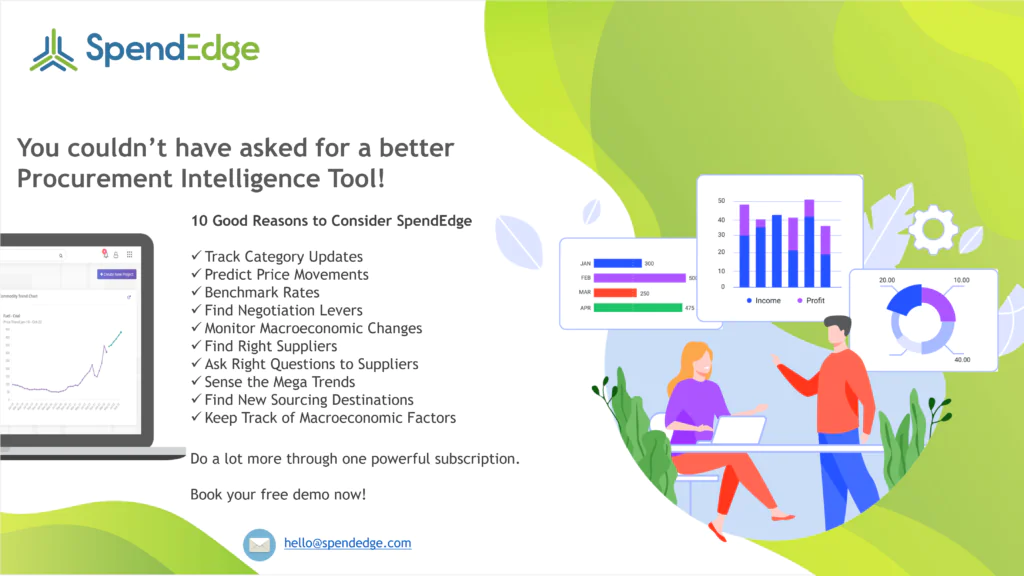 Contact us now to solve your procurement problems!
Author's Details
George Mathew
Associate Vice President, Sourcing and Procurement Intelligence
George is a procurement specialist at Infiniti Research and provides advisory services to clients across the pharmaceutical, CPG & FMCG, energy, and automotive sectors. He specializes in the procurement areas of industry benchmarking, cost modeling, rate card benchmarking, negotiation advisory, and supplier intelligence.