By: George Mathew
E-signatures or electronic signatures have become an integral part of the modern procurement process, offering efficiency, security, and convenience, while also helping to reduce costs and support sustainability efforts. E-signature is a digital or electronic representation of a person's handwritten signature. It is used to authenticate and validate electronic documents and agreements, serving as a legal and secure means to indicate a person's consent or approval.
E-signatures enhance procurement by expediting approvals, reducing paperwork, and ensuring compliance. They enable swift document approval, reducing delays, while also cutting down on paper usage and costs. E-signatures can be tailored to meet legal requirements, reducing compliance risks. Moreover, these platforms offer tracking and audit trail capabilities, enabling better monitoring of procurement processes. Overall, eSignatures streamline procurement, making it more efficient and cost-effective.
Prior to the invention of digital signatures, procurement teams had to wait for all stakeholders to sign and return documents in person. This procedure could drag on for days or even weeks, postponing crucial choices and slowing down project schedules.
The improvisations in procurement with the emergence of E-signatures
Minimizing procurement costs:
The adoption of e-signatures in business operations leads to substantial cost savings by eliminating the need for traditional paper-based processes. These savings come from reduced expenditures on paper, printing, ink, and postage. By going digital, organizations eliminate the expense of purchasing, storing, and managing physical documents. They also avoid costs related to printing and shipping contracts or agreements. Additionally, e-signature accelerates the document signing process, minimizing the time and effort spent on manual paperwork, thereby increasing productivity and reducing administrative overhead. These cumulative cost reductions make e-signatures a cost-effective and environmentally friendly solution for modern businesses.
Improved accessibility and convenience:
The use of e-signatures offers the invaluable benefit of enhanced accessibility and convenience. It allows individuals to sign documents from anywhere with an internet connection, eliminating the need for physical presence. This convenience extends to all parties involved, reducing the time-consuming process of sending faxes or coordinating in-person signings. As a result, e-signatures enable faster, more efficient transactions and collaborations. They empower businesses and individuals to work seamlessly across distances and time zones, making document handling more accessible, convenient, and responsive to the demands of today's fast-paced world.
Reduced risk of fraud and authenticity:
E-signatures bolster security and compliance in document management. They offer enhanced authentication measures, reducing the risk of fraud or unauthorized access. Robust encryption and tamper-evident technologies ensure the integrity of signed documents. Moreover, eS-signatures often come with audit trails, providing a transparent record of the signing process, which can be invaluable for compliance purposes. This level of security and transparency helps businesses meet regulatory requirements more easily. It also deters fraudulent activities, increasing confidence in the authenticity of electronically signed documents, and making them a reliable choice for legal and sensitive transactions.
Enhance tracking and monitoring: Easy tracking of the status of documents
E-signatures greatly enhance the tracking and monitoring of document workflows. They provide a transparent and real-time status update for each document, from creation to signature completion. This simplifies the tracking process, allowing users to easily monitor the progress of documents. The ability to see who has viewed, signed, or has pending actions on a document streamlines collaboration and decision-making. It also minimizes delays and ensures timely follow-up on outstanding tasks, making document management more efficient and accountable. eSignatures thus empower organizations to have better control over their document workflows and enhance their overall operational efficiency.
Environmental sustainability: Reduction in paper usage, carbon footprint
Procurement automation can be immensely beneficial for organizations in ensuring compliance with both internal policies and external regulations. By using automated procurement tools, organizations can keep track of and enforce compliance with purchasing policies, industry standards, and regulatory requirements. Procurement automation can also assist organizations in monitoring their spending, making sure that they remain within the budget limits. It can further enforce the use of preferred supplier lists, allowing procurement teams to work only with approved vendors that meet the organization's standards for quality, cost, and risk. By providing real-time visibility into the supply chain, procurement automation can help manage risk.
How SpendEdge can help companies with its market intelligence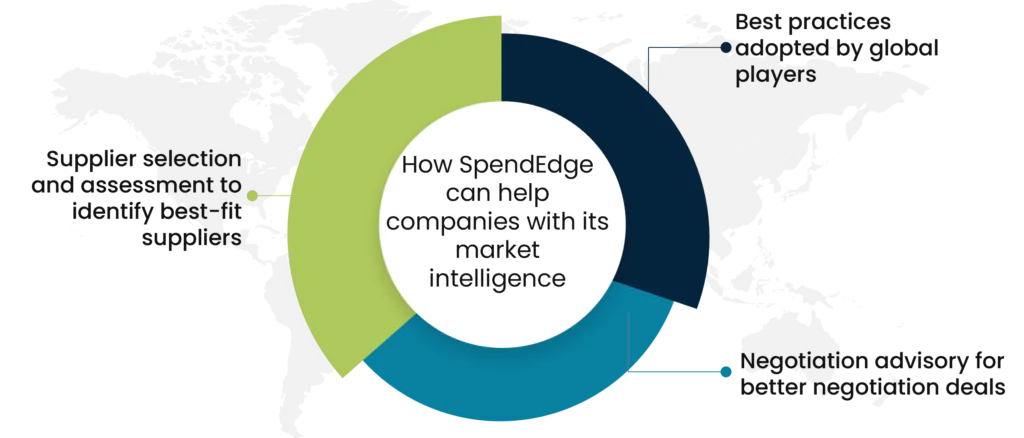 Supplier selection and assessment to identify best-fit suppliers:
SpendEdge assists in supplier selection and assessment by employing a data-driven approach. We identify potential suppliers through extensive market research and supplier databases. Evaluating supplier capabilities involves analyzing factors such as performance history, financial stability, quality, and compliance. We employ advanced analytics to generate recommendations based on these assessments, enabling businesses to make informed decisions and select the most suitable suppliers, ultimately enhancing procurement efficiency and mitigating risks.
Best practices adopted by global players:
SpendEdge professionals support businesses in identifying best practices by conducting a thorough analysis of competitors' practices, specifically in areas like e-signature implementation and process optimization. We can assess industry benchmarks and competitors' strategies to uncover potential process gaps and inefficiencies. By leveraging their expertise in market intelligence and analytics, we can help companies adopt superior practices, enhancing their operational efficiency and competitive edge. This analysis enables organizations to stay ahead in the market and streamline their processes for optimal performance.
Negotiation advisory for better negotiation deals:
SpendEdge offers negotiation advisory services by providing valuable insights on effective supplier negotiations. We guide clients on suitable engagement models and pricing strategies based on market trends and supplier behavior. By leveraging our extensive market intelligence and data analysis, we equip businesses with the knowledge needed to secure favorable terms and agreements. Our expertise ensures clients can navigate negotiations successfully, optimizing supplier relationships and achieving cost efficiencies, while adhering to best practices and industry benchmarks.
Success story: How SpendEdge helped a chemicals company
Our client is a US-based chemical company with global operations that procures its materials from various sources around the world aimed to modernize their procurement process by incorporating e-signatures, streamlining contract management, and enhancing supplier relationships.
Our experts at SpendEdge conducted a comprehensive analysis to identify e-signature solution providers with expertise in the chemicals industry and evaluated potential suppliers based on their technology, pricing, security features, and scalability. Our experts also developed a comprehensive e-signature adoption strategy that aligns with the client's procurement goals and established standardized contract templates for e-signature integration. Furthermore, collaborated with selected service providers to negotiate favorable contract terms and secure competitive pricing while maintaining quality and security standards.
Our solutions helped the client to enhance compliance and data security, reduce contract approval times and associated costs, as well as strengthen supplier relationships through streamlined communication.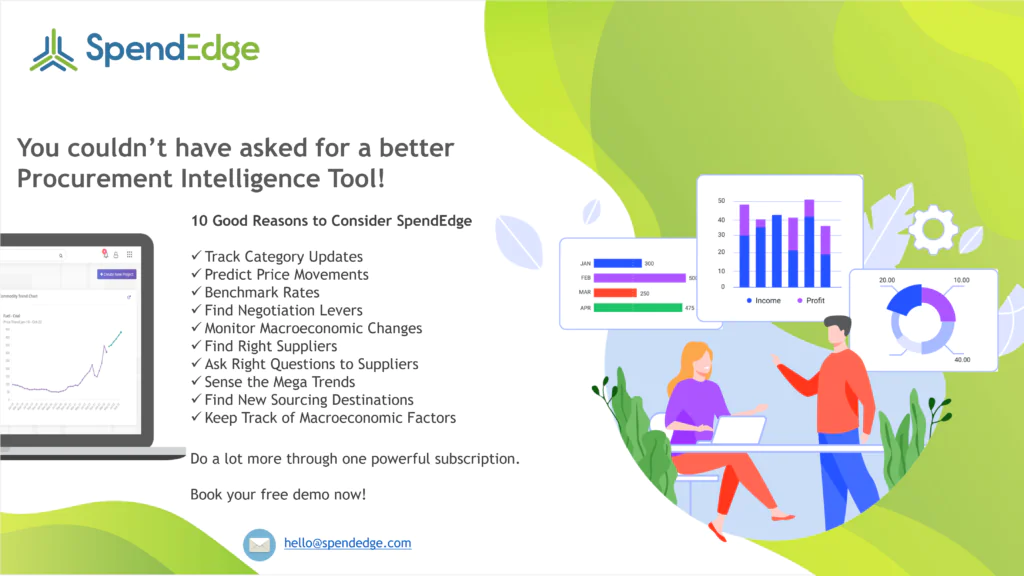 Contact us now to solve your procurement problems!
Author's Details
George Mathew
Associate Vice President, Sourcing and Procurement Intelligence
George is a procurement specialist at Infiniti Research and provides advisory services to clients across the pharmaceutical, CPG & FMCG, energy, and automotive sectors. He specializes in the procurement areas of industry benchmarking, cost modeling, rate card benchmarking, negotiation advisory, and supplier intelligence.