By: George Mathew
While procurement was earlier viewed as a tactical team focused solely on cost reduction, it is now being viewed as a strategic entity that can drive enterprise-wide value and deliver sustainable business results. It is hence necessary that procurement teams drop their legacy processes, practices, and structures, and adopt the latest technologies available to meet the current needs of the organization.
One step towards achieving this objective is the use of procurement software. Traditional methods of using spreadsheets or other semi-manual processes fail to deliver the level of scale, efficiency, insights and results that large enterprises require. Procurement software helps by simplifying complex processes and making them faster and more efficient. While procurement software earlier used to be an array of stand-alone modules focused only on improving individual processes, it can now be implemented as a unified procurement platform to help enterprises automate and optimize the entire S2P process cycle.
Procurement processes that can be automated through software:
Spend analysis and spend management
Spend analysis software can clean, validate, classify and report spend data from enterprise-wide source systems to deliver accurate, actionable information, with granular, item-level visibility across the enterprise. This in turn can help streamline the spending, thereby resulting in substantial savings. Similarly, spend management software can effectively manage the end-to-end spend process. With capability to cover a wide range of procurement areas including spend analysis, sourcing, savings tracking, contract management, category management, supplier management and procure-to-pay, these software ensure that the most optimal contracts are selected which help achieve savings.
Sourcing
Sourcing software can help companies efficiently identify, evaluate and qualify new suppliers as well as streamline the RFx-to-award cycles. In addition, it helps organizations achieve best-value agreements for every sourcing activity. A properly selected software faclitates enterprise-wide collaboration across offices and geographies to evaluate suppliers, author new RFPs and award contracts. It can further help with contract management and supplier management processes.
Supplier and contract management
Supplier management and contract management are a few of the other procurement functions that can benefit significantly from software implementation. For example, procurement software solutions with supplier management capabilities can help monitor and manage supplier performance by tracking and measuring supplier performance, compliance, and risk. Similarly, companies can achieve time and effort reduction and boost contract utilization and compliance with the help of contract management software solutions.
Procure-to-pay (P2P)
P2P software helps by automating and optimizing the entire purchasing process. This typically includes processes such as entering a requisition, seeking approval, ensuring a three-way match and exception handling. It also includes supplier communication, relationship management, facilitating payment and reporting.
How SpendEdge can help with procurement software implementation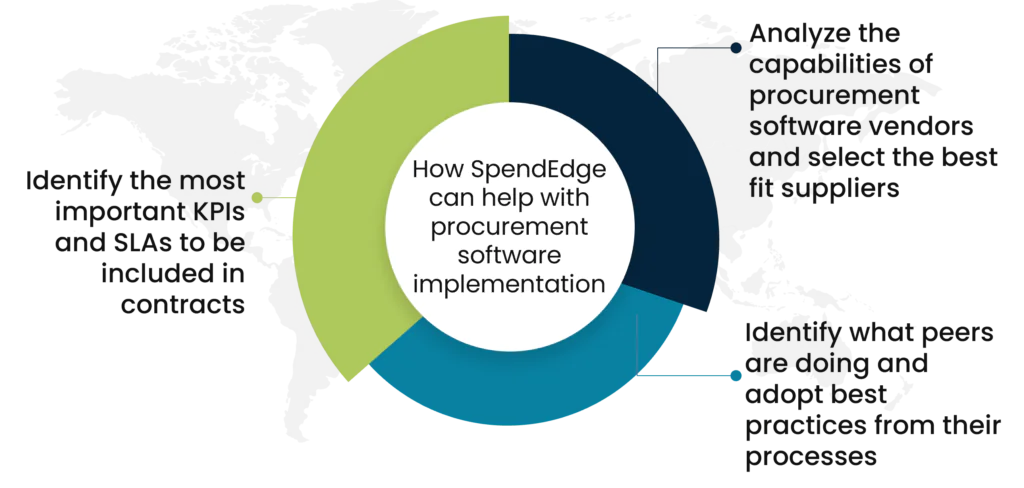 Analyze the capabilities of procurement software vendors and select the best fit suppliers
The experience of our seasoned team of analysts in evaluating the capabilities of technology solution providers enables them to identify the best fit vendors providing procurement software. We analyze various factors such as years of experience, innovation, major clients, past projects, etc. to assess the capabilities of vendors and rank them based on how well they align with the objectives and requirements of our clients.
Identify what peers are doing and adopt best practices from their processes
When it comes to engaging with procurement software companies, our experts help in identifying the best approach on vendor selection, engagement models, contract negotiation, and cost management. With a clear view of the processes adopted by peers in your industry, our experts can help you understand the best practices to ensure cost savings and minimize risk in the procurement process. Adhering to preset guidelines as defined in the best practices can also ensure you are procuring the services of the best vendors and minimize risks and errors.
Identify the most important KPIs and SLAs to be included in contracts
SpendEdge's analysts can help organizations understand the most important KPIs to measure the effectiveness of the services being provided by procurement software providers. This can provide a clear visibility on the RoI from procurement software implementation. Similarly, our analysts help clients identify the important SLAs to be included in the contract to ensure the most optimal services are being procured and there is minimal risk associated with the selected vendor.
Success story: How SpendEdge helped a FMCG company identify best fit procurement software vendor
SpendEdge's client, a North American FMCG company, was exploring the possibility of improving their procurement process by upgrading the procurement software they were using. While they were already using an array of stand-alone modules focused on improving individual processes, they now wanted to implement a unified procurement platform that could automate and optimize the entire S2P process cycle. The client reached out to SpendEdge to help identify vendors that could help them with their objective.
SpendEdge's team of experts did a thorough analysis of the capabilities of various procurement software available in the market. The features, cost and support provided for each of the systems were benchmarked. In addition, the most important SLAs to be included in the contract along with KPIs to determine the effectiveness of the solutions were provided to the client. Our insights helped the client to narrow down on a small set of suppliers who were invited to the RFx stage. In addition, the SLAs provided by SpendEdge were used by the client to develop a favorable agreement.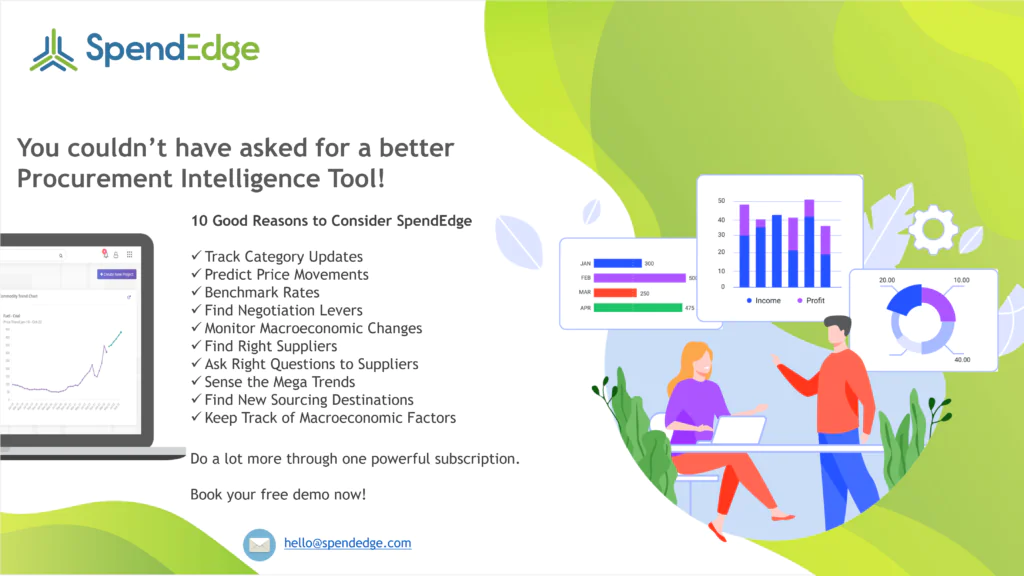 Contact us now to solve your procurement problems!
Author's Details
George Mathew
Associate Vice President, Sourcing and Procurement Intelligence
George is a procurement specialist at Infiniti Research and provides advisory services to clients across the pharmaceutical, CPG & FMCG, energy, and automotive sectors. He specializes in the procurement areas of industry benchmarking, cost modeling, rate card benchmarking, negotiation advisory, and supplier intelligence.