By: George Mathew
In a business context, contract management refers to the systematic and strategic administration of agreements between a company and its partners, suppliers, or customers. It encompasses the entire contract lifecycle, from negotiation and drafting to execution, compliance monitoring, and renewal. Effective contract management enhances operational efficiency, reduces risks, and helps businesses achieve their goals. Contract management plays a pivotal role in the procurement function of a business. It ensures that negotiated terms, pricing, and performance expectations are met, reducing financial risks, and improving supplier relationships. Efficient contract management also helps in compliance with legal and regulatory requirements, prevents disputes, and enhances transparency. Additionally, it supports cost control by identifying cost-saving opportunities and optimizing supplier performance, ultimately contributing to improved procurement efficiency and the overall success of the business.
Effective contract management techniques to strengthen the relationship with the stakeholders
Develop an implementation plan with appropriately defined roles and responsibilities:
A contract management implementation strategy must be created before any contract management can progress past the negotiation and signing stages to guarantee that all parties are fully aware of the terms and what must be delivered. Each and everyone involved in the contract management process needs to be aware of their duties. Whether it's the contract manager or a specialized team, steps should be taken to guarantee that all parties are fully aware of what is expected of them at every stage. This strategy ensures alignment, accountability, and smooth contract execution for all.
Define KPIs and timelines for contracts:
Establishing key performance indicators (KPIs) is a critical aspect of the contract management process, especially during negotiations. KPIs serve as vital safeguards, particularly in vendor contracts, by promptly flagging any deviations from agreed-upon standards, allowing for rapid course correction. Additionally, setting clear timelines prevents unproductive auto-renewals and ensures proactive contract renegotiations and exit strategies are in place. This proactive approach not only safeguards the interests of all parties involved but also fosters a culture of continuous improvement and accountability within the contract management framework.
Ensure clear communication and proper knowledge transfer among stakeholders:
Clear communication and effective knowledge transfer among stakeholders are essential components of successful contract management. It begins with establishing open channels for sharing information, expectations, and updates. All parties, from contract managers to procurement teams, need to have a comprehensive understanding of the contract terms and obligations. Regular meetings and documentation help facilitate this process. Furthermore, knowledge transfer should extend to succession planning, ensuring that when key individuals transition out, their expertise and insights are seamlessly passed on. This approach enhances accountability, and minimizes misunderstandings, ultimately leading to more efficient contract execution, reduced risks, and stronger business relationships.
Implementing effective risk management processes to mitigate risks:
Effective contract management involves the implementation of risk management strategies by all parties. As contracts are inherently risk-prone, ongoing risk assessments of third parties are imperative to avoid costly contract disputes. To ensure smooth operations, contract management teams must work in conjunction with finance and legal teams. This requires nurturing relationships and keeping communication channels open. Contract management software streamlines administrative processes by using advanced search functions and tagging tools, allowing businesses to grow at scale. By leveraging metadata to search contracts for keywords and clauses, information can be identified quickly and easily.
Contract management software to streamline contract procedures:
Contract management software is a powerful tool for streamlining contract procedures. It digitizes and centralizes contract storage, making it easy to access and manage agreements. It automates key processes like contract creation, approval workflows, and alerts for renewals or compliance deadlines. This software also provides robust reporting and analytics, offering insights into contract performance and risk management. By enhancing efficiency, reducing errors, and ensuring compliance, contract management software optimizes the entire contract lifecycle, saving time and resources for businesses.
How SpendEdge services can help companies with contract management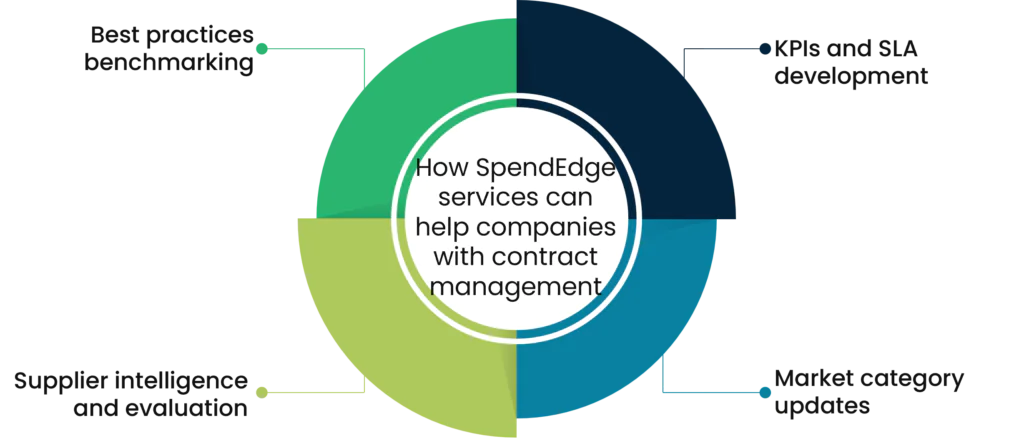 Best practices benchmarking:
SpendEdge conducts extensive research to identify and analyze best practices within your industry for contract management. We examine how leading companies in your sector manage contracts, the tools and technologies they employ, as well as the processes they follow. This allows us to provide you with actionable insights to enhance your contract management procedures.
Supplier intelligence and evaluation:
We offer comprehensive supplier intelligence services, enabling you to identify vendors that provide contract management software. Our assessments include a detailed analysis of their capabilities, innovations, and track record in the industry. This information helps you make informed decisions when selecting the right software provider for your specific needs.
KPIs and SLA development:
SpendEdge assists in defining Key Performance Indicators (KPIs) to track the effectiveness of your contract management systems. We also help you establish Service Level Agreements (SLAs) to include in contracts with service providers. These KPIs and SLAs are tailored to align with your organizational goals, ensuring contracts meet your expectations and deliver desired outcomes.
Market category updates:
Our research team continuously monitors the contract management systems market to provide you with timely insights on market trends, developments, and innovations. We keep you updated on the latest advancements in the category, allowing you to stay ahead of the curve and leverage new technologies and strategies to optimize your contract management processes.
Success story
Recently, SpendEdge provided its services to a Germany-based automotive parts manufacturer. The company operates globally and procures different variety of materials from vendors across countries. The procurement team of this company needed the best technique to manage the contracts with suppliers. The client had been manually managing all its contracts so far. However, manually managing the contracts meant the client often missed out on fine details in the contract, missed contract renewal dates sometimes, and was not able to effectively negotiate during contract signing and renewals. The company wanted to check if using contract management software would help improve the outcome. Also, they wanted to know what features of products are currently available in the market.
SpendEdge did a thorough analysis of all the capabilities of various contract management software available in the market. The features, cost, and support provided for each of the systems were benchmarked. In addition, the important SLAs to be included in the contract along with KPIs to determine the effectiveness of the system were provided to the client. Our insights helped the client narrow down a small set of suppliers who were invited to the RFx stage. Eventually, the client selected the product from one of the suppliers recommended by SpendEdge. In addition, the SLAs provided were used to create a favorable agreement.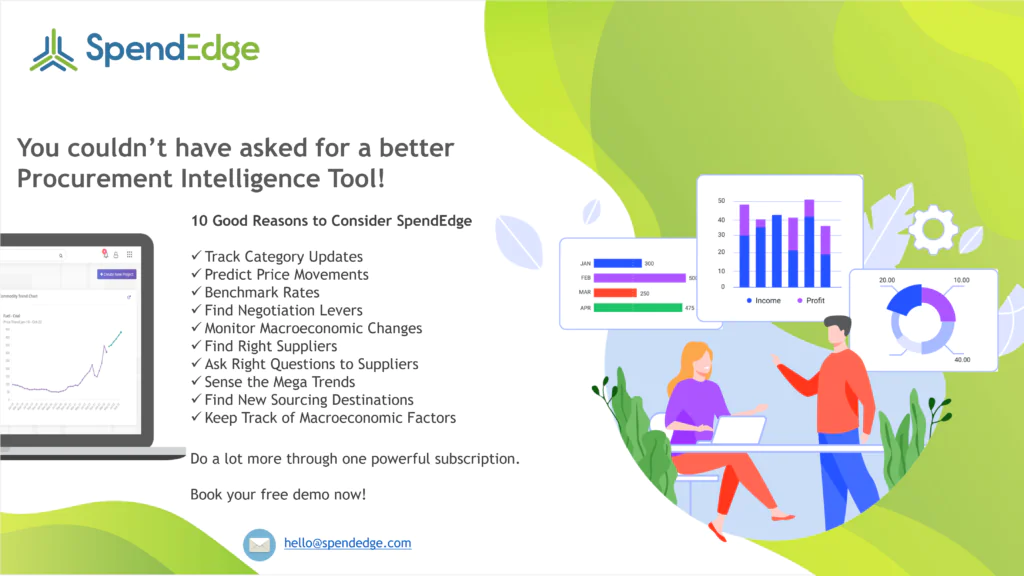 Contact us now to solve your procurement problems!
Author's Details
George Mathew
Associate Vice President, Sourcing and Procurement Intelligence
George is a procurement specialist at Infiniti Research and provides advisory services to clients across the pharmaceutical, CPG & FMCG, energy, and automotive sectors. He specializes in the procurement areas of industry benchmarking, cost modeling, rate card benchmarking, negotiation advisory, and supplier intelligence.