By: Manpreet Kaur
Vendor management may be defined as the practice of overseeing interactions with outside suppliers of goods and services to a company. It includes choosing the appropriate vendors, negotiating contracts, observing performance, and assuring regulatory compliance. Vendor management is a critical aspect of the procurement function for any corporation, Procurement teams of every industry must have appropriate vendor management processes, strategies, and best practices. Suppliers are essential to the procurement process for this reason, organizations place high importance on choosing the finest suppliers, assessing them, engaging in the best negotiations, and maintaining their relationships with them. This can be achieved by implementing effective vendor management practices. Vendor management can derive numerous benefits that can strengthen supplier relationships, help mitigate risks such as fraud, errors, and non-compliance, and improve vendor performance and quality.
Challenges faced by organizations while implementing effective vendor management practices
Identification of appropriate vendors in the supplier market can be challenging:
The first task in vendor management is selecting the right vendor that offers the finest quality and guarantees timely on-time supply delivery even in times of volatile market conditions. This activity can be challenging for the procurement teams as it requires thorough research, due diligence, and an understanding of the organization's specific prerequisites related to the procurement of materials. The major problem is identifying the vendors that align with the company's goals, values, and long-term vision. If the compatibility between the vendors and organizations does not sit then this can lead to conflicts and difficulties down the road.
The challenge of evaluating and monitoring supplier performance:
Evaluating and monitoring suppliers' performance is a challenging task that demands critical supervision of the activities of vendors. For this, the procurement teams must have complete visibility gaining which can be risky. Evaluating involves tracking key performance indicators (KPIs), service level agreements (SLAs), and other metrics can be time-consuming and complex, especially when dealing with multiple vendors. Additionally, maintaining clear communication and addressing issues promptly is crucial. Balancing performance expectations with long-term relationships and potential disruptions adds complexity to this ongoing process.
Negotiating contracts with vendors can stand as a challenging aspect:
Negotiating contracts with vendors in vendor management can be challenging due to the need for a mutually beneficial agreement. Key challenges include finding the right balance between cost and value, defining clear terms and conditions, and managing risks. Negotiating complex service level agreements (SLAs) and pricing structures demands legal expertise and industry knowledge. Vendors may have their own interests, making negotiations a delicate process. Additionally, unforeseen circumstances, like market fluctuations or regulatory changes, can impact the agreed-upon terms. Successful negotiation requires a deep understanding of both parties' needs, meticulous attention to detail, and the ability to adapt to changing circumstances while preserving a constructive business relationship.
How can SpendEdge help companies with vendor management?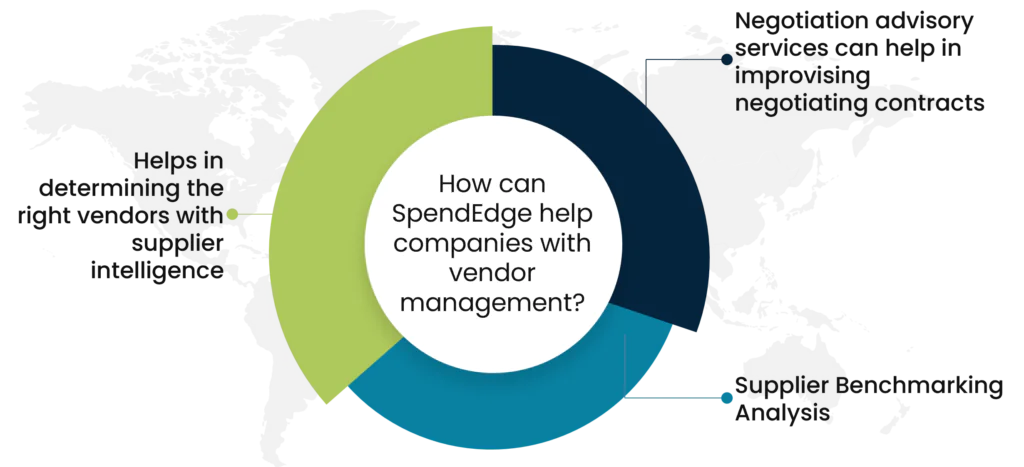 Helps in determining the right vendors with supplier intelligence:
We can help you narrow down the potential supplier base by clearly explaining to you how the supplier can benefit your business. You can gain a thorough understanding of all the suppliers available in the supplier market with the aid of our supplier intelligence. With the help of our analysis and reports you can identify criteria that are essential to achieve supplier engagement objectives. Gauge supplier capabilities based on these criteria and gain detailed information about supplier performance specific to each KPI. We help companies sort these suppliers into quadrants based on operational and functional capabilities and rank them to identify the best one.
Supplier benchmarking analysis:
We provide industry best practices assessment to help clients understand how other companies measure supplier performance and get visibility on key service level agreements SLAs. We have the capability of conducting deep dive benchmarking studies to help companies compare different suppliers of their choice based on their specific criteria such as quality, cost, delivery time, reliability, innovation, technology capabilities, service capabilities, etc. We can also compare the prices offered by suppliers for specific products and services and can provide better visibility on their cost structure, key cost components, key cost drivers, cost-saving opportunities, and recommendations on negotiation strategies to get the best price.
Negotiation advisory services can help in improvising negotiating contracts:
One of the critical aspects of the vendor management process is negotiation contracts, our expertise in negotiation advisory can help you to reach a mutually satisfactory agreement. We help you identify opportunities such as cost savings, favorable contract terms, or added incentives to maximize the company's value. This can increase companies' confidence and bargaining power as well as maximize the value derived from negotiations. We provide you with data such as actual market prices and fluctuations that you can use to negotiate for better pricing and payment conditions.
The success story of how SpendEdge helped one of its clients implement an effective vendor management process
A leading multinational company based in the US was unable to manage its supplier network as it was complex and involved a lot of vendors. The company approached SpendEdge for a solution to this problem because they wanted to implement an effective vendor management process.
The main challenge was to identify and develop effective negotiation opportunities with some of the suppliers that the company was interested in. They wanted to understand and benchmark key vendors' product offerings in terms of features, price, and services.
To tackle this problem our experts reinforced the client's procurement team in coming up with a best-in-class renegotiation strategy (outside potential spend) with the target vendors. We provided complete information on the various aspects including the discounting options, SLA assessment, price among top players, price comparison, things to consider while negotiating with vendors, and many more.
Our intelligence experts provided recommendations on the best negotiation strategies that can be adopted by the client to get the best price in the market. The client was also successful in making a good comparison of the prices that are being offered by different vendors. We helped in understanding who would be the best-fit supplier, not only from a cost perspective but also from a product and quality perspective.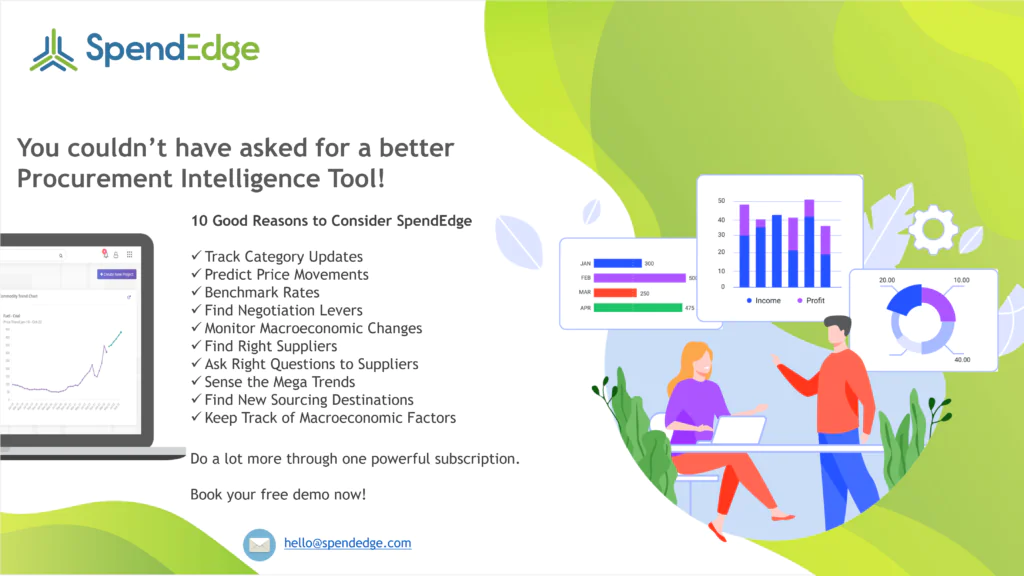 Contact us now to solve your procurement problems!
Author's Details
Manpreet Kaur
Assistant Manager Presales – Sourcing and Procurement Intelligence
Manpreet is a Presales Consultant at Infiniti Research and is responsible for designing best fit solutions for clients belonging to different industries such as BFSI, Chemicals, Retail & CPG, F&B, Pharma and Healthcare, Energy, IT & Telecom and Automotive sectors. She specializes in sales, business strategy execution, and innovative solution design.