By: George Mathew
Data Management involves securely, efficiently, and cost-effectively managing the information lifecycle through architecture, policies, practices, and procedures. Data management enables businesses to collect and analyze data on supplier performance, market trends, cost factors, and risk assessment. This leads to informed decision-making, cost optimization, improved supplier relationships, and risk mitigation. Selecting the appropriate data management software and technologies can make a significant difference in your procurement journey that is driven by data. It is critical to align your selection with your business requirements and overall data management plan, from strong database systems to sophisticated data analysis tools. A well-integrated data management system is a valuable asset for your procurement operations. By integrating your new data management software with existing systems, you can enable smooth data transfer, reduce data duplication, and enhance operational productivity.
Big data trends to optimize the procurement process
The synergy of data: powering supply chain success through procurement:
The primary function of procurement is to get the products and services required to keep your organization operating smoothly, and big data may help you do this task as effectively as possible. Although it appears simple, it's more strategic than merely purchasing on the company's behalf. Global rules are continuously evolving, and if the companies are not vigilant, supplier risk factors—including market fluctuations, conflicts, climate change, and shortages—could seriously hurt your company. Given all of this, it is obvious that big data and procurement go along well. This is to keep in mind that supply chain success depends on bringing together data sets from multiple sources.
Unlocking business growth through data-driven insights and predictive analysis:
By harnessing vast datasets and advanced analytics, companies gain a competitive edge. They can identify market trends, customer preferences, and operational inefficiencies. This knowledge allows for informed decision-making, optimized strategies, and personalized customer experiences. Predictive analysis further empowers organizations to foresee future market dynamics and proactively respond to challenges. As a result, businesses can streamline operations, enhance product offerings, and expand market reach, ultimately driving revenue growth and long-term success in an increasingly data-centric world.
Evolving procurement strategies: beyond lowest bidders and toward informed decision-making:
Giving contracts to the lowest bidder was considered the best by many companies during historical times. Companies should essentially be aware that there are many other factors to take into account in addition to the unit pricing. Procurement teams can make informed decisions by benchmarking, monitoring vendor performance, and considering market pricing and risk assessments instead of relying on sales pitches or long-standing arrangements. The companies must track supplier performance metrics and any documents related to those relationships. This includes contracts and price sheets, as well as shipping and carrier data.
Navigating procurement compliance: from regulations to supplier performance:
When it comes to procurement, data management in procurement is evolving to leverage automation, advanced analytics, and emerging technologies to enhance compliance efforts. Compliance means ensuring that the organization follows all predetermined rules, including regulations and contract terms. Achieving compliance is now easier than ever before with data. As a team, it's important to have access to the right tools to keep track of your budget, adhere to contract terms, and monitor supplier performance. These tools can help you answer important questions and ensure compliance with regulations. By following these trends, organizations can navigate procurement regulations more effectively, minimize risks, and optimize their procurement processes.
SpendEdge solutions for procurement process optimization with big data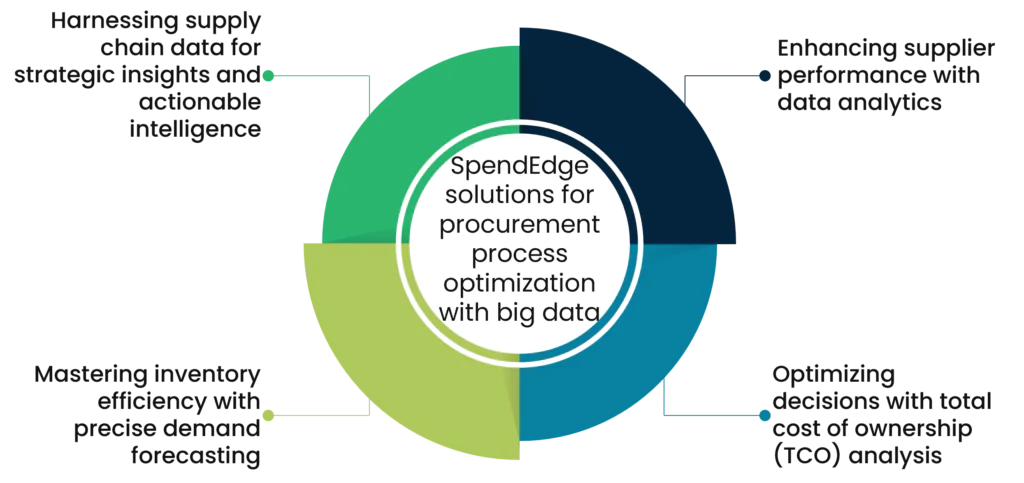 Harnessing supply chain data for strategic insights and actionable intelligence:
At SpendEdge we can help you gather data from various sources in your supply chain, such as contract data, supplier performance metrics, market insights, and more. We utilize advanced analytics to extract actionable insights from this data. We provide you with real-time risk notifications to minimize supply chain uncertainties. Get our customized alerts when inventory overshoots or falls below predefined thresholds and react on time. With our supply chain intelligence, you can track supply chain vulnerabilities with origin and transit data.
Mastering inventory efficiency with precise demand forecasting:
With the aid of our integrated historical data, organizations can benefit from precise demand forecasting, harness the power of predictive modeling, and engage the experience of qualified consultants. This tactical procedure is essential for simplifying inventory management, successfully reducing the high costs of stock maintenance, and ensuring the prompt availability of goods at the precise time they are needed. 
Optimizing decisions with total cost of ownership (TCO) analysis:
At SpendEdge, we can conduct a total cost of ownership analysis, taking into account not only the initial purchase price but also factors such as maintenance, transportation, and disposal costs. This comprehensive view allows for better decision-making and identifies hidden costs to improve savings. We also provide information about additional benefits such as tax claims, rebates, energy savings, etc., that can be used to select the most optimal solutions. Our insights can assist in determining whether in-house production or outsourcing is the optimal choice for your product or service.
Enhancing supplier performance with data analytics:
At SpendEdge, we offer supplier performance scorecards and KPIs that rely on data analytics to measure supplier compliance with contractual obligations and regulatory standards. Our data analysis techniques can identify trends and patterns in supplier performance, enabling early intervention in case of any deviations. The data collected for KPIs can be analyzed to determine if outcomes are satisfactory. This also aids in understanding what should be prioritized or require course correction to ensure pre-defined outcomes are achieved.
The success story of how SpendEdge was helpful to one of its clients
A leading player in the Steel manufacturing industry based in the US that deals in producing high-quality automotive parts. Despite its success, the company faced challenges in its procurement process. The procurement team was struggling with managing a vast network of suppliers, controlling costs, and ensuring timely deliveries of raw materials. To address these challenges and stay competitive, our client decided to partner with us.
Our experts at SpendEdge began by aggregating data from diverse sources within the steel manufacturing company supply chain. This included contract data, historical procurement records, supplier performance metrics, market insights, and more. The data was integrated into a centralized platform, ensuring a single source of truth for procurement-related information. The team identified trends, patterns, and anomalies within the procurement process, allowing for informed decision-making.
By identifying cost-saving opportunities and optimizing procurement strategies, the steel manufacturing company achieved a substantial reduction in procurement-related costs. This directly contributed to improved profitability and financial health. The data-driven insights allowed the company to strengthen relationships with key suppliers. By addressing issues proactively and collaborating on improvements, the client was able to establish more reliable and mutually beneficial partnerships with its suppliers.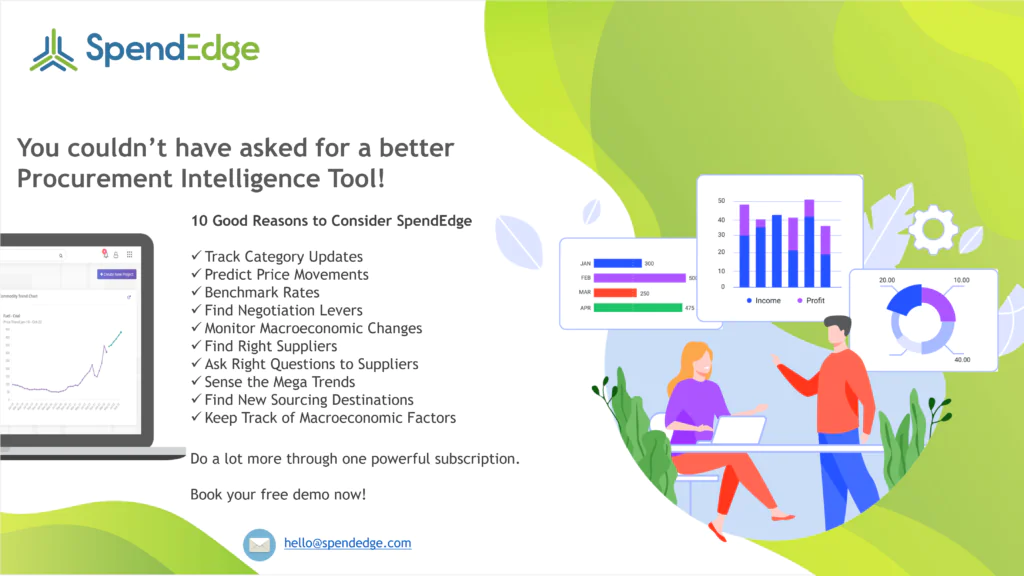 Contact us now to solve your procurement problems!
Author's Details
George Mathew
Associate Vice President, Sourcing and Procurement Intelligence
George is a procurement specialist at Infiniti Research and provides advisory services to clients across the pharmaceutical, CPG & FMCG, energy, and automotive sectors. He specializes in the procurement areas of industry benchmarking, cost modeling, rate card benchmarking, negotiation advisory, and supplier intelligence.