In the field of procurement, the accumulation of expenses related to goods and services is a significant consideration, underscoring the importance of implementing efficient approaches to manage expenses within manageable limits. Whether it involves searching the market for improved bargains, optimizing workflows, or engaging in negotiations with suppliers, the implementation of cost-cutting techniques within the procurement is essential for astute business proprietors.
Procurement analysis holds significance for every organization, regardless of its scale and revenue. As a business expands, its organizational intricacies grow as well, necessitating the establishment of a robust procurement analysis framework to provide practical insights and support informed decision-making process. The procurement analysis also has the potential to enhance profit margins, improve competitiveness, support long-term financial stability.
Effective procurement analysis and cost-reduction strategies
Building a resilient procurement contract management system
Procurement contract management that is efficiently holds significant importance in attaining the best outcomes for businesses. By embracing best practices and utilizing suitable tools or applications, organizations can reap a variety of benefits. Including improved compliance, minimized risks, and streamlined processes. Contracts involve numerous intricate components. Therefore, proficiently overseeing them necessitates meticulous attention to detail and specialized expertise. Allocating resources to proficiently manage procurement contracts enables organizations to avoid typical challenges such as stakeholders miscommunication, sluggish approval procedures, and inefficiencies within the procurement process.
The increased significance of procurement benchmarking
Amidst the ongoing disruptions impacting supply chains and suppliers, procurement professionals are increasingly focused on evaluating their organization's performance and its relative standing. Benchmarking provides a competitive advantage that empowers organizations to navigate changes, faster adaptability, growth, and resilience. This helps in identifying areas for improvement, optimizing resource allocation, enhancing efficiency, and evaluating spend analysis. By analyzing benchmarks, companies can make informed decisions, set realistic goals, and implement strategies to stay competitive and achieve excellence in their procurement operations.
Strategies to reduce risk lead to business success
Risk management in procurement involves identifying and analyzing, and mitigating potential risks that could impact the procurement process. It is crucial to anticipate risks related to suppliers, contracts, pricing, quality, and more. By addressing these risks proactively, organizations can make informed decisions, develop contingency plans, and ensure successful procurement outcomes.
How SpendEdge can help you with procurement analysis?
The importance of supplier intelligence for effective procurement – Our procurement advisors provide guidance and expertise in optimizing organization's procurement process. Our experts offer strategic insights, recommend best practices, and help in developing procurement strategies that align with organization's goals. Additionally, our procurement advisors help organizations make informed decisions about which suppliers to engage with and how to manage relationship effectively.
Creating successful strategies and solutions for managing risks within the value analysis – Our procurement specialists assist in creating an efficient value analysis strategy for procurement process. Value analysis in procurement involves assessing the spend and benefits of different options to ensure that the selected choice delivers the best value for the organization. Our advisors help in analyzing supplier offerings, negotiating terms, and optimizing procurement decisions to achieve cost savings and maximize value.
Capitalizing the cost-saving opportunities – Our experts focus on reducing costs through strategies like addressing price deviations, while also ensuring that inventory levels are optimized to prevent both overshooting and falling short. The holistic insights provided by our experts helps organizations to measure the actual performance with the standard performance and take corrective actions, as well as achieve cost savings and maintain operational efficiency.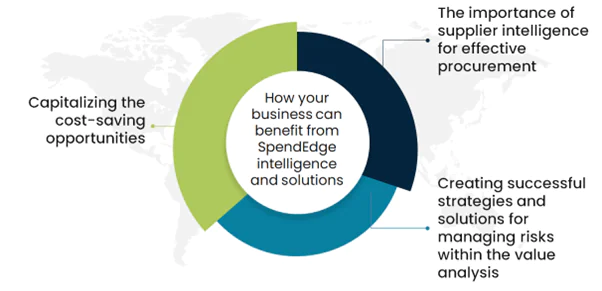 Success Story, How we helped our client with procurement analysis
Our client is a is a well-established company in the FMCG sector, specializing in the production and distribution of a wide range of consumer goods, including food, beverages, and personal care products.
The client is facing challenges in its procurement processes, including supplier fragmentation and excessive stock levels of certain products while shortages of others were leading to increased storage costs and potential product wastage. Additionally, fluctuations in raw material prices were affecting the company's cost structures and profitability.
Our procurement advisors implemented a series of strategic changes that focused on process optimization, value analysis, spend analysis, and collaboration. Our experts analyzed client's supplier base and consolidated relationships with key suppliers. This reduced procurement costs, improved negotiation power, and fostered stronger partnerships.
Furthermore, our experts provided the insights or data analysis to procurement team to adjust orders based on actual market demand, reducing overstocking and stockouts. Our procurement specialists also actively monitored market trends, geopolitical developments, and supply chain disruptions. This proactive approach allowed client to anticipate potential challenges and develop contingency plans.
The procurement solutions offered by our experts helped our client to consolidate their supplier relationships and optimizing procurement. Our insights helped client in maintaining improved inventory management, resulting in enhanced working capital management and proactive risk management strategies minimized the impact of supply chain disruptions, ensuring uninterrupted operations.
George Mathew
Associate Vice President, Sourcing and Procurement Intelligence
George is a procurement specialist at Infiniti Research and provides advisory services to clients across the pharmaceutical, CPG & FMCG, energy, and automotive sectors. He specializes in the procurement areas of industry benchmarking, cost modeling, rate card benchmarking, negotiation advisory, and supplier intelligence.