By: George Mathew
Procurement plays a crucial role in the overall supply chain and operations of businesses, government agencies, and non-profit organizations. Effective procurement is essential for obtaining the right products or services at the right price, quality, and time to ensure the organization can function efficiently and achieve its goals.
Procurement automation is the use of technology, software, and digital tools to streamline and enhance the various stages of the procurement process, from sourcing suppliers to purchasing and payment. It optimizes procurement by reducing manual tasks, improving accuracy, and increasing efficiency.
Procurement automation features like e-sourcing, e-procurement, and electronic document management, help organizations to achieve better supplier management, cost control, and compliance. It also provides real-time data and analytics, enabling data-driven decision-making. Overall, procurement automation minimizes errors, reduces cycle times, and enhances transparency, allowing organizations to make more informed choices and realize significant cost savings.
Procurement automation: How can it uplift efficiency
Minimizing manual procedures and decreasing the likelihood of human mistakes:
Automating procurement tasks using technology like AI-powered software and Robotic Process Automation (RPA can significantly reduce costly mistakes and speed up the procurement cycle. Procurement automation simplifies repetitive tasks such as data entry, order placement, and invoice management, freeing procurement professionals to focus on more strategic and value-added tasks like supplier relationship management and cost optimization. It also streamlines the approval process by sending notifications to the appropriate stakeholders and enabling them to approve or reject purchase requests quickly. Furthermore, automated procurement tools help organizations establish standardized workflows and approval hierarchies, ensuring that all procurement activities adhere to company policies and best practices.
Improved data analytics empower more effective decision-making:
Improved data analytics enhance decision-making in the supply chain by providing real-time insights and predictive capabilities. Data-driven decisions optimize the supply chain by identifying inefficiencies, reducing costs, and improving responsiveness. Through data analysis, organizations can track inventory levels, demand patterns, and supplier performance, allowing for better inventory management and demand forecasting. This minimizes stockouts and overstock situations. Additionally, data analytics enables risk assessment and mitigation, optimizing supplier selection and logistics routes. Overall, data-driven decisions foster agility and efficiency, ensuring the supply chain adapts to changing conditions, ultimately resulting in cost savings and improved customer satisfaction.
Fostering supplier relationship management:
Procurement automation plays a vital role in enhancing Supplier Relationship Management (SRM) by simplifying communication, enhancing transparency, and providing a centralized platform for collaboration. By using procurement automation tools to monitor and evaluate supplier performance, organizations can identify top-performing suppliers and develop strategic partnerships with them. Strengthening these bonds can lead to better pricing, improved product quality, and increased innovation. Automating supplier performance evaluations ensures a fair and transparent process that considers various performance metrics such as delivery time, quality, and compliance with contractual terms. Furthermore, procurement automation creates more efficient communication channels between procurement teams and suppliers.
Third-party risk management and mitigating fraud risks and errors:
Improved compliance and risk management involve robust strategies for mitigating third-party risks, fraud, and errors. Third-party risk management relies on thorough due diligence, monitoring, and performance evaluations to ensure suppliers or partners adhere to regulatory requirements and quality standards. This minimizes supply chain disruptions and reputational damage. In fraud risk mitigation, data analytics and pattern recognition help identify unusual activities, reducing the likelihood of financial fraud or data breaches. Error reduction is achieved through process automation and data validation, minimizing human errors. Enhanced compliance and risk management not only safeguard a company's reputation and finances but also foster trust among stakeholders and customers.
Efficient procurement cycle and cost reduction:
Procurement automation can be immensely beneficial for organizations in ensuring compliance with both internal policies and external regulations. By using automated procurement tools, organizations can keep track of and enforce compliance with purchasing policies, industry standards, and regulatory requirements. Procurement automation can also assist organizations in monitoring their spending, making sure that they remain within the budget limits. It can further enforce the use of preferred supplier lists, allowing procurement teams to work only with approved vendors that meet the organization's standards for quality, cost, and risk. By providing real-time visibility into the supply chain, procurement automation can help manage risk.
How can SpendEdge help companies with procurement process optimization?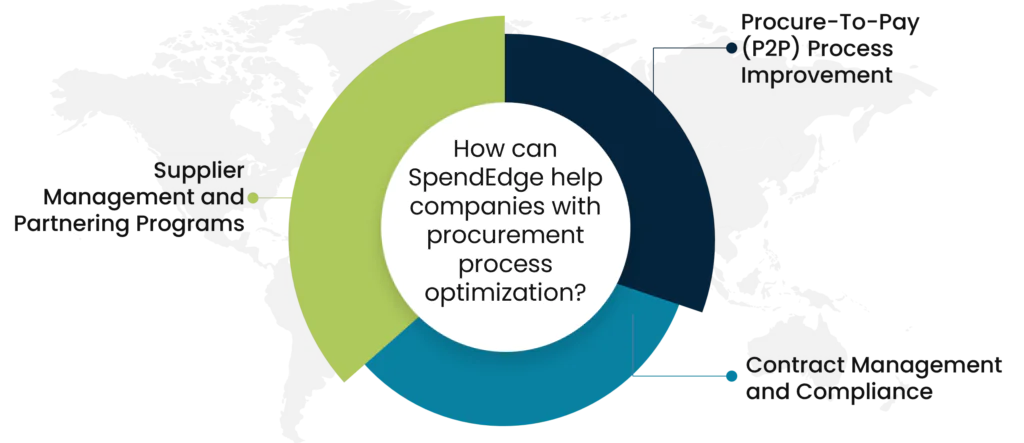 Supplier Management and Partnering Programs:
SpendEdge's meticulous approach to supplier identification, which includes in-depth capability assessments, enables us to provide clients with invaluable recommendations for fostering enduring and mutually beneficial partnerships. Our expertise is the linchpin that ensures clients not only optimize their supply chain operations but also fortify their position in the market through collaborative and efficient supplier relationships.
Procure-To-Pay (P2P) Process Improvement:
SpendEdge offers a comprehensive evaluation of clients' procurement performance, conducting rigorous benchmarking against industry best practices. Through our meticulous analysis, we pinpoint specific process gaps, allowing us to craft customized strategies that drive a profound transformation of the Procure-to-Pay (P2P) process. Our focus on cost reduction and operational efficiency enhancement ensures that clients not only achieve immediate gains but also maintain a sustainable competitive edge in their markets.
Contract Management and Compliance:
SpendEdge's excellence in contract management and compliance encompasses the identification of substantial cost-saving opportunities, coupled with a vigilant approach to mitigating risks stemming from poorly formulated contracts. Our meticulous contract analysis serves as a robust safeguard, offering clients peace of mind by shielding them from unforeseen legal and financial liabilities.
The success story of how SpendEdge helped a retail company with procurement
SpendEdge, working closely with a prominent German garment retail company, addressed pressing challenges within their procurement process. These challenges encompass operational inefficiencies, persistent delays, and a reliance on manual tasks. The primary objective was to not only streamline their procurement operations but also to curtail costs and foster stronger partnerships with their supplier network.
Our team of seasoned procurement advisors at SpendEdge embarked on an exhaustive analysis, deeply scrutinizing the client's unique needs, while simultaneously examining current market trends and industry benchmarks. The result was a meticulously crafted, personalized sourcing strategy that was entirely attuned to the client's overarching objectives.
Additionally, the implementation of data analytics offered a newfound ability to evaluate supplier performance, further strengthening the client's position in the market. This multi-faceted approach, underpinned by data-driven decision-making, not only improved their procurement efficiency but also paved the way for stronger relationships with suppliers and a strategic edge in the competitive garment retail landscape.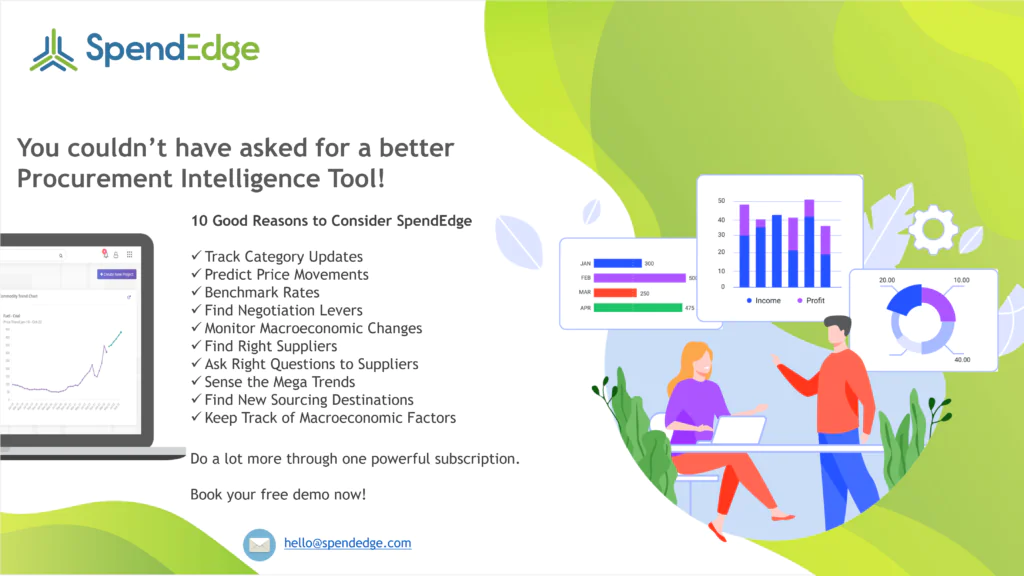 Contact us now to solve your procurement problems!
Author's Details
George Mathew
Associate Vice President, Sourcing and Procurement Intelligence
George is a procurement specialist at Infiniti Research and provides advisory services to clients across the pharmaceutical, CPG & FMCG, energy, and automotive sectors. He specializes in the procurement areas of industry benchmarking, cost modeling, rate card benchmarking, negotiation advisory, and supplier intelligence.