By: Ankur Rishi
In their relentless pursuit of high efficiency and elevated customer experience, organizations without exception are actively embracing technology in procurement functions to usher in business transformation. To put it another way, what else is the choice before organizations, no matter their size? The shaping influences on the procurement landscape are the Internet-based delivery of computing resources ("cloud computing") and process enablement, including low or no-code workflow automations. This is just not the time for procurement businesses to be complacent and remaining in "wait and watch" mode is not an option. It's a perfect recipe for disaster! In the days ahead, the procurement organizations' appetite for internalizing near-to-mid-term procurement technologytrends is going to spell the difference between leaders, followers, laggards, and losers in the sourcing domain. Unpacking the many layers of an upcoming procurement technology is the obvious first step toward getting the stakeholder buy-ins required to roll out the trend enterprise wide. Here's looking at some of the major procurement technology advances procurement organizations shouldn't miss in 2023.
Migrate procurement to the cloud. It pays for sure!
There is no denying that cost containment is key to any procurement organization worth its salt. So, it's only natural for CPOs to be drawn to any construct that promises to deliver cost-savings, especially for the longer term. However, cost is just one of many reasons why cloud-hosted servers ("cloud computing") and applications (software-as-a-service, SaaS) are becoming increasingly popular with procurement organizations of all sizes and hues. Of course, these computing models hold clear advantage over the age-old premises software and technology when it comes to ROI. The lower user costs of cloud-based systems are due in large part to their consumption-based pricing model (where clients pay for what they consume) and elimination of CapEx. That said, over and above cost, there are other benefits that account for the growing primacy of cloud technologies. Since the onus of information technology in procurement (e.g., hosting, data backups, and disaster recovery) in a cloud environment is on the external "managed services provider," procurement organizations are left with enough bandwidth to focus on core cost-reduction activities, leading to better bottom-line results. Procurement businesses often comprise work-from-home, full-time, part-time, and mobile employees as well as contractors. With all relevant information stored in the cloud (versus a local server), the staff can access them easily, no matter where they are and on what device. Moreover, procurement professionals can sift through the "big data" parked in the cloud to derive deep and accurate understanding of procurement costs to make better predictions for the future. Most importantly, the fact that cloud-based hosting can potentially reduce procurement's carbon footprint should be music to the ears of CPOs.
Take back control of business platform customization
Another development related to cloud computing promises to give more power and flexibility to business users to tailor their business platforms to their specific needs without having to raise a help desk ticket. This approach to platform automation makes use of application programming interfaces (APIs) and microservices. This paves the way for business users, with little to no coding backgrounds, to build, say, a business intelligence dashboard using intuitive visual interfaces and drag-and-drop features. It leaves business teams in charge of platform customization. Haven't they always wanted it that way? So, that's about it – technology in procurement is getting simplified as we go along.
Remember, there is nothing like too much process automation
Digital enablement of procurement functions is long overdue at many enterprises, and this is key to driving operational efficiencies in a challenging market. Without procurement technology, such as software to automate repeatable, multistep transactions between business users, no procurement organization can hope to achieve data accuracy, transaction speed, cost controls, and risk mitigation the prevailing business landscape demands. For instance, AI, ML, and IoT technologies (e.g., chatbots, smart contracts, remote supply chain management) open new windows for procurement professionals to do more with fewer resources, make better resource-saving decisions, and minimize errors. Process automation is a never-ending journey, not a destination, and nothing is ever too much when it comes to driving all-round procurement efficiency.
How SpendEdge can help you savings in procurement: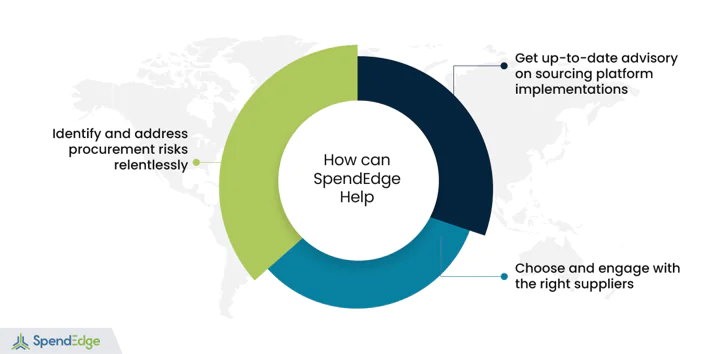 Flush out the bad cholesterol, namely process inefficiencies
Our experts help procurement organizations make deep and accurate data the centerpiece of their decision making. Our advisors analyze procurement processes, such as supplier selection, negotiation, and sourcing, to pick out redundancies and inefficiencies and, furthermore, "plug" them in a timely manner, applying relevant technology in procurement functions. Besides, our experts provide bespoke recommendations designed to eliminate specific inefficiencies in the client's procurement organization, leveraging procurement technology.
Identify and address procurement risks relentlessly
Backed by two decades of experience, our advisors assist procurement teams in identifying potential project or business risks and keeping them down to a minimum. When it comes to risks, we have all the important bases covered: Financial, operational, supply, and compliance risks. Our experts, including in procurement technology, help organizations make data-based decisions around security and compliance to firewall the client from legal troubles now and in the future.
Get up-to-date advisory on sourcing platform implementations
Why should initial set up costs deter enterprises from adopting online and web-based sourcing systems, given the magnitude of procurement cost savings such platforms deliver in the not-too-long run? At SpendEdge, our experts handhold businesses on key aspects of online sourcing platforms, including software costs, customization, training, integration, security, and ongoing maintenance. At SpendEdge, it's about making sourcing automation and adoption of technology in procurement a breeze.
Choose the right supplier
In a market flush with me-too suppliers, choosing one over another is a tough decision. At SpendEdge, we meticulously meter the procurement technology capabilities, pricing, and customer satisfaction of multiple suppliers to identify the ones that can give our client a sure-fire edge in the competitive market.
Success story: An American BFSI business chooses the best-fit cloud services provider with SpendEdge
Our client is a listed US insurer with a footprint in more than a dozen countries and billions in premium dollars, as in 2022. The insurer, with an estimated 5,000+ employees, has more than $10 billion in assets under management.  The business boasts a diverse portfolio, comprising commercial and personal lines insurance, as well as various risk management solutions. Of late, the client has been experiencing moderate-to-high cost overruns, and the C-suite was feeling uneasy about the impact on business margins, going forward. The leadership had already pinned down the source of the cost inefficiency, namely, the company's legacy on-premises information technology infrastructure. The information technology system, including technology in procurement, was near-obsolete with high maintenance payouts. That wasn't the only pain point either. The outdated system and poor quality of critical-to-business data were resulting in unwelcome revenue loss by way of lost sales and missed opportunities to curb procurement spend. The worst part was that the dated infrastructure was coming in the way of the client's efforts to innovate and meet rising customer expectations. Besides, insurers persisting with legacy information technology platforms, including technology in procurement, risk running afoul of regulators, thus inviting fines and putting the business's reputation on the line. Migrating core applications and processes to the cloud represented the way out of this baffling procurement technology labyrinth. But the billion-dollar question before the client was: How to fast-track the journey to the cloud effectively without turning it into a bumpy ride? Essentially, decision makers needed comprehensive data on the cloud service provider (CSP) landscape (e.g., pricing, price comparison, usage discounts, service-level agreements) before making lifechanging decisions concerning their enterprise.
In June 2022, the client engaged our experts to carry out a comprehensive and thorough analysis of up to five global public CSPs based on key parameters. Certain criteria that figured prominently in the study included instance pricing, payment terms (no upfront, partial upfront, all upfront), discount types, discount levels, and support services pricing. Competing CSPs often have highly nuanced discounted structures and it's hard to make direct comparison since one can only compare things that can reasonably be compared!  For instance, some CSPs play up discounts based on sustained use while others emphasize "situation based" offers and deals. Our team weighed in considerations most critical to the client such as duration of use, region, VM instance type, size of VM instances (small, medium, large, extra-large), and cancellation terms. We also gave careful thought to the location of the data center. By applying such stringent criteria, our experts narrowed the field to the top three CSPs with a track record of progressively refining their pricing models. These were also candidates who could offer irresistible volume discounts, a virtue they owe to their scale of operations, without compromising performance. In addition, our experts offered under-the-bonnet insights on "hidden costs" (e.g., add-ons, security, and backups) that typically get added to the purchase price. Furthermore, our client was able to reach a maximum cap on renewable subscription rates, as recommended by our experts, and this is helping the business soften the impact of price hikes. Long story short, adoption of relevant cloud technology has started paying dividends for the client.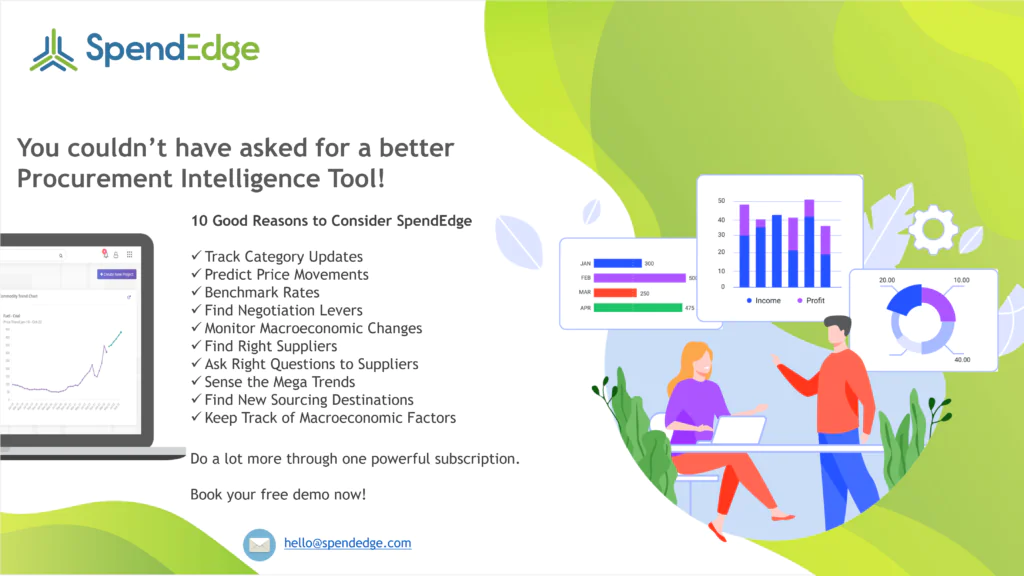 Contact us now to solve your procurement problems!
Author's Details
Ankur Rishi
Vice President, Sourcing and Procurement Intelligence
With more than 12 years of advisory experience, Ankur manages platform content and services within the sourcing and procurement vertical. Over the years, Ankur has provided consulting services to category leaders from chemicals, energy, and packaging industry, on varied topics, such as category strategy, spend analysis, commodity pricing, and clean-sheet analysis.