By: Ankur Rishi
Fossil fuels (e.g., coal, oil, natural gas) are in the dock as the biggest contributors to climate change. Fossil fuel combustion accounts for more than nine-tenths of all CO2 emissions, and this chemical compound happens to be the most abundant greenhouse gas, making up nearly 85% of the heat-trapping gases. Unless decision makers in renewable energy procurement pivot determinedly toward clean energy sources (like solar, wind geothermal, hydro, biomass, and tidal), the apocalyptic scenario is unlikely to change in any major way even by 2050, the timeline for achieving "net zero" emissions. At the cost of repetition, global warming can give rise to health issues in humans and harm marine life. Frequent droughts, extreme weather events, like heat waves, floods, and wildfires, and habitat losses for certain species are some of the negative outcomes linked to global warming. The spiraling impact of such adverse events on industry is quite understandable, and it's not just the tourism sector that is going to take a hit. On the surface, fossil fuels look cheaper for end customers, but probe deeper and it's a completely different story. To start with, prospecting for commercially viable fossil fuel deposits is a costly affair fraught with high risks. Migrating to renewable energy will put the brakes on greenhouse gas emissions and, by extension, on climate change. However, renewable energy procurement has a lot of homework to do. Renewable energy is expected to lead job creation, with the potential to generate upwards of two million new jobs in the US alone by the end of the decade. Waiting doesn't help, get into the action mode. So, go ahead, and do all the right things in renewable energy procurement and here are a few tips.
Renewable energy procurement can be a force for good
Besides what is headlined – "climate change," emissions from fossil fuel burning, both greenhouse (e.g., nitrogen oxides) and others (e.g., sulfur oxides) pollute ambient air, and exposure to such particulate matter is linked to various respiratory disorders. Renewable energy trumps age-old fossil fuels when it comes to water consumption as well. The smallest fossil fuel-fired power plant gulps down 250-450 gallons of scarce water for every megawatt-hour (MWh) of energy it generates while renewables are not water-dependent. So, organizations responsible for renewable energy procurement can liven up and do a lot more good, from a sustainability standpoint, than they think.
Fossil fuel isn't as cheap as it looks
Drawing out crude fuel from wells reaching 6,000 feet in depth is a cost-intensive exercise that calls for large drilling rigs, tall towers, huge storage tanks, double-hull transportation tankers, and steel pipelines thousands of miles long. Plus, oil and gas businesses need highly skilled personnel to work all this machinery, and they don't come cheap either. Once the environmental cost of fossil fuel extraction, storage, transportation, and end usage enter the equation, the costs could be even higher. By contrast, renewable resources are free, so to speak. Is renewable energy procurement listening? In the last 15 years, the cost of renewable energy generation has dropped significantly, a phenomenon attributable to scale economies, technological breakthroughs, and government support. Solar is a case in point. Since 2009, the cost of solar power has plummeted by more than four-fifths.
Why renewable energy is a good investment
Globally, renewable energy sources account for less than a third of the electricity generated. That is set to change remarkably, and, over the next three decades, renewable energy will step up to generate up to 95% of all new electricity. Meanwhile, putting money in renewable energy procurement is a good way for businesses to shrink their carbon footprint and meet their seemingly elusive sustainability goals. Essentially, businesses must tuck into renewable energy, while disentangling themselves from fossil fuels in a staggered manner. Deploying on-site solar panels and wind turbines will do them a lot of good. Utilities sell renewal energy credits (RECs) in blocks of 1 megawatt-hour (MWh) of renewable electricity, and by lapping up these units, enterprises can hope to expand the share of renewables in their energy mix.
How SpendEdge can help you: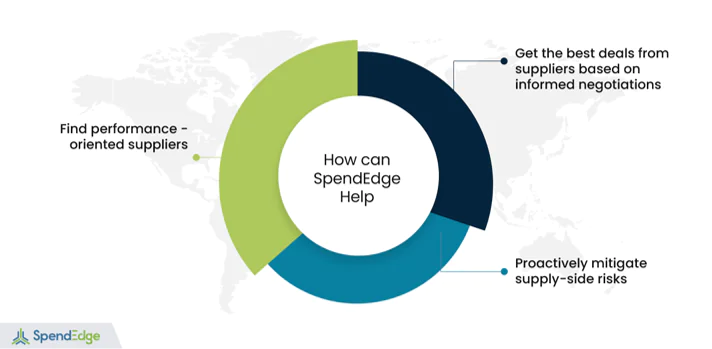 Find performance-oriented suppliers
Our experts in procurement, including renewable energy procurement, are always around to help businesses to dexterously sail through complex sourcing scenarios. Curated data is at the core of all we do, and our analysis is enabling businesses to make more informed decisions to discover suppliers with demonstrated key performance indicators (KPIs). The consequent impact on their bottom lines is there to see. Overall, our insights help secure the client's supply lines against unforeseen risks and shifting regulatory mandates.  
Get the best deals
SpendEdge's bid management services are designed to guide clients, including renewable energy procurement teams, every step of the way, in their negotiation process, so they are able to land the best deals and secure the most favorable terms. Moreover, our teams serve as the extended arm of the client enterprise to assist them in developing accurate premises around capex requirements, infrastructure costs, maintenance overheads, and potential regulatory changes.
Proactively mitigate supply-side risks
Businesses across sectors work with our experts to manage a plethora of risks – legal, regulatory, technical, and contractual, and meet the need for regulatory compliance. Our teams carry out periodic risk assessments to uncover supply chain vulnerabilities before they spin out of control and hold the enterprise to ransom. We also provide advisory to renewable energy procurement teams on regulatory changes, price fluctuations, and renewable energy procurement strategies.
Success story: Simplifying renewable energy procurement for a custom plastic manufacturer in North America
Our client is a leading provider of bespoke injection-molded parts to sectors including medical technology, electronics, home and kitchen appliances, automotive, and various consumer product categories. Our client boasts a business lineage dating back to the early '90s and, with a 2,000-strong workforce, the business runs multiple manufacturing sites in North America and Western Europe.
The client's revenues crossed its desired targets in 2022, and the business has every reason to be optimistic about the future. Even so, the enterprise is part of an industry that has barely scratched the surface of renewable energy procurement. The injection molding industry leans heavily on carbon-rich fossil fuels to the extent of nearly 98%. Many market participants in the sector find themselves staring at carbon taxes, which might potentially bump up plastics prices in the hands of end customers by 2-3% at least. Depending on how businesses look at it, the carbon tax could be a hurdle to trade. Alternatively, it could be an incentive for enterprises looking to put more money into renewable energy procurement to progressively lower their overreliance on fossil fuel sources. Our client for one would like to channel significant investments into wind and solar energy with the ambition of pivoting away from a carbon-heavy energy mix and decarbonize in quick time. Maximizing ROI and taking advantage of various tax incentives are some of the other objectives. Before all that, the decision-makers at the client enterprise wanted to develop an in-depth and fog-free understanding of the renewal energy landscape in specific country markets. Further on, they looked to engage with reliable suppliers in different markets for the longer term. At the end of a thorough due diligence, the client started to work with our experts in mid-2022.
Our experts with more than a decade of exposure to the nuances of renewable energy procurement applied their mind to the problem on hand. Our study sifted the regulatory structures of six major regions as well as 15 representative countries in each region with a laser focus on renewable energy procurement. These countries come with certifications ranging from Renewable Energy Certificate Association (RECS), Guarantees of Origin (GoO), and International Renewable Energy Certificates (I-RECs) to "no certification." Our team lost no time in ranking them on that basis. Price capping and regulatory stringency are key measures, and within each region, countries were positioned based on such criteria. Furthermore, our team considered the "renewables to non-renewables" split in the energy mix of each of the country markets under consideration. Renewables procurement can be a complex and nuanced affair, so the client wanted to be brought to speed on the level of intricacy and the breadth of issues involved in renewable energy procurement at a country level. Further along this route, our experts identified the best-fit country in each region for renewable energy procurement. Notably, our experts deconstructed renewable energy prices at a per-unit level, which is as granular as things can get, for each country market. Our procurement market analysis for renewables was brief and to the point, and it is living up to its purpose of serving as a mathematically precise reference point for the client when engaging influential suppliers in renewables markets around the world.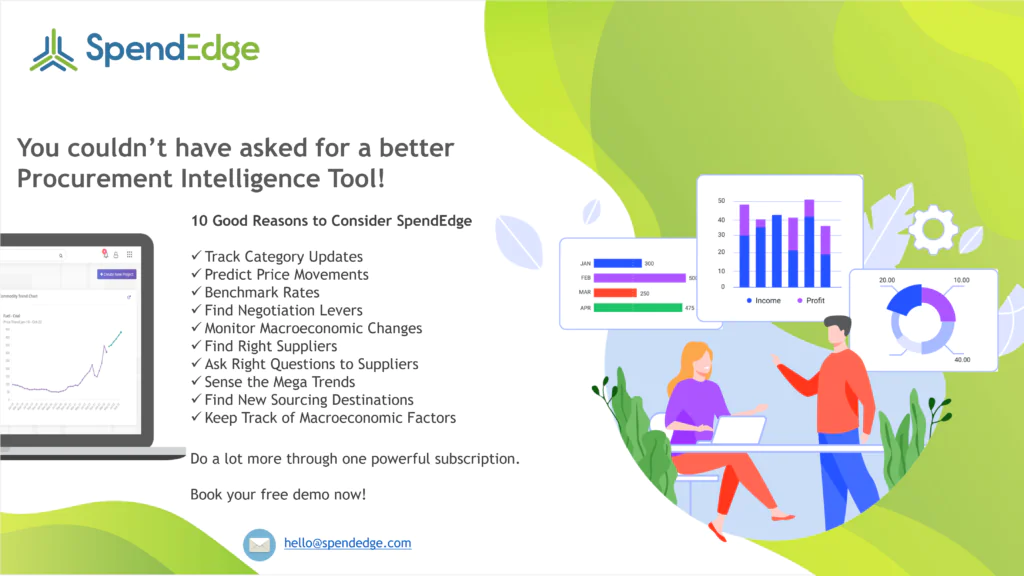 Contact us now to solve your procurement problems!
Author's Details
Ankur Rishi
Vice President, Sourcing and Procurement Intelligence
With more than 12 years of advisory experience, Ankur manages platform content and services within the sourcing and procurement vertical. Over the years, Ankur has provided consulting services to category leaders from chemicals, energy, and packaging industry, on varied topics, such as category strategy, spend analysis, commodity pricing, and clean-sheet analysis.