By: Srinivas R
Yes, there is a high price to pay for clogged and grossly inefficient supply networks. Poor cash flow is often the most felt impact on businesses arising from supply-side inefficiencies, and this means the enterprise is burning more cash than it is earning! Being saddled with excess inventory is the other misfortune of businesses with suboptimal supplier management processes, and this carries consequences like bloated inventories and increased carrying costs that start to quietly nibble away at profits. At the same time, freight costs go through the roof while customer satisfaction takes a major hit. But procurement teams may still find a weapon in their arsenal that is potent enough to quell inefficiencies and help them take back control. The name of this crucial piece of sourcing weaponry is procurement market intelligence. Just choosing to sit back and watch ever-growing inefficiencies and uncertainties might make the case even worse for sourcing professionals. Instead, before waiting for markets to turn more volatile, CPOs must munition their personnel with relevant and real-time data on commodity prices, supplier performance, business risks as well as environmental, social, and governance (ESG) compliance. Procurement market intelligence is increasingly proving to be a powerful and unstoppable force for good by enabling businesses to embed bounce-back capabilities in their supply networks, minimize logistics costs, and achieve sourcing goals.
The economics of effective supplier selection
The rigor businesses bring into play when identifying, evaluating, and contracting with their supply-side partners is key to success. The holy grail enterprises keep in sight in any supplier relationship is risk and cost reduction along with sustainable profit maximization. With a smoothly functioning supply infrastructure, a company can aim to slim down the order-to-pay cycle time by up to three-fifths! Besides, streamlining supply networks can be hugely rewarding for many businesses. For instance, companies that have applied time and effort to optimizing their supply chain networks can get by with a tenth of the inventory that competitor firms carry. However, fail-safe suppliers with exceptional ESG performance are hard to find without real-time, accurate, and actionable procurement market intelligence.
Manifold challenges in multi-risk management
Almost on a daily basis, businesses come face to face with situations or events that could leave them vulnerable to financial, operational, or reputations risks. Despite occasional geopolitical fracturing, global trade lines are very much integrated with several interconnected parts. So, a single adverse supply-side event could ripple through the delivery networks, impacting multiple businesses, activities, and people with unwelcome consequences. Such business risks are not entirely avertible since enterprises operate in economies that are increasingly interdependent. But certainly, it's possible to less their negative impact on the business. However, risk mitigation can be a hydra-headed challenge organizations struggle to meet. Because risks pop out of nowhere from multiple functions: finance, environmental, social and governance (ESG), cybersecurity, and compliance! Procurement market intelligence can be a life saver for chief procurement officers (CPOs) in an age where businesses are frequently jolted by unexpected input price swings and currency fluctuations.
Need to build sustainability from the grassroots up
Little drops make the might ocean of sustainability. Without buy-ins for their bigger "green goals," including from small suppliers who are proficient enough to contribute their "bit part," businesses will likely fall short of expectations in their sustainability journey. Making sustainability a major part of all that businesses do, from sourcing raw materials to choosing vendors, is essential to attracting a burgeoning customer base that really cares for products that are less harmful to the environment. A sustainability-centric approach helps meet the ESG demands of regulators and socially conscious investors. All this reaffirms the primacy of procurement market intelligence in accurately gauging the sustainability practices of suppliers in order to lower associated risks and further burnish the brand image.
How can SpendEdge can help: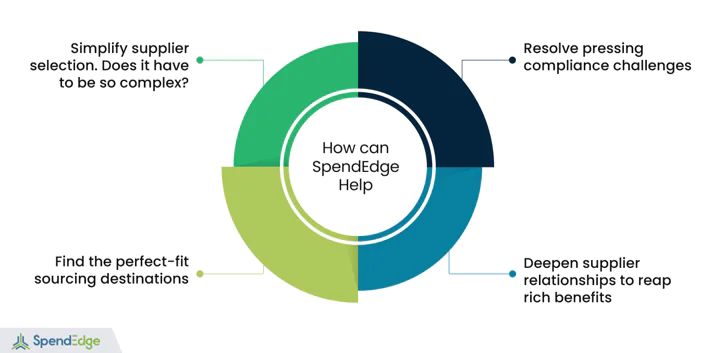 Simplify supplier selection. Does it have to be so complex?
Faced with intense competition, businesses more often than not migrate cost-intensive operations to low-cost destinations to improve margins and effortlessly navigate unwelcome supply-side nitty-gritties. At SpendEdge, our experts assist clients in multiple domains to streamline their contract manufacturer selection process, leaning in on their decades-long expertise in procurement market intelligence.
Find the perfect-fit sourcing destinations
Even large enterprises often struggle to uncover the most appropriate sourcing destinations for their products. With more than two decades of experience in business intelligence services, our advisors help companies of various sizes (large, medium, small) pinpoint low-cost/best-cost countries with mathematical precision. Further, our experts assist CPOs in making more informed sourcing decisions based on data-based insights. 
Resolve pressing compliance challenges
Our business intelligence services help clients sift potential supply sources and onboard alternative suppliers with a view to spreading supply-side risks. This also ensures the delivery network is resilient enough to bounce back in time to minimize the impact of any disruption. Our advisors conduct periodic supplier audits to bring to light compliance issues, so clients can attend to them in a proactive manner.
Deepen supplier relationships to reap rich benefits
By bonding more energetically with suppliers, businesses can manage their input costs and negotiate lower raw material prices, which in turn has a huge bearing on supply chain stability. Our business intelligence services have been expressly crafted to help companies build deeper connections with their supply chain participants to improve supply-side stability and predictability.
Success story: Match fixing! – A nutrient supplements provider scouting for contract manufacturing services finds the perfect match
Our client is a well-known name in the nutrient supplements market with an expanding product line that includes multivitamins and essential minerals. Since 1990, the client has been reaching out to consumers in more than 50 countries with products that help increase energy levels, improve low mood, and build muscle strength. These products typically reach end users via channels like independent sellers, online retailers, and drug stores.
Rising health awareness, access to innovative wellness products, evolving fitness preferences, and an increase in disposable personal incomes are the major growth drivers for the client's business. However, health wellness companies must make substantial commitments to R&D activities on an ongoing basis to stay on the vanguard of product innovation. To retain and build out profit margins, the client has singled out outsourcing cost-heavy manufacturing operations to low-cost destinations as the central plank in its efforts to tame operating costs. Retaining product quality and customer satisfaction was paramount for the client even while moving significant modules of production to external contractors. Neither did the client want to cede absolute control of any of the key activities.  Besides, the client planned to make the most effective use of market intelligence in procurement.
In late 2021, the client began to work with our experts at SpendEdge to address the business issues previously discussed in a timely manner. Our specialists aimed to iron out the selection process of contract manufacturers, which otherwise can be very taxing for procurement organizations. Backed by deep procurement market intelligence and tried-and-true research methods, our experts identified key contract manufacturers with the strengths (e.g., performance, continuous improvement, regulatory compliance) corresponding to the client's exacting requirements. Further, our teams, with two decades of experience in business intelligence services, factored in parameters like facility equipment size and specs as well as quality management certifications. Applying consistent and clearly defined criteria, our specialists narrowed the pool of candidates to a more manageable number, namely, five contract manufacturers.
Our short list of contract manufacturers, supplier selection methodology, and business intelligence services are serving as a guiding lodestar, navigating the client through hard negotiations with the supply side. The client has succeeded in reaching an agreement with a manufacturer picked from our list of preferred candidates. More recently, production of certain of the client's formulations is going full speed at the contract manufacturing facility. At the current scale and pace of production, the client should be able to realize the pre-defined outcomes in the short-to-mid-term. Going forward, the business's outgrowths from contract manufacturing would include improved profits, operating cost reductions, and product quality, besides better customer experience and a bigger manufacturing footprint for the enterprise. That's about it: getting market intelligence in procurement to work for clients!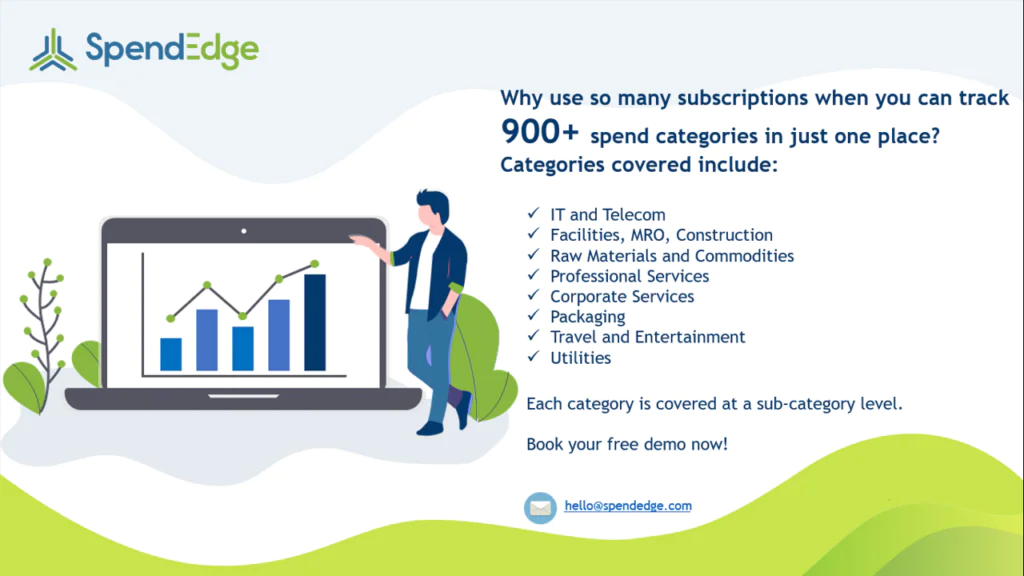 Contact us now to solve your procurement problems!
Author's Details
Srinivas R
Associate Vice President, Sourcing and Procurement Intelligence
Srinivas is a solution design specialist at Infiniti Research and provides advisory services to clients across the medical devices, pharmaceutical, CPG & FMCG, energy, and ICT sectors. He specializes in the procurement areas of industry benchmarking, cost modeling, rate card benchmarking, negotiation advisory, and supplier intelligence.