By: Manpreet Kaur
The packaging procurement process involves the steps and activities a company or organization takes to source and acquire the packaging materials and supplies needed for its products. These processes can be complex and challenging for businesses due to various factors. Efficient packaging procurement is essential for cost control, quality assurance, sustainability, risk management, and overall operational efficiency. It not only impacts the bottom line but also plays a critical role in shaping a company's image and its ability to meet customer expectations and regulatory requirements.
Remember that an effective packaging procurement strategy is not static; it should evolve with changes in your business, industry trends, and customer preferences. Regularly reviewing and adapting your strategy will help you stay competitive and environmentally responsible in your packaging procurement efforts.
Challenges/Problems faced in the packaging procurement process.
Supplier Selection: Identifying reliable and cost-effective packaging suppliers can be a challenge. Businesses need to evaluate potential suppliers based on factors such as quality, pricing, lead times, capacity, and geographic proximity.
Cost Management: Balancing the cost of packaging materials with quality and performance can be tricky. Procurement professionals must negotiate pricing, quantity discounts, and contract terms to achieve cost-efficiency without compromising on packaging quality
Sustainability Concerns: As environmental concerns grow, businesses are increasingly focused on sustainable packaging solutions. Procurement teams must source eco-friendly materials, which can be more expensive, and navigate complex regulations related to sustainability and recycling.
Quality Control: Maintaining consistent packaging quality is crucial to prevent product damage and meet customer expectations. Procurement teams must establish quality control processes and monitor suppliers' performance regularly.
Customization and Innovation: Many industries require customized packaging solutions to meet specific product and branding needs. Staying updated on packaging innovations and working with suppliers to develop unique designs can be challenging.
How SpendEdge can help the industry in overcoming the challenges
Raw Material Price Tracking and Forecasting:
Packaging materials can constitute a significant portion of a company's production costs, especially for businesses that produce physical goods. By tracking prices, businesses can identify cost fluctuations and make informed decisions to manage and control expenses effectively. We help companies track price trends of materials that they want to procure. In these type of exercises we first determine which packaging materials are critical to your business. This might include materials like cardboard, plastic, glass, metal, or specialized packaging materials unique to your industry. For the identified materials we then provide visibility on current prices of packaging materials, historical price trends, market demand and supply data, economic indicators that can impact prices (e.g., inflation rates, currency exchange rates) and price forecasts. Our research reports can help you adapt quickly to changing market conditions and make strategic choices that benefit your bottom line.
Supplier Intelligence and Risk Management:
Identifying suitable suppliers for packaging materials is essential for businesses in various industries, as the quality of packaging materials can impact product safety, presentation, and overall customer satisfaction. We can help you identify the right suppliers and can evaluate them based on different parameters such as their capabilities, pricing, certifications, expertise, technological innovations, regulatory compliance etc. We also have expertise in conducting deep dive supplier risk assessment which would focus on different risks that can be associated with the suppliers such as financial risk, reputation risk, operational risk, geopolitical risk, supply risk, business risk etc.
Identifying Best Sustainability Procurement Practices:
Sustainable procurement in packaging refers to the practice of sourcing packaging materials and products in a way that minimizes negative environmental and social impacts while also promoting long-term economic viability. It involves considering not only the immediate cost and quality of packaging but also its broader sustainability attributes. We can help you in identifying the best sustainability practices that are being followed in different industries, what kind of sustainability initiatives are being implemented by companies and how did they typically go about it. We can also help you in understanding if your suppliers have capabilities of providing sustainable and eco-friendly packaging materials and if they can contribute well to your sustainability goals.
The success story of how SpendEdge was helpful to one of its clients.
A leading F&B company with operations in over 60+ countries across the globe was looking for a partner who could help them in tracking prices of different packaging materials and support them in understanding the market dynamics and the best time to buy the materials.
Some of the major issues that client wanted to address through this exercise was lesser visibility on the price trends for different materials, how the prices are fluctuating and what kind of trends can be seen in the near future? How the market dynamics look like and the supply-demand scenario.
To help the client overcome these challenges, we conducted a price tracking exercise which focused on providing detailed pricing insights and market outlook for different materials such as cardboard, paper, plastics etc. We also tracked historical price trends and forecasts for the materials and provided better understanding of the historical supply-demand outlook and the outlook for the near future.
Based on our assessment, we helped the client understand main causes for price fluctuations and also provided indications on time frame for getting the best price in the market. 
.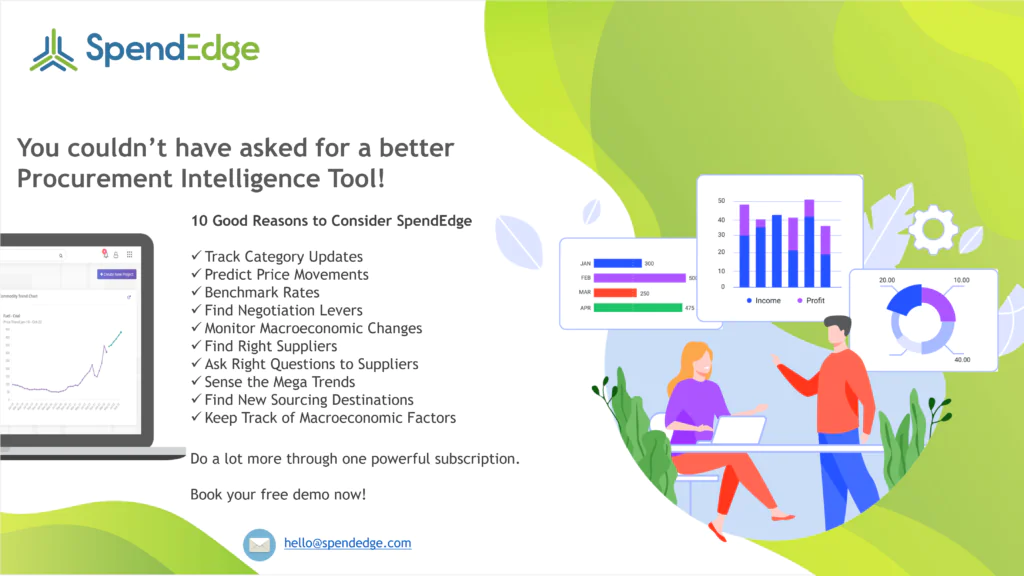 Contact us now to solve your procurement problems!
Author's Details
Manpreet Kaur
Assistant Manager Presales – Sourcing and Procurement Intelligence
Manpreet is a Presales Consultant at Infiniti Research and is responsible for designing best fit solutions for clients belonging to different industries such as BFSI, Chemicals, Retail & CPG, F&B, Pharma and Healthcare, Energy, IT & Telecom and Automotive sectors. She specializes in sales, business strategy execution, and innovative solution design.