By: George Mathew
There is currently a lot of discussion surrounding cognitive technologies which are changing the way we live, work, and interact with technology. Cognitive technologies include systems that can mimic human thought processes like problem-solving, reasoning, and learning. The credit goes to advanced computers and vast amounts of data because of which we now have the ability to develop intelligent systems that can analyze information at a faster rate than ever before. Data analysis is one field that cognitive technologies are greatly impacting. These technologies can process large amounts of data quickly and efficiently, allowing organizations to gain valuable insights from complex datasets. By utilizing machine learning algorithms and natural language processing capabilities, businesses can extract meaningful information from unstructured data sources, including emails, documents, and social media posts. Cognitive technologies in procurement appear to have a bright future. These developments have the potential to use data-driven insights for improved decision-making.
Cognitive procurement opportunities for driving cost efficiency
Unleashing the power of the cognitive enterprise: Redefining business in the digital age
The new cognitive enterprise is driving the digital wave to new heights, transforming how employees add value and corporations differentiate. Cognitive enterprise leverages proprietary data, unique platforms, and specialist expertise to achieve its goals. A cognitive enterprise establishes a business platform that uses institutional knowledge, process differentiation, and data exclusivity, thereby creating competitive advantages that influence new business models. By achieving a seamless, low-touch procurement and payment experience, companies can define a core platform focus underpinned by a cognitive marketplace.
Empowering procurement: The evolution of cognitive solutions in digital transformation
The emergence of cognitive procurement is a significant development in automation. Procurement professionals can benefit greatly from AI insights, which provide valuable support in their decision-making processes. For procurement organizations, leveraging data is essential to gain insights, identify areas for improvement, and make informed decisions. By creating a data-driven culture and utilizing AI-based data analytics tools, procurement can unlock the full potential of data. Leveraging data is essential for procurement organizations to gain insights, identify areas for improvement, and make informed decisions. However, most organizations face challenges with data silos and lack the skills to analyze it effectively.
Securing the supply chain: Leveraging AI for resilient procurement
Professionals in procurement play a key role in maintaining steady and continuous supply chains. Disruptions may be successfully managed by carefully choosing suppliers, managing risk, and cultivating strong supplier relationships. AI-based software can improve supply chain visibility and communication, allowing for fast reactions to interruptions. With its predictive analytics, AI can pinpoint the supply chain segments that would be most affected by disruptions. By identifying weak links in the supply chain, appropriate plans can be made to ensure robustness and resilience, thereby minimizing the risk of disruption.
How SpendEdge helps improve the procurement function with cognitive solutions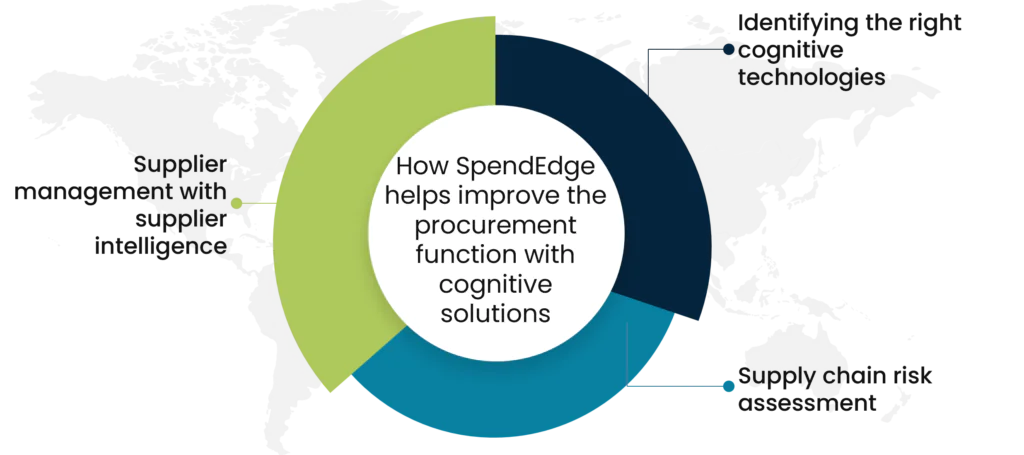 Identifying the right cognitive technologies:
SpendEdge market intelligence experts can help you by determining the appropriate cognitive technologies, which is essential. Based on the organization's unique requirements and sector, we help evaluate and choose the best artificial intelligence (AI), automation, blockchain, and Internet of Things (IoT) technologies. Our methodology for narrowing down the right suppliers for AI, blockchain, and other cognitive solutions goes beyond historical filters like revenue and profits, performance, and service quality to find vendors who can bring the desired value to your business. Our policy is to solely suggest vendors who are certified and ensure the efficient operation of cognitive technologies.
Supplier management with supplier intelligence:
Efficient supplier management is a vital aspect of procurement, and SpendEdge can assist businesses with implementing cognitive solutions to enhance supplier relationships and communication. Our team of experts uses statistics, modeling techniques, and large curated data sets to accurately predict multiple supplier risks and assign risk scores based on probability and severity. Through our supplier risk intelligence service, you can receive customized alerts for various risk categories, including data, financial, environmental, and compliance. This allows you to take immediate action and leave nothing to chance.
Supply chain risk assessment:
At SpendEdge, we offer an extensive supply chain risk assessment service that identifies possible threats and weaknesses. Our assessment covers a range of factors, including geopolitical risks, natural disasters, and supplier reliability. We also develop risk mitigation plans that utilize AI-powered tools to effectively monitor and predict risks in real-time. We provide you with risk scores and risk profiles for each supply chain segment so that they may be helpful in making supply chain decisions. You can also drill down to segment-wise efficiency metrics of the supply network.
Success Story: How SpendEdge helped a fabrication equipment manufacturer improve their procurement process
A prominent multinational fabrication equipment manufacturing corporation based in Germany with a vast global supply chain was facing a significant challenge while procuring the needed inputs. They were looking for a solution that would be both effective and efficient in solving their problems.
Escalating procurement costs and operational inefficiencies were eroding their profit margins. The organization recognized the pressing need for a transformative solution to optimize its procurement processes and ensure long-term cost efficiency. To tackle this challenge head-on, they turned to SpendEdge.
SpendEdge analysts began with a meticulous assessment of the client's procurement processes. This analysis identified bottlenecks, redundancies, and areas ripe for improvement, forming the foundation for the strategic plan. We also recommended state-of-the-art AI-driven procurement software. This software included modules for spend analysis, contract management, and supplier performance evaluation. Machine learning algorithms power these modules, enabling data-driven decision-making.
The strategic implementation of AI-driven procurement software and the adoption of best practices transformed the procurement processes, reduced costs, and ultimately bolstered the client's competitive edge in a fast-evolving market. Our solution empowered the client to optimize operations, enhance profitability, and secure a more resilient and cost-effective supply chain for the future.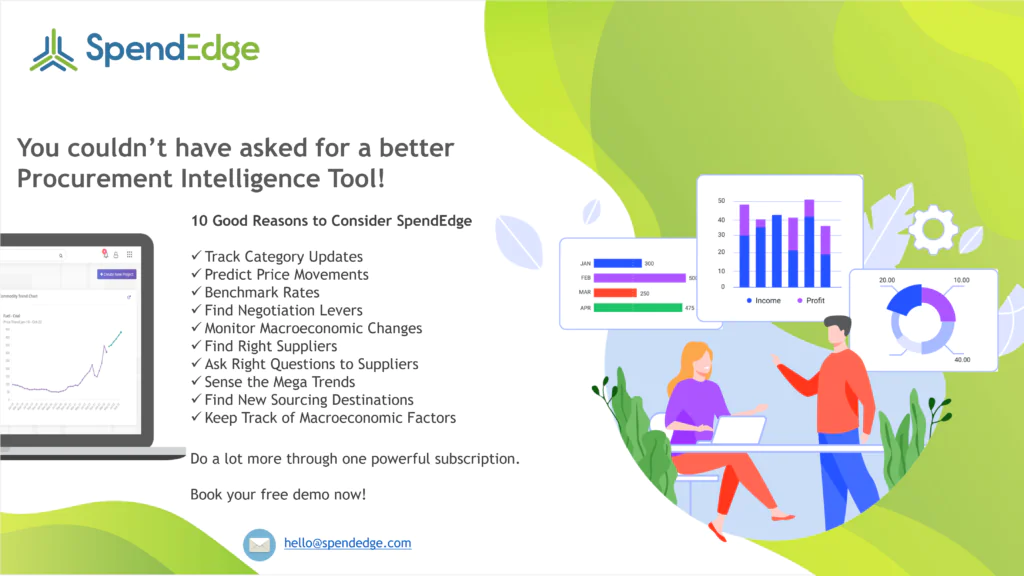 Contact us now to solve your procurement problems!
Author's Details
George Mathew
Associate Vice President, Sourcing and Procurement Intelligence
George is a procurement specialist at Infiniti Research and provides advisory services to clients across the pharmaceutical, CPG & FMCG, energy, and automotive sectors. He specializes in the procurement areas of industry benchmarking, cost modeling, rate card benchmarking, negotiation advisory, and supplier intelligence.