By: Manpreet Kaur
The Consumer-Packaged Goods (CPG) industry encompasses the production and distribution of everyday products like food, beverages, toiletries, and cleaning supplies. It's a highly competitive sector where companies constantly innovate in packaging, marketing, and product development to meet evolving consumer preferences. Procurement plays a significant role in the CPG industry, it involves sourcing raw materials, components, and packaging materials efficiently and cost-effectively. Procurement teams negotiate with suppliers to secure favorable terms, ensure quality and safety standards are met, and manage the supply chain to maintain consistent production. Effective procurement strategies are essential for maintaining competitive pricing and ensuring the availability of CPG products in the market. In the CPG industry, there's a pressing need for procurement to focus on sustainable sourcing, supplier diversity, real-time data analytics, and digital technologies for better cost control and agility in responding to market fluctuations.
Challenges faced by procurement teams in the consumer-packaged goods industry
Challenge of price fluctuations:
CPG businesses frequently work with volatile raw resources like oil and agricultural goods. It can be difficult to estimate and manage budgets efficiently due to these price variations, which can also have an impact on profit margins and procurement prices. These price variations make it challenging to predict and control budgets effectively, leading to potential impacts on profit margins and procurement costs. To mitigate these risks, CPG companies often employ hedging strategies, engage in forward contracts, and closely monitor market trends to make informed financial decisions and maintain their competitive edge in a volatile marketplace.
Supply chain disruptions:
There are several factors that can cause disruptions in the supply chain, including natural disasters, global health crises such as COVID-19, political instability, and transportation problems. These disruptions may result in delays, higher expenses, and a scarcity of raw materials or completed goods. In addition, supply chain disruptions can also be triggered by economic fluctuations, trade disputes, labor strikes, and quality control issues. These disruptions can lead to increased lead times, production bottlenecks, inventory imbalances, and challenges in meeting customer demands, highlighting the critical importance of robust supply chain management strategies.
Cost Management:
Keeping expenses under control while keeping quality is not an easy task. These include volatile raw material prices, fluctuating consumer demand, and fierce competition. Balancing quality and affordability while ensuring efficient supply chain management and production processes is essential. Additionally, sustainability concerns and regulatory requirements further complicate cost-cutting efforts. Achieving a delicate equilibrium between cost reduction and product quality is crucial for success in the CPG sector. To increase the profitability of the business, procurement specialists must identify ways to cut waste, negotiate advantageous contracts, and optimize expenses.
How SpendEdge can help you with procurement strategies for the consumer-packaged goods industry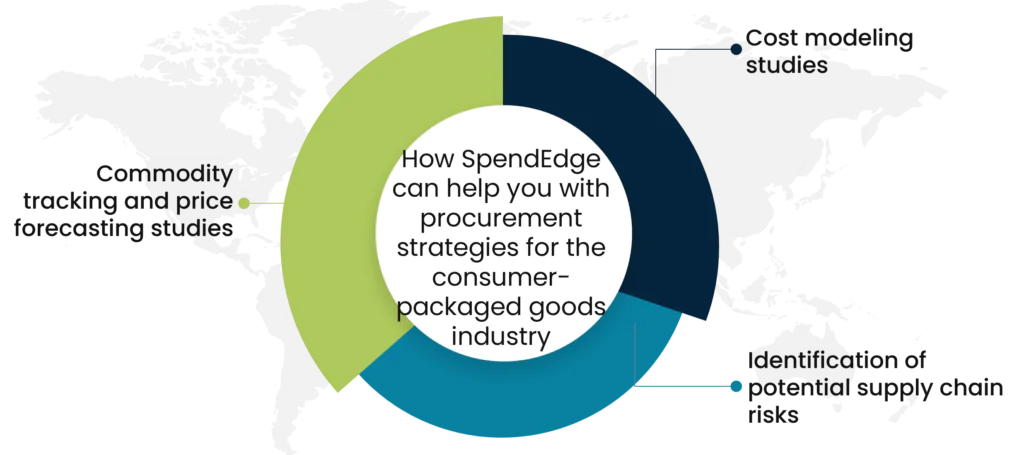 Commodity tracking and price forecasting studies:
Keep track of the fluctuation of prices for a wide variety of commodities that are used in the consumer-packaged goods industry such as food, beverages, clothes, households, etc. Accurately differentiate between high-risk and low-risk commodities, for example, fuel and retail apparel. Use precise pricing insights to make cost-effective procurement decisions. Receive price predictions for various timeframes, such as weekly, monthly, quarterly, or even 6 and 12-month periods. Improve spending efficiency and minimize the chances of being affected by price fluctuations. Significantly decreases the possibility of supply chain disruptions. Secure prices in advance to save both time and money.
Identification of potential supply chain risks:
Our supply chain risk analysis can provide you with real-time insights from supply-side big data to improve operations and get dashboard views of how exactly your supply chain is performing. With our supply-side intelligence, you can Predict and resolve supply chain inflation before it can inflame. We establish risk scores for each potential risk on the basis of which you can make effective supply chain decisions. We track and trace supply-side vulnerabilities using origin and transit data and provide a better understanding of per-unit supply chain costs to help you manage expenses. With the aid of these services, you can fashion a lean supply chain through ongoing KPI improvements.
Cost modeling studies:
With the aid of our cost modeling techniques get a better understanding of the factors that drive costs of the fuel, clothing, food, and beverage items. Evaluate industry trends related to cost components and obtain accurate insights into components such as materials, labor, wages, overheads, etc. We can help procurement teams establish a structured plan to save costs and ensure business continuity. We leverage detailed cost breakdown analysis to get the best possible deals and achieve cost advantages by improving contract management.
The success story of SpendEdge helping a CPG company with procurement
The consumer-packaged goods (CPG) industry has experienced significant growth over the past few decades but is now losing momentum due to rapidly changing consumer preferences and shifting distribution channels, This change demands a better procurement strategy.
A CPG company based in Europe aimed to determine the primary cost factors involved in producing a particular product of interest. They sought to gain insight into the manufacturing process and the most effective negotiation tactics to secure the best possible pricing from manufacturers.
In order to address this issue, the company enlisted the help of SpendEdge professionals who determined the primary cost factors, including raw materials, equipment, and labor. They performed a thorough analysis to obtain a precise breakdown of costs, identified price discrepancies based on various geographical areas and manufacturers and pinpointed potential negotiation tactics to obtain the most favorable price.
Our expert intelligence provided the client with a detailed assessment of the cost drivers and the price movements and also provided recommendations on how to mitigate the price fluctuations, and supported with the best negotiation strategies.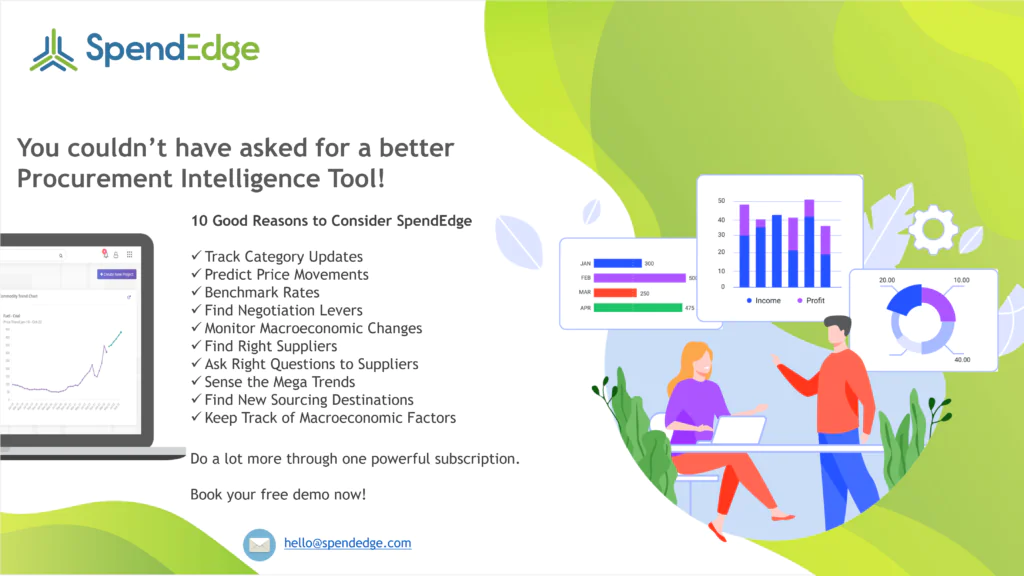 Contact us now to solve your procurement problems!
Author's Details
Manpreet Kaur
Assistant Manager Presales – Sourcing and Procurement Intelligence
Manpreet is a Presales Consultant at Infiniti Research and is responsible for designing best fit solutions for clients belonging to different industries such as BFSI, Chemicals, Retail & CPG, F&B, Pharma and Healthcare, Energy, IT & Telecom and Automotive sectors. She specializes in sales, business strategy execution, and innovative solution design.