By: Manpreet Kaur
The organic food supply chain encompasses the entire journey of organic food products, encompassing cultivation, processing, and distribution. It entails the implementation of organic farming techniques and adherence to rigorous certification standards. By prioritizing the exclusion of synthetic chemicals, genetically modified organisms, and harmful pesticides, the organic food supply chain fosters sustainability and supports natural agricultural practices. This holistic approach ensures that consumers can trust the integrity and health-consciousness of organic products.
Better procurement in the organic food supply chain sector is essential to enhance cost-efficiency, secure high-quality organic materials, and promote sustainability. Improved procurement practices enable negotiations for favorable pricing, ensuring product integrity while minimizing environmental impact. These measures align with the sector's values and help meet the growing demand for organic products while maintaining the sector's reputation for quality and eco-friendliness.
Supply chain challenges that are faced by the organic food industry
Intricate and limited supply chain:
Organic food production is inherently resource-intensive and time-consuming, resulting in restricted quantities compared to conventionally grown counterparts. This limitation poses significant challenges in meeting the increasing consumer demand for organic products. As a result, there's a continuous need for strategic planning and investment in organic farming practices, supply chain efficiency, and distribution networks to bridge the gap between supply and demand in the organic food sector. The demand for organic products exceeds supply due to resource-intensive production, necessitating ongoing efforts to expand organic farming and distribution capabilities.
Quality assurance certification and stringent standards:
Meeting rigorous quality and certification criteria is imperative for organic products, often necessitating third-party verification. The challenge in procurement lies in ensuring suppliers' continuous adherence to these standards and the maintenance of their certifications. This involves diligent supplier monitoring, regular audits, and fostering long-term supplier relationships built on trust and commitment to organic principles. Overcoming this challenge is crucial to upholding the integrity and credibility of organic food products in the market. This diligent approach is essential to uphold organic product integrity.
The challenge of counterfeit and fraudulent food materials:
The surging demand for organic products has unfortunately spurred instances of fraudulent practices, where conventionally produced goods are deceitfully labeled as organic. Procurement professionals face the critical task of building trust-based supplier relationships and instituting stringent quality control measures to thwart such fraudulent activities effectively. Safeguarding the integrity of the organic product market is paramount to maintaining consumer confidence and supporting sustainable, genuine organic agriculture. To combat fraud, procurement experts must engage in robust supplier vetting, employ advanced testing methods, and collaborate with certification bodies for added verification assurance.
Frequent fluctuations in the prices of organic food: Increase in cost of production
Organic farming methods frequently demand increased labor and resources, leading to elevated production expenses. Consequently, organic products often command higher prices than their conventional counterparts. This price disparity can introduce unpredictability and fluctuations into the organic food market, posing difficulties in forecasting and controlling procurement expenses. Procurement professionals must be adaptable and strategic, leveraging long-term contracts, cost-effective sourcing, and sustainable practices to navigate the dynamic pricing landscape of the organic food sector while ensuring consistent supply and quality.
How can SpendEdge professionals help in enhancing organic food supply chains?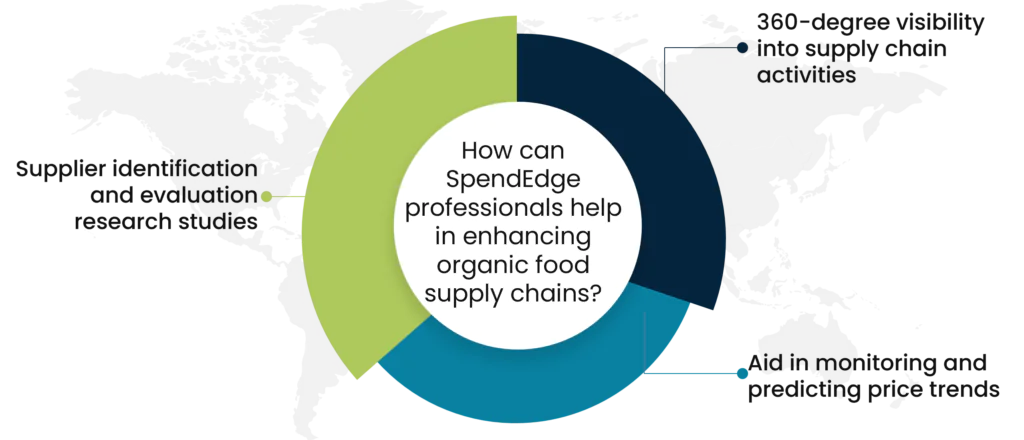 Supplier identification and evaluation research studies:
Within the domain of SpendEdge, we excel in conducting in-depth research studies for supplier identification and evaluation in the organic ingredients and products segment. Leveraging our industry-specific expertise, we meticulously identify reputable organic suppliers, assess their capabilities, and scrutinize their adherence to stringent organic standards. Our research equips organizations with valuable insights to make informed decisions, mitigate risks, and optimize their procurement processes in the organic sector, fostering a sustainable and dependable supply chain for organic ingredients and products.
360-degree visibility into supply chain activities:
SpendEdge offers enhanced supply chain visibility, enabling the proactive identification of potential disruptions and risks within the supply chain. These risks may encompass issues like shortages or quality concerns. Leveraging our expertise, we employ advanced analytics and market intelligence to provide clients with timely insights and actionable strategies to mitigate such risks, ensuring a resilient and optimized supply chain for sustained operational excellence.
Aid in monitoring and predicting price trends:
Price fluctuations in organic food products, influenced by seasonality and market dynamics, pose challenges for businesses. At SpendEdge, we excel in monitoring and forecasting these price trends. This invaluable information empowers our clients to engage in more informed negotiations with suppliers and make strategic pricing decisions that enhance competitiveness. By staying ahead of market fluctuations, we enable organizations to maintain cost-efficiency and effectively navigate the dynamic pricing landscape of the organic food sector.
The success story of SpendEdge helping a Food & Beverage Company
A prominent food and beverage company based in the United States has a complex and lengthy supply chain. They needed to identify the primary suppliers that could offer specific organic food materials, gain insight into their pricing structures, and comprehend the industry's best practices for engagement.
We helped the client identify the list of leading market players that are operating in the market and have strong capabilities in providing the required materials. Our experts conducted the assessment of their operational and functional capabilities covering product capacity, technology capabilities, quality certifications, regulatory compliance, etc.  We provided the shortlist of suppliers based on their capabilities and provided recommendations on the best-fit suppliers. Provided an overview of the pricing models, pros and cons of each of the identified models, key cost components, key cost drivers, cost-saving opportunities, industry margins, and negotiation levers.
Our provided recommendations on the best-fit suppliers provided insights on the negotiation strategies that can be adopted to get the best price from suppliers. These solutions also helped the client understand the best engagement and contracting practices that can be followed.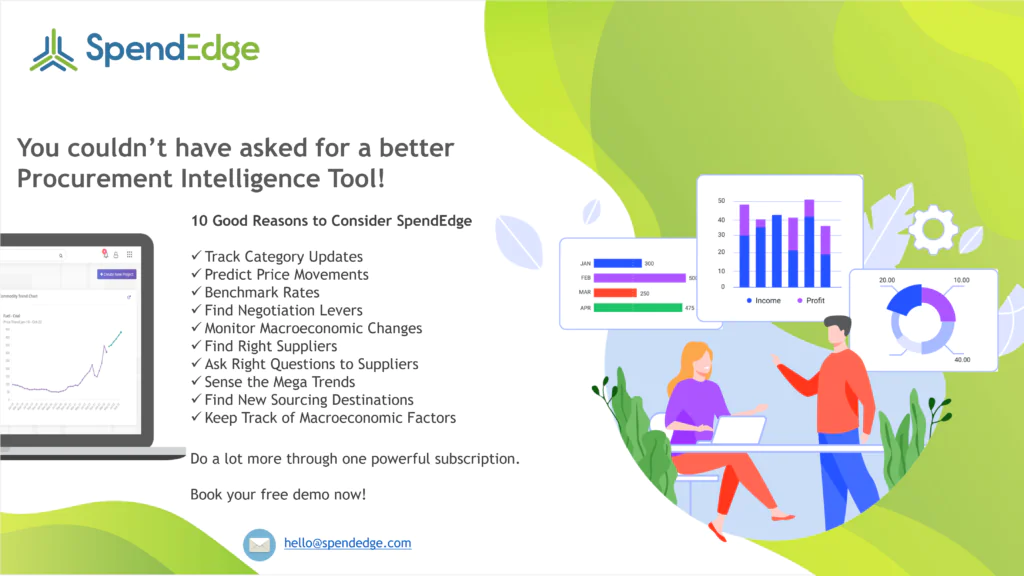 Contact us now to solve your procurement problems!
Author's Details
Manpreet Kaur
Assistant Manager Presales – Sourcing and Procurement Intelligence
Manpreet is a presales specialist at Infiniti Research and has expertise in sales, business strategy execution, and innovative solution design. She is actively involved in supporting clients from F&B, CPG, Healthcare, Pharma, Chemicals, BFSI, Oil & Gas and Automotive sectors.