By: George Mathew
The term "search engine marketing" describes a few tactics and methods a business may employ to increase the number of visitors coming from search engine results pages (SERPS) to a website. The future holds significant changes for the search engine marketing (SEM) industry, SEM employs sponsored search, contextual advertising, and organic search results to increase a website's visibility. Maintaining up to date with the most recent trends is crucial for marketers as new technology and customer behaviors change. To design SEM campaigns that are not only efficient but also able to produce noticeable results is pivotal. Marketers who want to build effective ads must remain on top of the ever-changing SEM landscape. Businesses may develop efficient SEM strategies that provide results in 2023 and beyond by adopting AI, optimizing for voice search, employing video advertising, personalizing their campaigns, and optimizing for mobile.
What are the new trends in search engine marketing strategy?
Optimization of search engine marketing (SEM) using artificial Intelligence (AI) tools:
The usage of artificial intelligence (AI) is one of the most important SEM trends for 2023. Machine learning algorithms are used in AI-powered SEM to evaluate data, improve ads, and automate tedious operations. By utilizing insights from massive data sets, marketers can use AI to build campaigns that are more successful and generate higher returns on investment. AI-powered tools can analyze keyword competition and seasonality, identify high-performing keywords and phrases, and refine your strategy for optimal results. Businesses must search for companies that have expertise in all SEM technologies and practices to enhance their marketing operations.
Stay competitive and enhance search engine with voice search optimization:
The use of voice search is on the rise and is projected to make up more than half of all searches by the future. As voice search became more prominent, search engines improved at picking out the meanings of longer, more conversational queries and producing relevant results. To stay competitive, marketers need to ensure that their campaigns are optimized for voice search. This involves creating content that is tailored to natural language queries and focusing on long-tail keywords. Businesses must look for companies or technologies that can identify and are well-versed with voice search optimization (VSO) tools and practices.
Achieve greater engagement deals with video advertising:
The use of video advertising is on the rise on social media platforms such as Facebook and Instagram. Expect to see more video ads on search engine results pages, particularly for mobile searches by the end of 2023. This is due to the growing popularity of social media, which promotes brands through video advertising. Video ads have proven to have a greater engagement rate compared to traditional ads and offer an effective means to expand your reach to a broader audience. It is crucial for companies to identify and select the appropriate video advertising platforms and this could be challenging as there are several platforms available which creates confusion.
Search engine marketing solutions provided by SpendEdge to keep up with the upcoming trends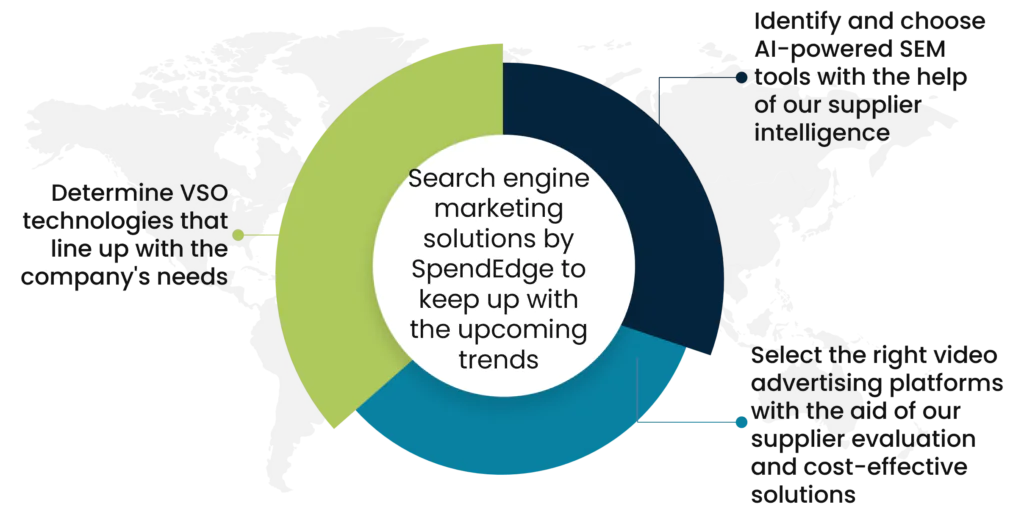 Identify and choose AI-powered SEM tools with the help of our supplier intelligence:
SpendEdge can help businesses identify and select SEM tools and platforms that are powered by AI with the help of supplier intelligence. We narrow down suppliers not only on the basis of considering factors such as revenue, profits, and performance but also significant characteristics like cost-effectiveness, scalability, and compatibility with existing tech stacks to ensure that businesses get tools that meet their specific needs and budgets. With the aim of finding vendors who can bring the desired value to your business, our specialists employ supplier market analysis.
Determine VSO technologies that line up with the company's needs:
SpendEdge can assist in identifying and selecting voice search optimization (VSO) tools and technologies that align with the company's needs and budget by leveraging statistics and modeling techniques. This includes evaluating various solutions while considering factors such as accuracy, language support, and compatibility with existing systems. This is carried out by using large, curated data sets to make accurate predictions for multiple supplier risks and address them beforehand. Our supplier intelligence solutions will enable retail businesses to build up the company's diverse pipeline and onboard certified vendors who provide voice search optimization technologies.
Select the right video advertising platforms with the aid of our supplier evaluation and cost-effective solutions:
SpendEdge can help businesses identify and select the right video advertising platforms, technologies, and production services that align with their goals and budgets by streamlining your search to include only suppliers that can meet all or most requirements. We also rank the suppliers to identify the best fit and provide additional information about the most suitable suppliers for engagement. Our experts evaluate options, find cost-effective solutions, and uphold the same standards for potential partnerships and deals to establish favorable contract terms and enhance negotiation power.
The success story
The Client:
A retail company in Canada
The challenge faced by Client:
Our client is a mid-sized retail company operating traditional brick-and-mortar stores and was facing a significant challenge of getting aligned with the new SEM technologies taking place in the retail sector due to changing consumer behavior and increased competition from e-commerce giants. They want to undertake a retail revolution by expanding their online presence and utilizing SEM effectively to boost sales and brand visibility.
Solutions offered by SpendEdge:
SpendEdge initiated the project by conducting a thorough assessment of the retail company's existing technological infrastructure. This included an evaluation of existing e-commerce platforms, CRM systems, and SEM tools.
SpendEdge identified and recommended a suite of SEM tools and e-commerce platforms tailored to the specific needs and goals of the retail company. The selection process took into account factors such as ease of integration, scalability, and cost-effectiveness.
Impact Delivered:
Our client witnessed a substantial increase in online sales. The strategic use of SEM campaigns, optimized content, and enhanced visibility on search engines attracted more customers and led to higher conversion rates.
Our client's brand became more visible and recognizable in the digital marketplace. Their products and services appeared prominently in search engine results, making them a trusted choice for consumers.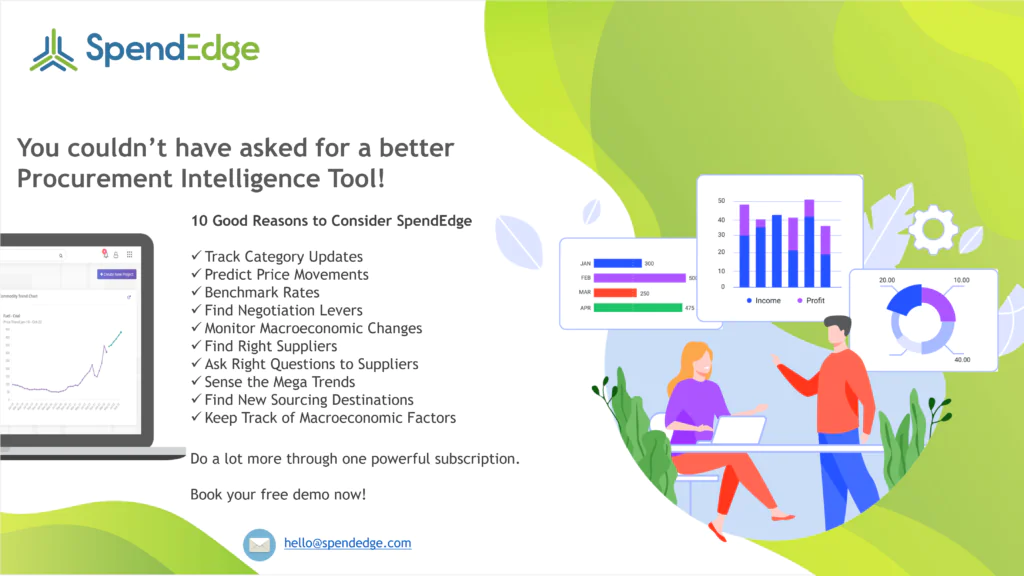 Contact us now to solve your procurement problems!
Author's Details
George Mathew
Associate Vice President, Sourcing and Procurement Intelligence
George is a procurement specialist at Infiniti Research and provides advisory services to clients across the pharmaceutical, CPG & FMCG, energy, and automotive sectors. He specializes in the procurement areas of industry benchmarking, cost modeling, rate card benchmarking, negotiation advisory, and supplier intelligence.