By: George Mathew
The retail industry is a dynamic sector encompassing the sale of consumer goods and services. It faces ongoing changes due to e-commerce growth, shifts in consumer preferences, and evolving technologies, such as AI and automation. Sustainability, omnichannel strategies, and customer experience improvement are key priorities. The COVID-19 pandemic accelerated the adoption of online shopping and contactless payments. As the industry adapts, data analytics and personalized marketing play pivotal roles in staying competitive and meeting consumer demands for convenience and value. Let's dive into another important aspect of the retail industry which is customer experience and personalization, vital concepts in today's competitive market. They enhance customer satisfaction, loyalty, and brand affinity. Tailored interactions and services cater to individual preferences, driving engagement and revenue growth. Understanding and meeting customer needs creates lasting relationships, fostering a positive brand image and sustained business success.
Latest trends and opportunities in the retail industry to improve customer experience
Increased emphasis on digital transformation in operations:
This involves businesses expanding their online presence and investing in digital channels. This shift reflects the growing importance of e-commerce, automation, and digital technologies in optimizing processes, reaching wider audiences, and enhancing customer experiences. Companies are leveraging digital tools to streamline operations, improve efficiency, and tap into new revenue streams. The increasing behavior of online purchasing accelerated this trend as businesses sought to adapt to changing consumer behavior and market dynamics, making digital adoption a key strategic imperative for sustained growth.
Retail omnichannel strategy to get a complete in-store experience:
The trend in the retail industry is the adoption of omnichannel strategies, which seamlessly blend physical and digital shopping experiences. Retailers are increasingly focused on providing a holistic customer journey by merging in-store experiences with personalized digital engagement. This approach offers enhanced convenience through features like buy online, pick up in-store (BOPIS), and curbside pickup. By leveraging data-driven insights, retailers can cater to individual preferences, creating a cohesive and immersive shopping experience that drives customer loyalty and maximizes sales across various channels.
Extended customer services to ensure more safety and security:
These customer services encompass practices such as social distancing measures within physical stores, increased self-service options, and enhanced customer service through safe delivery modes. Retailers are prioritizing the health and safety of customers by offering contactless payment methods, and home delivery services. These changes not only address immediate health concerns but also cater to a growing demand for convenience and safety, reshaping the retail landscape to adapt to the new normal.
Revitalizing the physical network: a futuristic view
Reimagining the physical network in retail involves a strategic revaluation of customer footprints, store traffic patterns, and the role of physical stores. Retailers are optimizing their brick-and-mortar locations by assessing customer behavior and preferences. This data-driven approach informs decisions about store locations, layouts, and inventory management. Physical stores are evolving into more experiential spaces, focusing on customer engagement and brand immersion. This trend reflects a shift towards greater efficiency and relevance, ensuring that physical retail remains a vital component of the omnichannel shopping experience.
Consumer behavior or buying pattern tracking:
Operating models in businesses are increasingly embracing agility, with a key focus on tracking and responding to shifts in consumer behavior and buying patterns. This trend involves leveraging data analytics and real-time insights to adapt strategies swiftly. By understanding consumer preferences and rapidly adjusting product offerings, marketing approaches, and distribution channels, companies can stay competitive and meet evolving customer demands. Embracing agility in operating models is crucial for staying ahead in a dynamic marketplace and ensuring sustained growth in an ever-changing business landscape.
How SpendEdge's expertise can help you enhance your customer experience
Supplier identification for innovative technology solutions with supplier intelligence:
As a company, we are committed to helping you find the best technology solutions to enhance your customers' experience. Our supplier intelligence and methodologies are designed to help you identify vendors who can provide innovative and advanced technology solutions. We use statistical analysis and modeling techniques to determine the best-fit suppliers for standardized processes. Additionally, we provide you with a comprehensive understanding of the standard procedures and processes available in the market. Our methodology for supplier selection goes beyond traditional filters like revenue, profits, performance, and service quality, ensuring that you get the best possible options.
Inventory management and market analytics:
At SpendEdge, the professionals specialize in implementing efficient inventory management solutions for clients, helping to prevent stockouts and overstocking that can lead to poor customer experiences. We leverage data analytics to gain a comprehensive understanding of customer preferences, allowing our clients to optimize their inventory levels, reduce carrying costs, and align product offerings with demand. Through our expertise, businesses can enhance customer satisfaction, improve operational efficiency, and drive cost savings.
Market monitoring and price adjustment strategy:
SpendEdge excels in price benchmarking by providing comprehensive market monitoring and price adjustment strategies. Our experts continuously monitor market dynamics, competitor pricing, and industry trends to ensure that our clients stay informed about price fluctuations. Leveraging this data, we develop robust price adjustment strategies that enable businesses to maintain competitiveness while maximizing profitability. By partnering with SpendEdge, companies can navigate pricing challenges with confidence, make data-driven pricing decisions, and achieve a strong market position.
The success story of SpendEdge helping a retail company with customer experience
The retail company, established in France that deals with toy manufacturing, had been grappling with multifaceted challenges that were impeding its growth and customer satisfaction levels. Recognizing the pressing need for transformation, the company engaged the expertise of SpendEdge.
SpendEdge's team conducted a thorough supplier audit, delving into the intricacies of the client's supplier relationships. Leveraging their industry knowledge and analytical skills, the team identified inefficiencies and areas for improvement within the existing supplier ecosystem. This invaluable insight allowed for a targeted approach to supplier relationship management. To address the issue of inefficient inventory management, SpendEdge introduced a cutting-edge inventory management tool. This tool harnessed the power of advanced data analytics to forecast demand with remarkable accuracy. It enabled the client to maintain optimal inventory levels, preventing stockouts and overstocking, which had previously hindered operational efficiency.
The results were transformative. By optimizing supplier relationships and streamlining inventory management, the retail company experienced significant cost reductions. The cost savings contributed directly to bolstering the company's competitiveness in the market.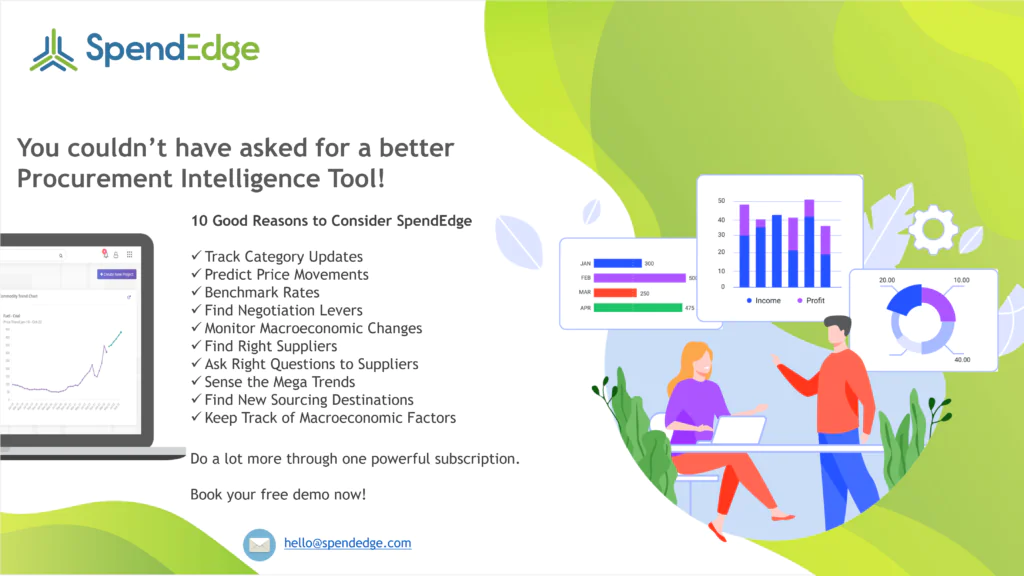 Contact us now to solve your procurement problems!
Author's Details
George Mathew
Associate Vice President, Sourcing and Procurement Intelligence
George is a procurement specialist at Infiniti Research and provides advisory services to clients across the pharmaceutical, CPG & FMCG, energy, and automotive sectors. He specializes in the procurement areas of industry benchmarking, cost modeling, rate card benchmarking, negotiation advisory, and supplier intelligence.