By: George Mathew
Disruptions to supply chain operations can stem from a multitude of factors, both anticipated and unforeseen. Geopolitical conflicts, whether ongoing or emerging, can have a significant impact on supply chains. Trade embargoes, sanctions, and political instability can disrupt the flow of goods, leading to delays and uncertainty in procurement. Inflationary pressures and economic downturns also pose substantial challenges. Rapidly rising prices can squeeze profit margins, while economic downturns may reduce consumer demand, creating a mismatch between supply and demand. These fluctuations can force businesses to reassess their pricing strategies and operational efficiencies. Weather-related challenges linked to climate change are increasingly prevalent. Companies are now grappling with the need to build resilience against these climate-related disruptions. Moreover, unforeseen problems, such as cyberattacks on critical infrastructure, global health crises like pandemics, and supply chain bottlenecks due to a lack of critical components, can further exacerbate disruptions.
Latest emerging trends to amplify supply chain operations
Advancing supply chains through AI and automation:
The usage of AI and automation is becoming increasingly common in the supply chain industry. The primary focus is on streamlining and optimizing the supply chain process by automating repetitive and mundane tasks. AI-based systems can detect and address potential issues in the supply chain, including delays, bottlenecks, and disruptions caused by unforeseen circumstances. These systems can also improve the accuracy and speed of inventory management and forecasting. Additionally, the use of robotic process automation (RPA), which involves automating repetitive tasks like data entry, document processing, and order tracking, is becoming increasingly popular in supply chain management globally.
Elevating supply chains with streamlining operations and embracing innovation (SCaaS):
Supply Chain as a Service (SCaaS) is a transformative shift in modern business practices. SCaaS involves leveraging advanced technologies like IoT sensors, AI-driven analytics, and cloud-based platforms to optimize every facet of the supply chain, from procurement to distribution. This trend enables real-time monitoring, predictive analytics, and data-driven decision-making, reducing costs, enhancing efficiency, and improving overall agility. By outsourcing certain supply chain functions and adopting innovative tools, organizations can adapt swiftly to changing market dynamics, minimize disruptions, and ensure seamless product flow, making SCaaS a vital component of competitive, resilient supply chain management.
Pioneering sustainability: the circular supply chain revolution
Nowadays, sustainability is becoming a crucial aspect for all industries, not only limited to the supply chain. All organizations are searching for ways to reduce their environmental impact and become more eco-friendly. To achieve this, green initiatives like renewable energy sources, energy-efficient technologies, and waste reduction can be implemented. With the increasing global focus on sustainability and environmental protection, the circular supply chain has become increasingly important. It is an excellent way for organizations to reduce their carbon footprint and become more eco-friendly. Moreover, ethical sourcing is also gaining attention, and organizations are ensuring that their suppliers are following ethical practices, including avoiding child labor and unethical practices.
Navigating uncertainty: fortifying supply chains with risk management and resiliency
Companies emphasize the critical importance of preparing supply chains to withstand unforeseen disruptions. Businesses are increasingly focusing on risk assessment, diversification of suppliers, and contingency planning. They leverage technology and data analytics to identify vulnerabilities and implement strategies for quick adaptation when crises occur. This approach not only enhances supply chain stability but also ensures uninterrupted operations, minimizes financial losses, and safeguards customer satisfaction. In a world of evolving risks, prioritizing resiliency and risk management has become paramount for maintaining competitive advantage and sustainability.
How can SpendEdge expertise help you enhance your supply chain efficiency?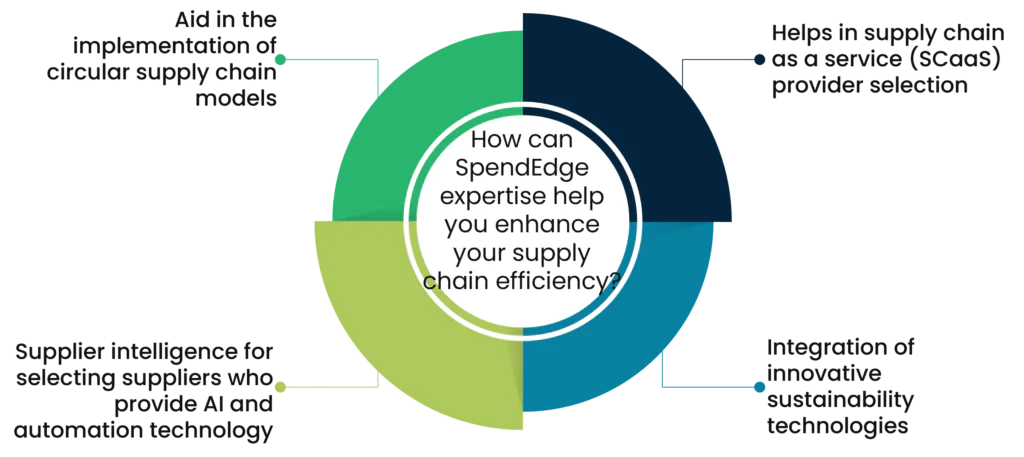 Supplier intelligence for selecting suppliers who provide AI and automation technology:
Our SpendEdge team of procurement and consulting experts offers valuable guidance to organizations in selecting the most suitable AI and automation technologies that align precisely with their unique requirements and objectives. By conducting a comprehensive evaluation of available solutions, providing expert recommendations, and facilitating contract negotiations with technology vendors, we ensure that clients make informed decisions and implement the most efficient and cost-effective solutions.
Helps in the supply chain as a service (SCaaS) provider selection:
Our experts at SpendEdge specialize in assisting organizations in the careful selection of SCaaS providers that perfectly match their specific needs and strategic goals. Through a meticulous evaluation process, contract negotiation support, and a focus on ensuring the chosen vendor's ability to deliver services effectively, we help clients establish robust and tailored supply chain solutions.
Integration of innovative sustainability technologies:
SpendEdge experts excel in identifying and seamlessly integrating innovative technologies and practices into the circular supply chain of organizations. This includes leveraging IoT for real-time tracking of recyclable materials, implementing blockchain for transparent supply chain traceability, and harnessing advanced analytics to reduce waste and optimize resource utilization. We also have expertise in ensuring clients stay at the forefront of sustainable supply chain innovation.
Aid in the implementation of circular supply chain models:
Our experts at SpendEdge offer comprehensive support to organizations in the design and execution of circular supply chain models. This involves identifying opportunities for waste reduction, material reuse, and recycling within the supply chain. Additionally, we also assist in sourcing sustainable materials and components that align with circular economy principles, helping clients create environmentally responsible and economically viable supply chain strategies.
The success story of SpendEdge helping one of its clients transform its supply model into a circular supply chain
Our client, an international fashion retailer based in Canada, is under increasing pressure to adopt sustainable practices in its supply chain. The client sought the expertise of a procurement and sourcing consulting firm to navigate the complexities of sustainability trends while maintaining cost-efficiency.  The company was facing challenges as its supply chain was largely linear, resulting in significant waste and environmental impact. Consumer demand for sustainable and ethically sourced products was growing rapidly. Sourcing decisions were primarily cost-driven, making it challenging to align with sustainability goals.
The SpendEdge professionals helped in the transition from a linear to a circular supply chain model. This involved identifying opportunities for reusing materials, recycling products, and reducing waste. Our consultants worked closely with the client's suppliers, conducting sustainability assessments and developing sustainable sourcing guidelines. Additionally, we assisted our client in identifying sustainable and eco-friendly materials. We also explored alternatives to traditional materials to reduce the environmental impact of products.
The fashion company successfully transitioned to a circular supply chain, reducing waste and minimizing environmental impact. Sustainable material sourcing and supplier engagement led to a product line that was both eco-friendly and ethically sourced, meeting consumer demand for sustainable fashion. Innovative technologies improved supply chain visibility and transparency, further boosting consumer trust.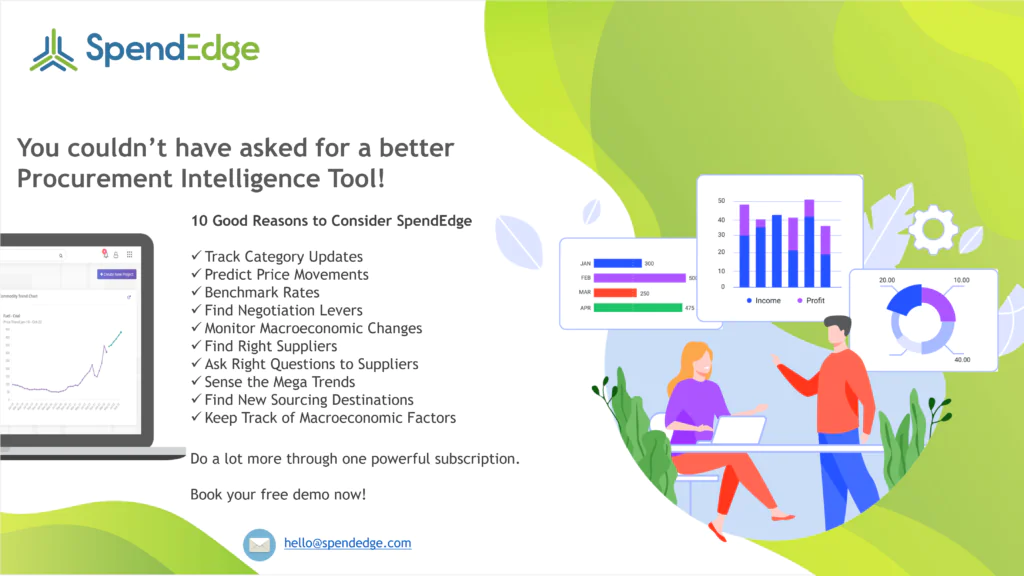 Contact us now to solve your procurement problems!
Author's Details
George Mathew
Associate Vice President, Sourcing and Procurement Intelligence
George is a procurement specialist at Infiniti Research and provides advisory services to clients across the pharmaceutical, CPG & FMCG, energy, and automotive sectors. He specializes in the procurement areas of industry benchmarking, cost modeling, rate card benchmarking, negotiation advisory, and supplier intelligence.