By: George Mathew
Procure to Pay (P2P) is a streamlined process encompassing procurement, purchase requisition, order creation, receipt, invoice reconciliation, and payment, ensuring efficient procurement and vendor payment management. The P2P process involves several stages to efficiently manage procurement and vendor payments. It typically begins with identifying the need for goods or services followed by selecting goods. Then a purchase order is generated, specifying quantities, prices, and delivery terms. Upon receiving the goods or services, the receiving department verifies the order's accuracy and condition. Subsequently, an invoice is matched with the purchase order and receipt, followed by reconciliation and approval. Finally, payment is processed, often involving various payment methods like checks, electronic transfers, or credit cards. Effective P2P workflows enhance cost control, transparency, and vendor relationships.
Benefits of an efficient procure-to-pay process
Creation of strong supplier relationships:
Establishing robust supplier relationships throughout the Procure-to-Pay (P2P) process offers numerous advantages. Firstly, it promotes trust and collaboration, allowing for better negotiation of terms and pricing, which can lead to cost savings. Secondly, suppliers are more likely to prioritize your orders, ensuring timely delivery of high-quality goods and services. Furthermore, in times of need or unforeseen challenges, strong supplier relationships can lead to flexibility and prioritization of your business, preventing disruptions. Additionally, suppliers may share industry insights and innovations, enhancing your competitiveness. Ultimately, maintaining strong supplier relationships across the P2P cycle fosters a win-win scenario, where both parties benefit from efficiency, reliability, and mutual growth.
Increased efficiency and enhanced visibility of supply chains:
Having robust internal controls and end-to-end visibility across the Procure-to-Pay (P2P) cycle provides organizations with a comprehensive view of their cash flow and financial obligations. By meticulously documenting all transactions, monitoring and tracking become simplified, enhancing financial oversight. Moreover, the data collected unveils potential areas for optimization, enabling organizations to streamline processes, reduce costs, and make informed decisions to improve their financial health and operational efficiency. Effective internal control measures and complete transparency throughout the entire Procure-to-Pay (P2P) cycle empower organizations with a profound understanding of their cash flow dynamics and financial commitments.
Protection against fraud:
Building strong business relationships is undoubtedly beneficial, but it can also create opportunities for unethical behavior, such as fraud. A robust procure-to-pay system that incorporates rigorous invoice matching and multiple review checkpoints can help prevent such misconduct. It can safeguard against practices such as awarding contracts to unqualified vendors with personal connections to buyers or purchasing items without adhering to agreed-upon prices. Furthermore, a well-structured procure-to-pay system can establish a clear audit trail, enhancing transparency and accountability, and reducing the likelihood of fraudulent activities that could tarnish reputation and legal compliance.
Enhanced cost savings:
Cost savings derived from an efficient Procure-to-Pay (P2P) workflow are pivotal for businesses. By streamlining processes, negotiating favorable terms with suppliers, and optimizing procurement strategies, organizations can significantly reduce operational expenses. P2P workflows enhance spend visibility, enabling better decision-making regarding budget allocation and resource utilization. Early payment discounts and improved supplier relationships can further drive down costs. Moreover, automation and digitization within the P2P cycle reduce manual errors, prevent overpayments, and enhance compliance, minimizing financial leakages. Overall, a well-executed P2P workflow not only improves financial health but also ensures that resources are utilized judiciously, allowing companies to invest in growth and innovation.
How SpendEdge can help with warehouse automation initiatives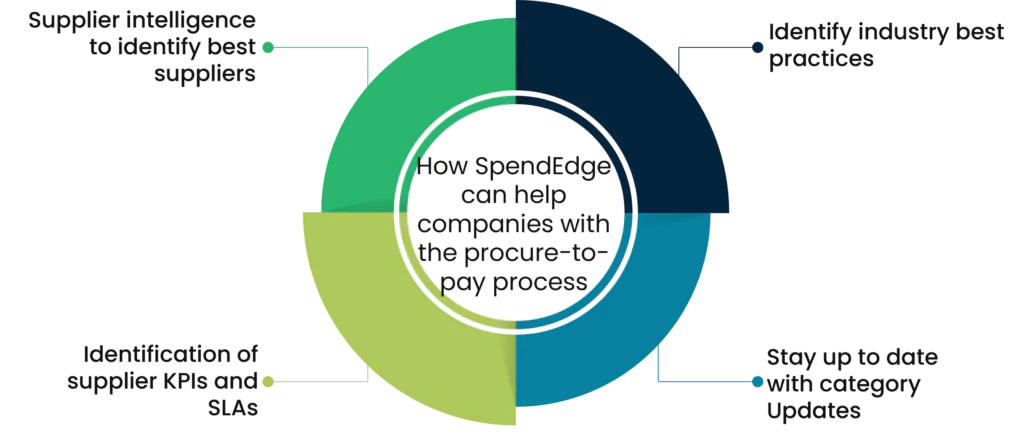 Supplier intelligence to identify best suppliers:
Our rigorous vendor evaluation process identifies P2P software providers with exceptional capabilities, innovations, and a proven track record. We assess their track record, technological advancements, integration capabilities, and client feedback to pinpoint the best-fit solutions. Our meticulous vendor evaluation process ensures we identify procure-to-pay software providers with exceptional capabilities, innovations, and a proven track record. We assess technological advancements, integration capabilities, and client feedback to pinpoint the best-fit solutions.
Identify industry best practices:
By leveraging our extensive industry knowledge, we delve into best practices adopted by peers in your specific sector. This includes insights into P2P processes, tools, and industry-specific nuances, enabling you to align your strategies for optimal results. Adhering to our preset guidelines as defined in the best practices helps maintain high-quality standards in terms of product, service, and processes by minimizing errors. This ensures your sourcing function stays always ahead in every decision it takes.
Identification of supplier KPIs and SLAs:
We provide a comprehensive understanding of key performance indicators (KPIs) crucial for assessing the effectiveness of P2P solutions offered by different vendors. In addition, our experts guide you in drafting service-level agreements (SLAs) that align with your objectives and hold service providers accountable.
Stay up to date with category Updates:
Stay ahead of the curve with our market intelligence. We monitor the constantly evolving landscape of the P2P solutions market, keeping track of the latest developments and innovations in this category. Our insights help you make informed decisions and seamlessly adapt to industry shifts. With the aid of SpendEdge, you can access real-time supply-side insights to instantly remedy any supply chain vulnerabilities
Success story
A global consumer packaged goods company headquartered in the US reached out to SpendEdge with help regarding their P2P process. The client had been using the P2P software of a vendor for several years. However, they felt the solution being offered was dated and there could be more useful tools available in the market. Since the contract was due for renewal, the client wanted to understand the latest innovations and features of P2P software of other vendors and the pricing for the same.
Our SpendEdge experts conducted an analysis of the features of various P2P software available in the market. The features, cost, and support provided for each software were benchmarked. In addition, the cost of the software from different vendors was provided to the client. Also, the analysts provided supplier-specific negotiation levers for the top 3 recommended suppliers. The cost and feature benchmarking helped the client to narrow down on a small set of suppliers who were invited to the RFx stage. Eventually, the client selected the product from one of the suppliers recommended by SpendEdge. In addition, the negotiation levers provided were used to create a favorable agreement.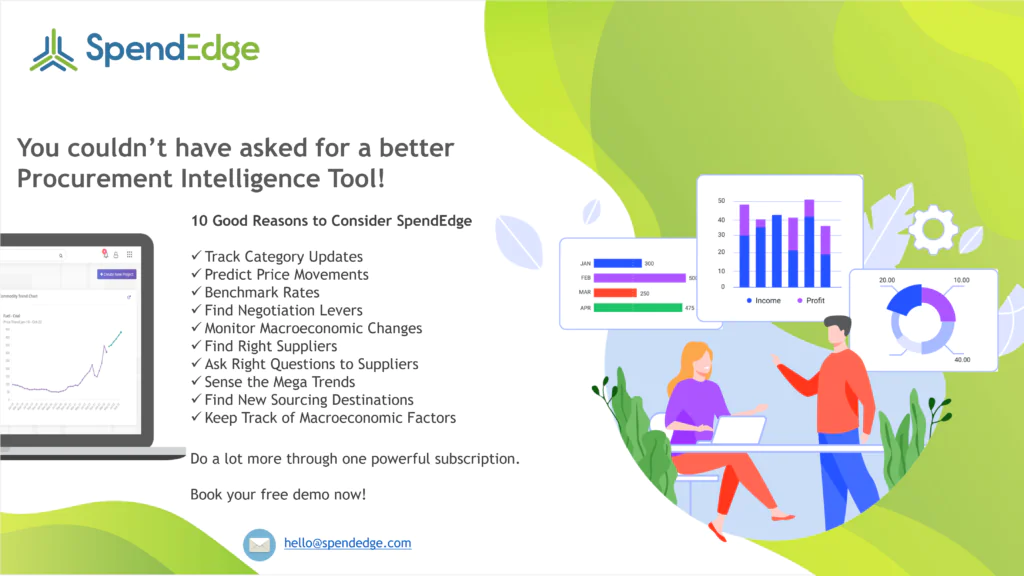 Contact us now to solve your procurement problems!
Author's Details
George Mathew
Associate Vice President, Sourcing and Procurement Intelligence
George is a procurement specialist at Infiniti Research and provides advisory services to clients across the pharmaceutical, CPG & FMCG, energy, and automotive sectors. He specializes in the procurement areas of industry benchmarking, cost modeling, rate card benchmarking, negotiation advisory, and supplier intelligence.