By: Manpreet Kaur
One aspect of supply-chain procurement in freight and logistics involves acquiring goods, which includes purchasing necessary products, selecting suppliers, and considering factors such as price, quality, delivery date, and payment terms for the production and sales departments. Another aspect is managing storage space for the goods, both raw materials and finished goods to ensure they are readily available for production and distribution to customers. The third task is inventory management, determining the appropriate number of SKUs and frequency of supply orders to meet the organization's production and marketing needs. In the logistics and transportation industry, procurement is crucial for cost management and effective supply chain optimization. It involves sourcing goods, services, and equipment at competitive prices to reduce operational costs and minimize disruptions. Vendor selection and management are also essential due to heavy reliance on third-party suppliers and service providers.
Challenges faced by sourcing teams in freight and logistics
Fluctuating Fuel Prices:
For transportation companies, fuel costs, particularly diesel, can create a major expense. Fluctuations in fuel prices can result in uncertainty in budgeting and negatively affect profit margins. Freight management companies can be heavily impacted by sudden spikes in fuel prices, leading to delays and severe consequences. Conversely, a sudden decrease in prices can lead to short-term profit increases and intense competition among providers to offer the best rates to consumers. To effectively manage fuel costs, procurement teams must explore options such as negotiating fuel contracts or adopting fuel-efficient technologies.
Regulatory Compliance:
The transportation sector is governed by a number of laws, including those pertaining to labor, environmental protection, and safety. Maintaining compliance with these rules can be challenging and may call for additional resources for enforcement and monitoring. Navigating the path toward regulatory compliance in the transportation industry is a complex and constantly changing process. With safety, security, sustainability, international factors, and technological advancements all playing a role in shaping the industry, transportation companies need to be proactive and strategic in their approach.
Technology Adoption:
Integrating new technologies into existing systems is a major logistics challenge, especially for larger companies with legacy systems, due to the complexity and time-consuming process it entails. As consumers demand faster, more convenient service, logistics companies are under pressure to keep up. To remain competitive, it's crucial for procurement professionals to keep up with technological advancements like fleet management software, GPS tracking systems, and automation tools. This involves effectively assessing and implementing these technologies, which may require finding the appropriate vendors and negotiating contracts.
How SpendEdge can help freight and logistics companies with sourcing?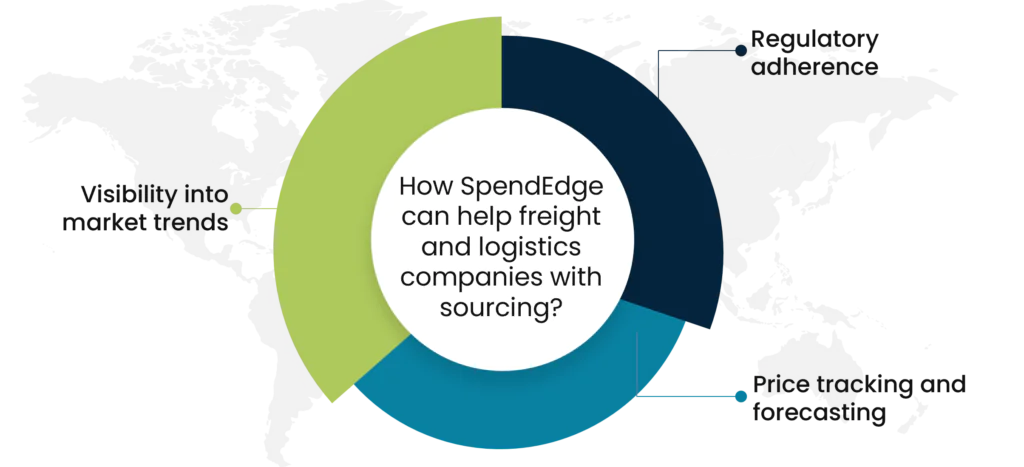 Price tracking and forecasting:
Continuously monitor price changes for a vast array of commodities such as fuel that are used in transportation and logistics. With our intelligence solutions, you can effectively distinguish between high-risk and low-risk commodities. Make cost-sensitive sourcing decisions based on accurate pricing insights provided by our experts after conducting a proper cost analysis. Equip your category managers with valuable intel on commodity price trends and fluctuations framed by our experts. Get price forecasts for both short and long timeframes – weekly, monthly, quarterly, or even 6 and 12-month timeframes.
Regulatory adherence:
We can help businesses in gaining an understanding of the regulatory environment in various regions. assisting customers in finding vendors that adhere to rules and have all required certifications and permissions in place. We help you gather relevant data on suppliers' GHG emissions from across projects and facilities, discover useful patterns, compare with industry benchmarks, and realize emission reduction targets.
Visibility into market trends:
At SpendEdge our experts help companies get visibility into the latest technological innovations and trends in the market by investing in supplier and supply chain market intelligence. Supporting them in identifying suppliers who are technologically advanced and can provide quality service to their customers. Also, you can get a comprehensive understanding of all kinds of the latest technologies being adopted by peers in the industry. Gain access to deep drill-downs and dashboard overviews of supply chain metrics and patterns; identify chances to enhance procedures and boost efficiency while minimizing hazards.
The success story of how SpendEdge was helpful to a transportation and logistics company in sourcing
After the introduction and expansion of e-commerce, sourcing in the transportation and logistics sector has seen significant improvements. The need for logistics and transportation has increased as a result of the rising demand for online goods. With all these changing tendencies, a better procurement function was required.
A US-based transportation and logistics company engaged with SpendEdge as they wanted to identify and develop effective negotiation opportunities with the leading cloud service providers in the market. They also wanted to understand and benchmark key vendors' cloud offerings in terms of features, price, and services.
We supported the client's IT procurement teams in coming up with a best-in-class renegotiation strategy (outside potential spending) with the target cloud service providers. The client was provided with complete information on the various aspects including the cloud services discounting options, SLA assessment, price among top players, price comparison, things to consider while negotiating with cloud service providers, and many more.
At SpendEdge the company was provided recommendations on the best negotiation strategies that can be adopted by the client to get the best price in the market. The client gained a good comparison of the prices that are being offered by different service providers. Helped the client in getting a detailed explanation of who would be the best-fit supplier of cloud services not only from a cost perspective but also from a services and quality perspective.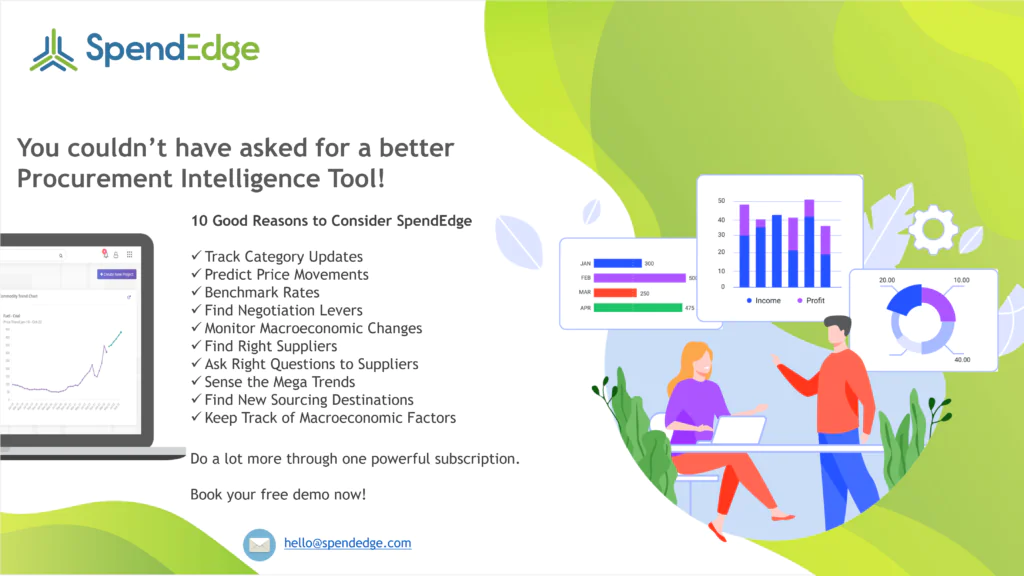 Contact us now to solve your procurement problems!
Author's Details
Manpreet Kaur
Assistant Manager Presales – Sourcing and Procurement Intelligence
Manpreet is a Presales Consultant at Infiniti Research and is responsible for designing best fit solutions for clients belonging to different industries such as BFSI, Chemicals, Retail & CPG, F&B, Pharma and Healthcare, Energy, IT & Telecom and Automotive sectors. She specializes in sales, business strategy execution, and innovative solution design.