By: George Mathew
The COVID-19 pandemic had a significant impact on the need for warehousing across various industries. With lockdowns and restrictions in place, online shopping witnessed a massive increase as consumers turned to e-commerce platforms to meet their needs. This led to a surge in demand for storage space to accommodate inventory and fulfill orders. Retailers and businesses had to expand their warehousing capabilities to handle the increased volume of online orders. With the recession in the impact of Covid-19, inflating prices of goods and services has emerged as a new problem. This inflation has reduced the buying power of consumers. Eventually, the need for warehousing has decreased due to the customer's reluctance to buy goods and the change of behavior to saving for future contingencies. This is creating operational issues for companies as they are not receiving the desired returns on the high warehousing costs being incurred.
Logistics and warehousing related challenges for companies
A shift of interest to offline shopping
After the relaxation of covid situation the customers who previously preferred online shopping have shifted focus back to the normal offline buying practices. Here arises the challenge of continuing with online purchases and maintaining warehouses as it involves high operational costs. But if the online services are completely stopped then the retailers can lose valuable customers who still depend on online purchases. Retailers should look for technologies that can help in the optimization of costs and reduce operational costs to carry out online sales services with ease.
The decline in consumer demand
Inflation in the prices of goods and services has decreased the purchasing power of customers. After the pandemic, the hike in prices to balance the damage in the economy has forced the customer to buy less. Another reason for the decline could be the change of behavior to maintain savings for any future requirements. Covid has taught a lesson about the uncertainty of the future and forced individuals to develop a habit of saving. To address this challenge the sellers, need to have a greater understanding of the best measures implemented by other players in the industry.
Difficulty in managing forward distribution centers
Several forward distribution centers were opened during Covid to facilitate the continuous flow of essential products from sellers to customers as the social distancing measures and other covid restrictions forced people to stay inside their houses and cater to online purchases for goods and other items. The healing situation of covid impact has made it difficult to maintain these centers as customers started going back to physical stores to purchase essential goods. Understanding the areas of hike in costs can help companies to act on it and minimize the costs.
How SpendEdge can help to overcome warehousing and logistics challenges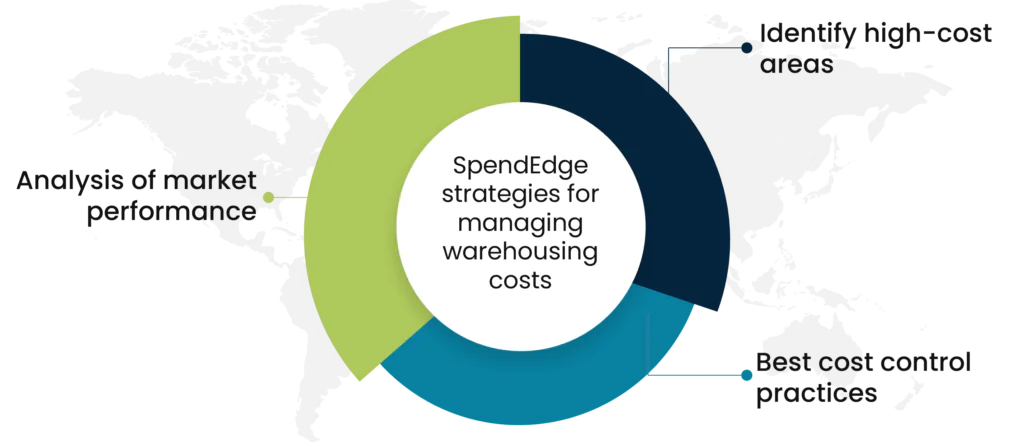 Identify high-cost areas
We help you identify areas of overspending and underutilization within warehousing and transportation. This will aid businesses in reallocating resources to boost productivity, reduce wastage, and increase output. We provide cost optimization initiatives to help you identify drawbacks and inefficiencies as well as cost-saving opportunities, thus aiding in improving companies' operations. We help you in determining each cost component of the supply chain like the cost for transportation and maintaining the quality of goods stored for you to navigate the areas where there is a need for improvement.
Best cost control practices
Our analysis of the market and its functions will help you understand the best practices being followed by peers in your industry, how they are managing their warehousing and transportation needs, and what measures they are taking to keep costs under control. You can determine the new trends or practices implemented globally to control the costs and increase the productivity of online businesses.
Analysis of market performance
Gain a comprehensive understanding of the working of transportation and warehousing functions. Get dashboard views of how exactly your supply chain is performing, and drill down the risks like hikes in transportation costs, labor costs, and shortage of drivers. Gather quantitative data on supplier experience to refine the supply chain and you can understand cost/pricing data to determine fair prices for suppliers. You can predict and resolve supply chain inflation before it can inflame; you can also determine the demand and supply for warehousing.
Success Story: How SpendEdge helped a retail client
During the covid outbreak, customers shifted to virtual shopping mode and started purchasing goods and services online. This change in purchasing behavior increased the requirement for warehousing facilities to store goods. After the ease of covid restrictions, maintaining an online business has become difficult as customers started switching again to normal buying practices.

Similarly, a retail company based out of the US expanded its online delivery service and started using the services of a logistics company for online delivery services. Later with the ease of covid situation, the demand from its online channel started declining and the company was unsure whether to continue using the logistics service. They were in a dilemma because if they stop using the service, they will potentially lose out on some online customers. However, continuing would mean high operational costs.

Our SpendEdge experts were hired to address this issue by doing a cost benchmarking of the warehouse operations of the supplier. We identified that the average per-delivery costs being charged were higher than prevailing market rates. We provided recommendations on how to renegotiate the contract terms with existing customers. In addition, we provided information on the best engagement models to follow and provided a list of alternate suppliers the client could engage with.

Our recommendations and solutions helped the client to float an RFP to identify if they could get a supplier with a lower price and similar or better service quality levels. Eventually, the client decided to continue with the existing client but was able to effectively renegotiate the pricing terms and hence reduce their logistics service procurement costs.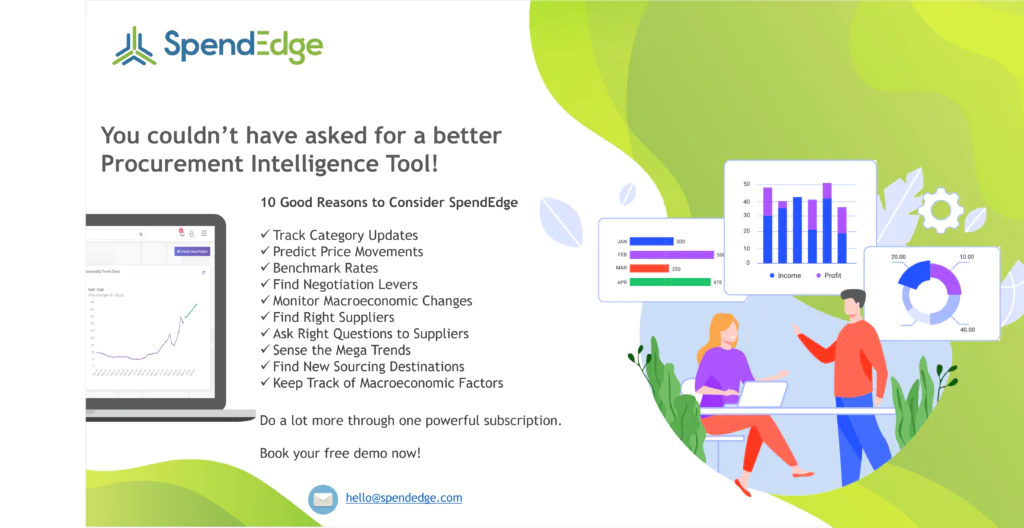 Contact us now to solve your procurement problems!
Author's Details
George Mathew
Associate Vice President, Sourcing and Procurement Intelligence
George is a procurement specialist at Infiniti Research and provides advisory services to clients across the pharmaceutical, CPG & FMCG, energy, and automotive sectors. He specializes in the procurement areas of industry benchmarking, cost modeling, rate card benchmarking, negotiation advisory, and supplier intelligence.