By: George Mathew
4PL logistics, or fourth-party logistics, is a strategic approach where a single entity manages all aspects of a supply chain, including logistics providers, to optimize efficiency, cost, and performance. 4PL logistics plays a pivotal role in supply chains by acting as an organizer of logistics activities. Its primary function is to streamline and optimize the entire supply chain process. Typically, most of the 4PL service providers don't own physical assets such as transportation assets, warehouses, or distribution centers but instead, collaborate with various 3PLs (Third-Party Logistics) and other stakeholders. Their responsibilities include strategic planning, network design, supplier management, technology integration, and performance monitoring. By consolidating these functions under one umbrella, 4PLs enhance supply chain efficiency, reduce costs, minimize risks, and improve visibility. They act as a single point of contact, ensuring seamless coordination, flexibility, and adaptability, making supply chains more agile and responsive to market demands.
Companies that adopt 4PL logistics face some challenges due to its intricacy
High dependency on one or few suppliers:
High dependency and trust on a single or few suppliers present significant challenges in supply chain management. If they face disruptions, quality issues, or financial troubles, it can ripple through the entire supply chain, causing delays and increased costs. Excessive trust can lead to complacency in monitoring and quality control, potentially compromising product integrity. Diversifying suppliers and implementing rigorous quality assurance measures are crucial to mitigate these risks. Striking a balance between trust and vigilance is essential to maintain a resilient and efficient supply chain while reducing vulnerability to external shocks.
Increased costs of operational expenses:
As there are only a few suppliers, the chances for good negotiation deals are less; hence, the cost of procuring materials increases. A key role of 4PL providers is to optimize the entire supply chain, which includes managing and controlling operational costs. The challenge arises when operational expenses within the supply chain start to rise. This could involve higher transportation costs, warehousing expenses, labor costs, or even technology investments for improved supply chain visibility. Since 4PLs are responsible for orchestrating these logistics activities, they must find ways to mitigate these cost increases while maintaining efficiency and service quality.
Difficulty in maintaining quality standards across all partners:
In 4PL logistics, a set of suppliers take responsibility for a major part of the logistics operations from strategic planning to performance monitoring, so they compromise on the quality standards under pressure. Achieving and maintaining consistent quality standards across all partners in a 4PL logistics supply chain is a multifaceted challenge that involves coordination, technology, compliance, and continuous improvement efforts. It requires a proactive and holistic approach to ensure the smooth flow of goods and services while meeting customer expectations.
How can SpendEdge help companies overcome these challenges?
---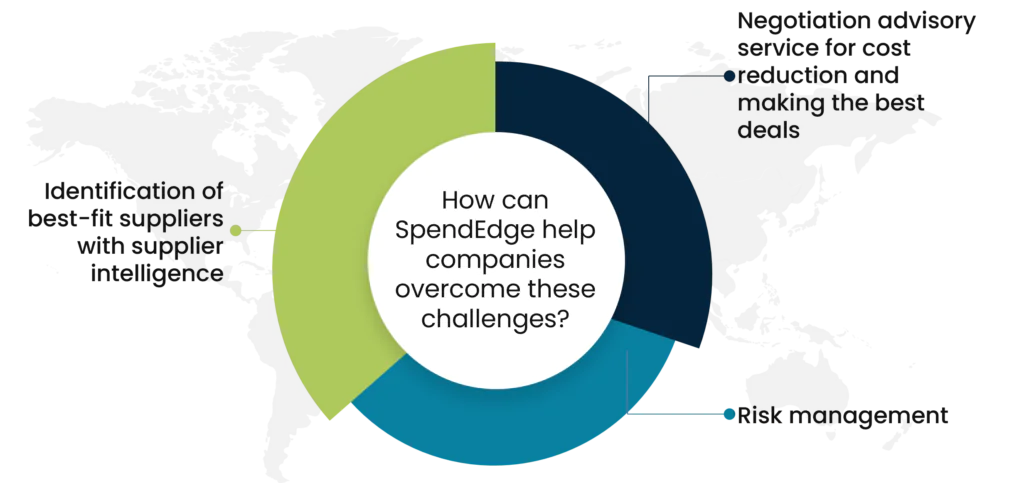 ---
Identification of best-fit suppliers with supplier intelligence:
In 4PL logistics, a significant portion of activities are assigned to a group of suppliers; thus, it is crucial to carefully choose suppliers that are trustworthy and dependable. To ensure this, our methodology for narrowing down suppliers goes beyond historical filters like revenue and profits, performance, and service quality to find vendors who can bring the desired value to your business. Our thorough vendor onboarding procedures, regular vendor data verification, and other robust controls included in our solution will prevent billing fraud and check forgery.
Risk management:
Through supplier diversification, SpendEdge assists 4PL logistics in risk management. We review supplier portfolios, do market research to identify trustworthy vendors, and evaluate possible suppliers. We also carry out contract negotiations to save costs and maintain ongoing supply chain monitoring, as well as risk evaluation by evaluating the risk framework. Using data, market insights, and cost-benefit analysis, SpendEdge also aids in scenario planning. With the help of this all-encompassing strategy, 4PL organizations may lessen their dependency on a small number of suppliers, minimize interruptions, and improve overall resilience.
Negotiation advisory service for cost reduction and making the best deals:
SpendEdge can act as a negotiation advisor to help 4PL logistics strengthen their negotiation power, the companies can get insights on planned approaches and techniques that can aid in influencing negotiations to reach a mutually satisfactory agreement. Our intelligence in negotiations can help you save time and resources, which can be used to focus on core responsibilities. SpendEdge also aids in identifying opportunities such as cost savings, favorable contract terms, or added incentives to maximize the company's value.
Success Story of How SpendEdge helped one of its clients
The US-based multinational FMCG company with a diverse product portfolio ranging from food and beverages to personal care products. To manage its supply chain and minimize interruptions, the organization sought an appropriate solution for which it asked for help from SpendEdge professionals.
As the company operates in multiple regions and markets, it is facing supply chain complexities and risks. The client needed a hand in optimizing its global supply chain to reduce costs. It also lacked real-time visibility into supplier performance and supply chain disruptions.
The expertise of our specialists helped the client to get a detailed assessment of the supplier market to choose the most suitable provider. We developed a comprehensive risk management framework to address potential disruptions and employed data-driven insights on cost-saving opportunities and maintaining favorable terms to negotiate contacts with suppliers.
Our assessments and solutions helped the client to optimize supply chain processes resulting in significant cost savings and risk mitigation strategies that allowed the client to proactively mitigate disruptions and uninterrupted operations.
Author's Details
George Mathew
Associate Vice President, Sourcing and Procurement Intelligence
George is a procurement specialist at Infiniti Research and provides advisory services to clients across the pharmaceutical, CPG & FMCG, energy, and automotive sectors. He specializes in the procurement areas of industry benchmarking, cost modeling, rate card benchmarking, negotiation advisory, and supplier intelligence.