By: George Mathew
Following the impact of COVID-19 on consumer packaging goods industry, which included supply chain disturbances and closure of operations, manufacturers were further affected by Russia's invasion of Ukraine. This invasion had far-reaching effects on manufacturing, transportation, the availability of raw materials, and trade practices. It has hence become necessary to ensure that procurement contract management best practices are effectively used when signing new contracts with suppliers.
Emerging trends in the CPG contracting practices
CPG companies are showing a growing preference for short-term contracts
In today' rapidly evolving business landscape, companies are continuously striving to enhance their procurement methods and minimize expenses. A strategy that has gained popularity recently is employing short-term contracts. These agreements typically last for 12 months or less, allowing businesses to quickly adjust to changing situations. Short-term contracts offer several benefits compared to long-term agreements. It offers enhanced flexibility and permits CPG companies to assess the situation before making substantial investments.
Another benefit of short-term contracts is its cost-effectiveness. Due to its shorter durations, these agreements generally entail reduced setup costs and fewer administrative expenses compared to larger contracts. This can lead to notable savings to CPG companies aiming to streamline their procurement budgets.
Diversification of the supplier base
Managing supply chain risks is a crucial element of business operations, as it can strongly influence a company's financial performance. Various factors, including the COVID-19 in 2020 and Russia's invasion of Ukraine in 2022, have contributed to, and exacerbated supply chain challenges. One effective approach to reduce supply chain risk is by implementing supplier diversification.
Supplier diversification offers several key advantages, including minimizing the risk of supply chain disruptions and lowering costs. Many CPG companies are achieving supplier diversification by moving specific operations nearer to their domestic markets. This trend known as near-shoring, has gained traction as a strategy for enhancing supply chain resilience. Alternatively, certain CPG companies are adopting a multi-shoring approach to establish backup options when their primary supply chain encounters obstacles.
Mitigating risks in procurement and contract implementation
In the dynamic realm of modern businesses, the concern over procurement risk has emerged as a crucial issue for organizations of various sizes. Whether it entails the potential for disruptions in the supply chain, the risk of vendors facing insolvency, or issues pertaining to compliance, the risk linked to procurement can exert extensive impacts on an organizations' financial performance. Occasionally, this has led to the inclusion of precise specifications outlining the exact material prerequisites being procured. This measure aims to forestall the possibility of suppliers shifting towards inferior materials or offering substitutes.
Building collaborative relationships with suppliers
Several disruptions in supply chains in recent years has made it necessary for CPG companies to nurture a mutually beneficial relationship with their suppliers. This calls for a more collaborative approach wherein CPG companies are trying to be more transparent with open-book contracts. In some cases, they are also analyzing the benefits of jointly buying raw materials which can help lower input costs. In addition, being transparent with suppliers about forecasts, goals, and operations enables CPG companies to develop mutually beneficial deals. Transparency fosters open discussions and facilitates the tweaking of requirements to ensure that terms of contracts remain fair to both parties.
How SpendEdge can help with CPG procurement: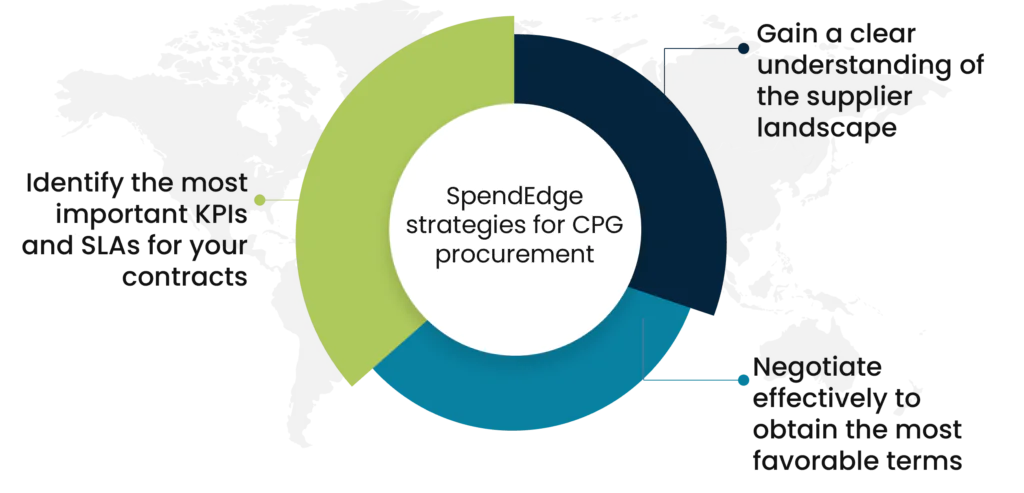 Gain a clear understanding of the supplier landscape
Our experts at SpendEdge can assist CPG organizations in mitigating risks through various strategies. Our experts analyze supply chain vulnerabilities, identify potential disruptions, and implement solutions to safeguard operations. Advisors can provide supplier intelligence by identifying best-fit suppliers, gain insights on supplier activities including both operational and functional capabilities. Furthermore, our experts can help in diversifying supplier sources, creating contingency plans, monitoring market trends, and identifying risks involved with current suppliers.
Negotiate effectively to obtain the most favorable terms
Our expertise in negotiation and supplier relationships also helps CPG companies to secure favorable terms that contribute to risk reduction. Identify the best practices being followed by your peers when it comes to signing contracts with vendors of critical raw materials. Our experts will help you with supplier specific details that can be leveraged to obtain the best contract terms.
Identify the most important KPIs and SLAs for your contracts
Our procurement advisors play crucial role in understand the KPIs and SLAs that must be included in contracts to ensure smooth functioning of the supply chain. Measure supplier performance against set standards and renegotiate terms of contracts based on performance, as well as provide insights on how to effectively negotiate with suppliers, which engagement models to follow, and which pricing models to follow by enhancing the resilience of CPG companies against unforeseen challenges.
Success Story: How SpendEdge helped a CPG client
Our client is a fast-growing Food and Beverages company based in Germany and serving consumers across Europe. The company wanted to analyze suppliers and the risks associated with procurement contract duration and terms for flavoring agents. Increased volatility in the supply chains in the previous few months was forcing them to rethink the duration and contract terms. They also wanted advisory on how to make their supply chain for flavoring agents more resilient. The time agreed upon with the client to conclude this engagement was three weeks.
Within a span of three weeks, our specialists pinpointed suppliers capable of minimizing the risk of supply chain interruptions and actively assessed their performance in advance. Our experts also provided ideas on how to effectively negotiate, what KPIs and SLAs to include, ideal duration of contract, and best engagement models.
The SpendEdge procurement specialists provided a granular view to the client which helped them make informed decisions. Our client successfully added new suppliers alongside existing suppliers, including those offering more favorable pricing terms. They also renegotiated the terms of agreement with the current supplier and shortened the contract duration to 6 months, avoiding unfavorable contract terms and potential lock-ins.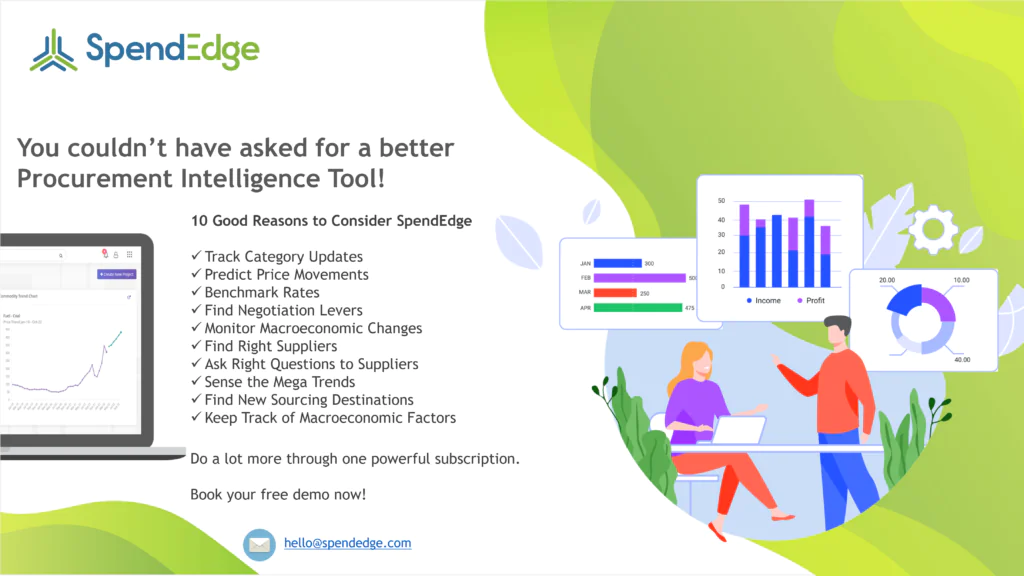 Contact us now to solve your procurement problems!
George Mathew
Associate Vice President, Sourcing and Procurement Intelligence
George is a procurement specialist at Infiniti Research and provides advisory services to clients across the pharmaceutical, CPG & FMCG, energy, and automotive sectors. He specializes in the procurement areas of industry benchmarking, cost modeling, rate card benchmarking, negotiation advisory, and supplier intelligence.