By: George Mathew
Smart logistics refers to the application of advanced technologies like IoT sensors, AI, and data analytics to optimize and streamline the entire supply chain process. It enables real-time monitoring, predictive maintenance, route optimization, and efficient inventory management, leading to cost savings, improved customer service, and reduced environmental impact. Smart logistics profoundly impacts the supply chain in several ways. Firstly, it enhances product availability by reducing stockouts and ensuring timely deliveries through real-time tracking and demand forecasting. Secondly, it improves workforce efficiency by automating routine tasks and enabling better resource allocation. Thirdly, it enhances cost management through optimized routes, reduced fuel consumption, and minimized inventory carrying costs. Lastly, its high return on investment results from reduced operational costs and improved customer satisfaction, making it a strategic investment for businesses aiming to stay competitive in today's fast-paced markets.
How businesses can benefit from smart logistics
Ensuring product quality maintenance:
Ensuring production quality maintenance through smart logistics yields numerous benefits. It minimizes defects and faulty products, reducing costly recalls and warranty claims. It enhances customer satisfaction by consistently delivering high-quality items, bolstering brand reputation and loyalty. It optimizes resource utilization, as resources aren't wasted on reworking or scrapping subpar products. Additionally, it contributes to cost reduction, lowering expenses associated with rejections and reprocessing. Ultimately, by maintaining production quality, smart logistics drives efficiency, competitiveness, and profitability, making it a pivotal aspect of modern supply chain management.
Improvement in product planning:
One of the main benefits of implementing smart logistics solutions is the ability to detect delivery shortages. The transportation of materials to production sites can be a lengthy process requiring multiple modes of transportation, resulting in blind spots along the way. This lack of information can cause delays, especially when shipping materials by sea, where weather conditions and port issues can cause significant disruption to supply chain management. These delays can cause production disruptions that take weeks to fix. By using smart logistics solutions, you can monitor your materials in real-time, track your current inventory, and have better control over the supply chain.
Ensuring delivery reliability:
Since delivery delays are one of the major challenges faced by companies, smart logistics is a good solution for this problem. It can benefit companies in many ways such as enhancing customer trust and satisfaction, as deliveries arrive consistently on time, meeting customer expectations. This, in turn, leads to increased customer loyalty and repeat business. It improves planning and resource allocation, as accurate delivery schedules allow for efficient use of labor and transportation resources. It minimizes disruptions and supply chain bottlenecks, ensuring smoother operations and fewer unexpected challenges. Overall, ensuring delivery reliability through smart logistics contributes to a more competitive and efficient supply chain ecosystem.
How SpendEdge can help companies with solutions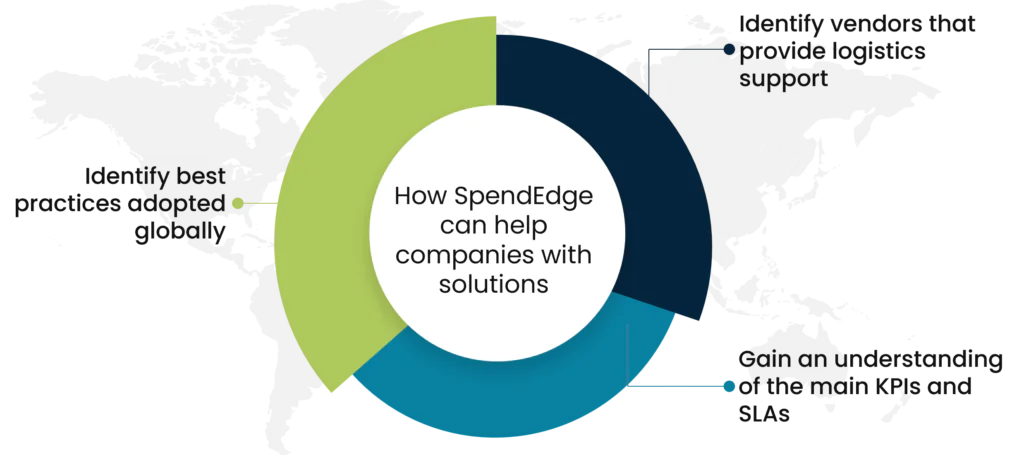 Identify best practices adopted globally:
Gain an understanding of the most widely recognized and accepted set of procedures that serve as benchmarks and aid in improving the efficiency and end results of sourcing and procurement activities. At SpendEdge we help companies manage their inbound and outbound logistics effectively. By combining market intelligence, data-driven insights, and advanced technology, we enable organizations to reduce costs, mitigate risks, improve supplier relationships, and enhance overall supply chain performance. Best practices are aligned with regulatory requirements. Implementing this helps businesses demonstrate compliance and meet their legal obligations. Ensuring adherence to best practices will aid businesses in portraying themselves as a reliable, trustworthy, and competent firm.
Identify vendors that provide logistics support:
Our comprehensive vendor evaluation process identifies logistics support providers that excel in various aspects of supply chain management. Our in-depth assessments analyze their capabilities, innovations, and commitment to smart logistics solutions. Our data-driven insights allow us to pinpoint vendors offering cutting-edge technologies like IoT-enabled tracking, AI-powered route optimization, and blockchain-based transparency. We evaluate their capacity for seamless integration into your supply chain, cost-efficiency, sustainability initiatives, and customer-centric services. Our approach empowers you to make informed decisions, selecting logistics partners aligned with your strategic goals and enabling your company to thrive in the era of smart logistics.
Gain an understanding of the main KPIs and SLAs:
Get a thorough understanding of the most important key performance indicators and service level agreements to be included in contracts with the suppliers you engage in. After KPI analysis the real-time data collected by us can be used to generate feedback on the latest trends and aspects such as cost-saving initiatives. Such data can help companies to stay competitive by encouraging innovations to improve their offerings. We define procedures and expectations in SLAs following negotiations between customers and suppliers so that when a disagreement arises, SLAs can be used as a written reference to resolve it.
The success story of SpendEdge helping one of its clients with improved supply chain
A US-based business that is involved in the production of numerous chemicals recently reached out to SpendEdge. The business purchases manufacturing inputs from across the world but was encountering a few problems during its procurement process. Since the client manufactures various chemical-based products, it is imperative for it to ensure the quality of inputs and manufactured products remain stable during the transportation process. However, the current transportation system being used by the company does not provide visibility on the transportation conditions or how materials are stored during transportation.
Our experts at SpendEdge did a thorough analysis of all the capabilities of various logistics service providers. The quality of service, cost, and on-ground support provided by each supplier were benchmarked. Our focus was particularly on the smart logistics capabilities and transparency provided by the suppliers. In addition, the important SLAs to be included in the contract along with KPIs to determine the effectiveness of the transportation partners were provided to the client by us.
Our insights helped the client to select a transportation partner that provided complete visibility to the transportation process including real-time tracking and superior delivery reliability. In addition, the SLAs provided by SpendEdge were included in the contract to ensure the highest service quality was provided.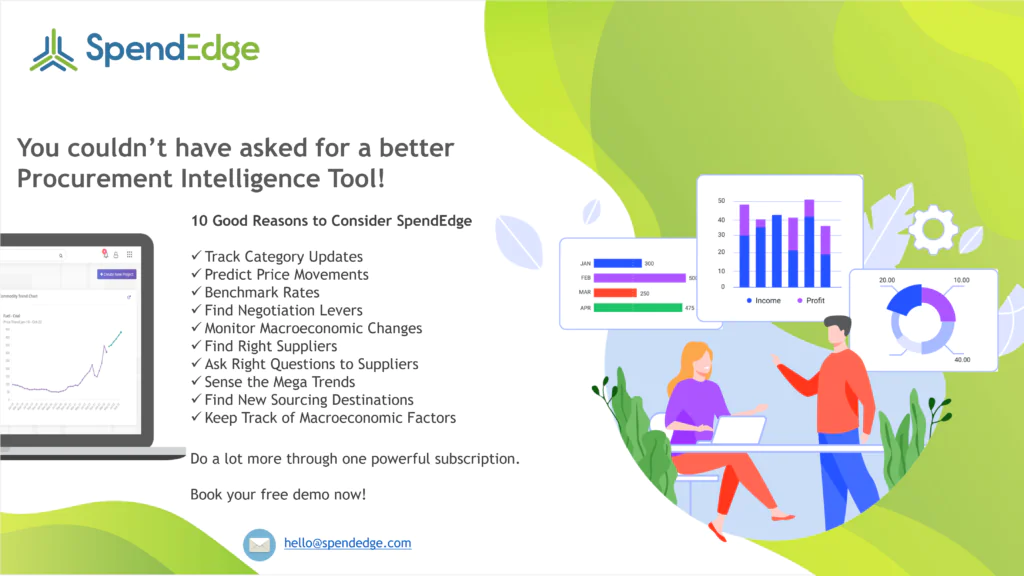 Contact us now to solve your procurement problems!
Author's Details
George Mathew
Associate Vice President, Sourcing and Procurement Intelligence
George is a procurement specialist at Infiniti Research and provides advisory services to clients across the pharmaceutical, CPG & FMCG, energy, and automotive sectors. He specializes in the procurement areas of industry benchmarking, cost modeling, rate card benchmarking, negotiation advisory, and supplier intelligence.