By: George Mathew
Today's transportation landscape is more complex than ever before. It's no longer just about pricing, it's about the entire freight-sourcing process. This raises the question: How do shipping companies create strategic supplier sourcing strategies that ensure they're getting the capacity they need at a fair price to both sides?
Choosing the most suitable transportation method for a specific purpose is known as transportation procurement. This purpose can be anything from relocating staff to delivering products. It may also involve acquiring new or used vehicles, equipment purchases, or contracting for services such as airline travel or port management. Transportation procurement is crucial as it can reduce transportation costs while also ensuring that the selected mode of transportation is suitable for the job. The strategic management of transportation logistics can streamline supply chain operations and enhance overall efficiency for businesses across various industries.
Challenges faced by the procurement team while sourcing transportation equipment
Balancing cost efficiency and quality in transportation procurement:
Managing costs is a crucial aspect of transportation procurement, achieving a balance between cost-effectiveness and service excellence is essential, but it can be difficult. Having expertise in supply chain management is necessary to secure favorable rates with carriers while maintaining high standards. The procurement teams must search for and implement ways to optimize their costs while not compromising the quality. They should identify suppliers who can provide standard quality products at competitive prices. The complexity of transportation equipment also makes it difficult to procure as the process used for its manufacturing is complex, making it more expensive.
Unravel the complex landscape of transportation providers:
Navigating a complex transportation network can be daunting due to numerous options. The challenge here is managing a large transportation network can be complex due to the numerous carriers and transport modes such as road, rail, water, air, and pipeline for fuels or other liquids available. It's essential to conduct thorough research and analysis to determine which of the above options are the best fit for your specific needs and to make informed decisions. For instance, for consumer goods rail transport is the best and cheapest way of transportation and if the freight costs for shipment are less then choosing waterways is a good option.
Ensuring timely deliveries and visibility in shipping operations:
A significant challenge is guaranteeing timely deliveries and transparency in shipping. Delays or disruptions in transportation can have serious consequences for businesses, leading to customer dissatisfaction and financial losses. So, implementing tracking systems and clear communication with carriers is crucial to minimize risks. The procurement teams need to strengthen their supplier base to ensure a continuous flow of materials. They must establish supplier networks that have trustable and reliable suppliers not only on the basis of timely deliveries of products but also maintain premium or standard quality.
Solutions provided by SpendEdge for the procurement problems while sourcing transportation equipment
---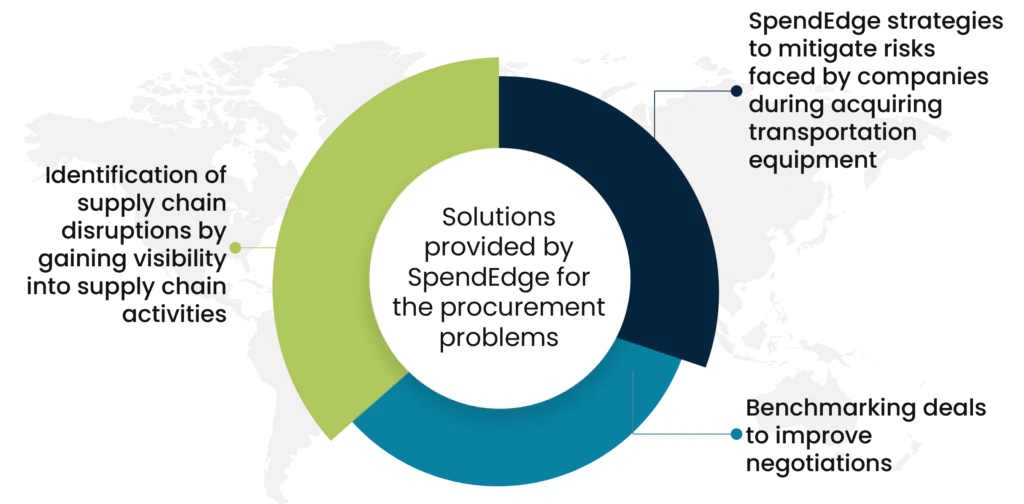 ---
Identification of supply chain disruptions by gaining visibility into supply chain activities:
Our procurement and sourcing consulting specialists understand the complexity of supply chain management. They can conduct thorough assessments to identify inefficiencies and bottlenecks of the supply chain and identify areas where cost savings can be realized. This involves optimizing routes, consolidating shipments, and recommending changes to transportation modes where appropriate. We provide advance alerts on supply-side performance efficiency and unplanned events that could potentially upend your delivery chain and cause you financial and reputational loss. With the aid of our supply-side intelligence, companies can fashion a lean and cost-effective supply chain.
Benchmarking deals to improve negotiations:
SpendEdge have access to benchmarking data and industry standards. We use this information to negotiate favorable terms and rates with transportation providers. By leveraging our market knowledge, the company can secure competitive pricing while maintaining service quality. Companies may discover, examine, and create complete plans with the help of the deal benchmarking that we are providing. Additionally, they can pinpoint crucial demands and specifications, the finest industry norm for agreements and contracts, and the top suppliers and vendors to work with. Businesses can analyze their competitors' strategies and technology, along with industry leaders, as part of deal benchmarking. This analysis helps chief product officers CPO and supply chain managers make research-driven decisions and strategies.
SpendEdge strategies to mitigate risks faced by companies during acquiring transportation equipment:
SpendEdge develops comprehensive risk mitigation strategies that anticipate potential transportation challenges including creating contingency plans to minimize the impact of delays or disruptions on businesses. Get unified enterprise-wide views of risk to initiate effective remediation and quantify the potential impact of critical vulnerabilities on business operations. Identify fresh possibilities to improve supply chain resiliency and capacity for recovery and make compelling arguments for increasing supply chain investment. Have a backup strategy that includes a number of providers in various areas. Gather quantitative data on supplier experience of delivering transportation equipment to refine the supply chain and determine fair prices for the equipment with the help of cost/pricing data.
The success story of how SpendEdge helped a multinational logistics and transportation company
Transportation vehicles are intricate pieces of equipment that require thorough analysis and strict supervision during production to ensure safety. It's crucial that they are in good working conditions and safe to use. To achieve this, a reliable procurement function is necessary to acquire the best equipment.
A multinational logistics and transportation company headquartered in the US with a vast fleet of vehicles, including trucks, trailers, and specialized transport equipment sought the expertise of SpendEdge as they were facing challenges in procuring and managing their extensive transportation equipment fleet efficiently. Key issues included rising operational costs, suboptimal equipment utilization, and difficulties in maintaining and renewing their fleet due to varying market conditions and supplier relationships. They sought a strategic procurement solution to optimize their equipment acquisition and management processes.
After complete and extensive market research and analysis, the experts at Spendedge identified potential suppliers, equipment manufacturers, and leasing options. This research involved evaluating the reputation, reliability, and financial stability of prospective suppliers. The client's transportation equipment procurement process became more efficient and cost-effective. They experienced a 15% reduction in equipment acquisition costs, a 20% improvement in fleet utilization, and a 30% increase in supplier reliability.
Author's Details
George Mathew
Associate Vice President, Sourcing and Procurement Intelligence
George is a procurement specialist at Infiniti Research and provides advisory services to clients across the pharmaceutical, CPG & FMCG, energy, and automotive sectors. He specializes in the procurement areas of industry benchmarking, cost modeling, rate card benchmarking, negotiation advisory, and supplier intelligence.