This webinar on benchmarking of integrated facilities management best practices", provides managers of indirect procurement and indirect sourcing an overview of the transforming procurement patterns to help them better manage their indirect procurement spend.
Integrated facilities management involves the consolidation of all facility-related services under a single contract or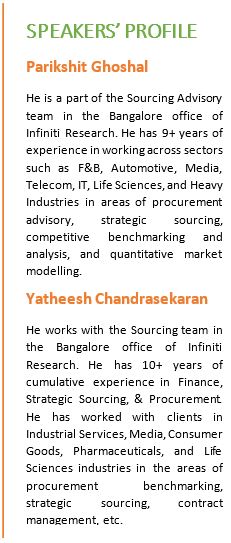 management team. Such services help streamline an organization's management and operations between teams involved and ease complexities that are associated with engaging with multiple suppliers for the management of day-to-day operations. A recent procurement market intelligence report by SpendEdge highlights the fact that integrated facilities management encompasses services like cleaning, security, property, catering, support, and value-added services and will surpass USD 152 billion by 2021. Numerous factors such as the growing adoption of cloud-based management solutions coupled with the increasing preference for proprietary products such as JLL's IntelliCommand are anticipated to spur the need for integrated facilities management across the globe.
According to our procurement specialists, "Preventive maintenance and analytics play a key role in procuring effective facilities management services. And at the center of an efficient facilities operations department lies a responsive, consistent maintenance structure." Though the global market space for integrated facilities management exhibits promising growth prospects for the next four years, it is marked by the presence of several challenges like the identification of suppliers that can cater to multiple requirements and location of suppliers that comply with green building certification standards. Furthermore, our procurement market intelligence specialists feel that despite the presence of global firms operating in the integrated facilities management market space there is little or no adoption of a single supplier across geographies, and even the most mature procurement organization are opting for bundling of services at the country level.
Want more insights into the key questions covered by this upcoming webinar? Get more information here.
Here are some of the topics that our upcoming webinar on the benchmarking of integrated facilities management best practices covered:
– Roadblocks in consolidating services and centralizing the procurement process
– Perceived risks while adopting an integrated facilities management and risk mitigations strategies
– Best practices for selecting and onboarding suppliers
– Cost savings through service bundling
– Impact of industry consolidation on category buyers