The procurement and travel departments have adopted an integrated approach and are directing their efforts towards strategic, efficient, and cost-effective corporate travel management programs.
The need to bring together disparate teams, stakeholders, and customers is a result of the globalization wave that transcends geographical boundaries; thereby, giving impetus to corporate travel management. The sky-rocketing travel costs have made it inevitable for companies to develop highly effective, customizable, and profitable travel program solutions for the buyers.
The constant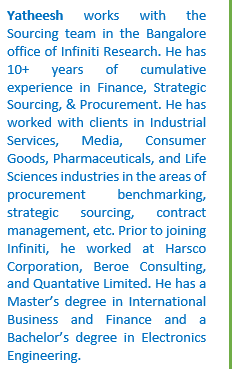 need to achieve cost efficiency and adopt a strategic decision-making approach has eliminated the silo-based approach within the organizations. As a result, businesses have started consolidating their travel programs with a single travel management company (TMC), which not only ensures higher ROI but also enhances the organization's overall travel program.
Things To Keep In Mind for Procurement And Travel Departments
In any organization, the procurement and travel department must give priority to travellers' safety and booking habits, while complying with the company's policies and framework. The procurement department and category managers must understand the difference between procuring materials from a supplier and procuring travel management services from a TMC. Big data and analytics give the travel managers access to more information related to travellers' booking behavior, etc. New technology platforms such as blockchain allows organizations to adopt centralized payment solutions; thereby, reducing the processing time and increasing process efficiencies.
Conducted by SpendEdge's sourcing experts, this webinar dealt with the following key considerations –
Analyzing the current scenario of collaboration between the procurement and travel department in a typical organization
Studying the changing engagement models in the industry
Assessing the use of big data and analytics as a key influencer of the corporate travel management market
Exploring the role of blockchain technology as a distribution platform for corporate travel management
How the supplier landscape is consolidating to provide unified travel management and expense services?