By: George Mathew
The field of biotechnology combines natural and engineering sciences in creating products and services, The biotech supply chain refers to the network of organizations, processes, and resources involved in the production, distribution, and delivery of biotechnology products and services. It encompasses the entire lifecycle of a biotech product, from research and development to manufacturing, quality control, packaging, storage, transportation, and ultimately reaching the end consumer or healthcare provider. It's a multidisciplinary field The biotechnology supply chain is responsible for sourcing raw materials, manufacturing, distributing, and delivering medications to patients. This process is quite complex and susceptible to various disruptions, such as delays in deliveries. These delays can lead to stoppages in production, which ultimately results in unfulfilled demand.
Strategies for smoothening the biotech supply chain
Quality Control:
Ensuring complete safety for users of medicines is a top priority for the biotech industry, which values standard quality. To achieve this, the industry requires a trusted supplier who can guarantee the quality of medicines or raw materials, even during volatile market conditions. Controlling and maintaining quality is important for biotech companies as even minor oversights can put patients' lives in danger – particularly when dealing with highly hazardous medications. When seeking out a supplier, purchasers should prioritize finding a reliable and resilient provider who can offer top-notch quality at a reasonable price.
Traceability of supply chain components:
For attaining a smooth supply chain it is necessary to track all the supply chain components and monitor the activities of the supply chain. Identifying the bottlenecks and disruptions is the first step toward a plain-sailing supply chain. As a purchasing company, it is crucial to utilize technologies that allow for regular monitoring of supply chain functions. This approach helps identify potential threats and opportunities within the supply chain, thereby enabling efficient decision-making. It would be beneficial to gain a deeper knowledge of supply chain expenses and the source of these expenditures.
Risk Management:
When it comes to the biotechnology supply chain, several risks can arise from supplier issues or intermediary risks. It's important to identify these risks and take prompt action to manage them effectively. Risk management is a part of the regulatory process that can streamline the supply chain. All the risk factors should be determined and resolved before they can affect the operations. It is important to acknowledge the severity or magnitude of the impact it can have, to minimize the effect as much as possible.
SpendEdge strategies for streamlining the biotech supply chain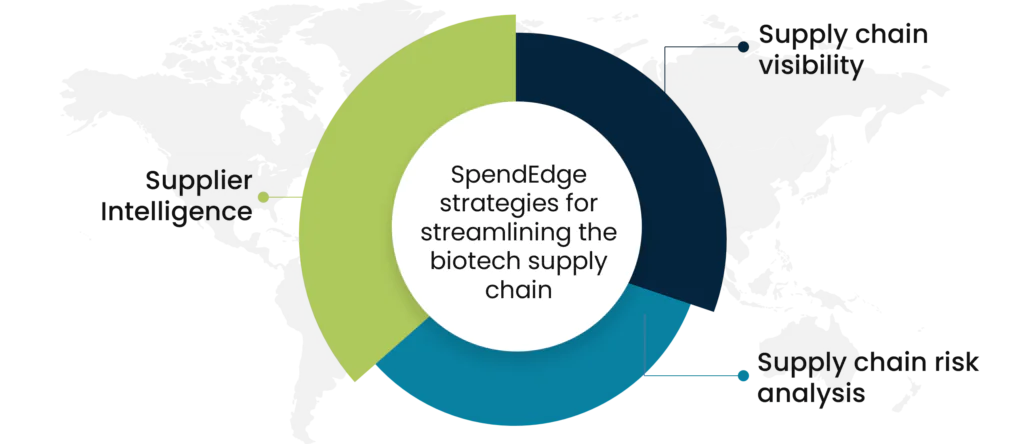 Supplier Intelligence:
We can assist you in finding the ideal suppliers for your company by using our proven methodologies. Our quality scores, revenue and profits, and performance filters allow you to identify suppliers that can provide the desired value. We use statistics and modeling techniques, as well as carefully curated data sets, to make accurate predictions about multiple supplier risks. This helps you to identify the best-fitting supplier with minimal risk. With our supplier intelligence solutions, you can build a diverse pipeline and onboard certified vendors, resulting in improved business outcomes.
Supply chain visibility:
Gain a comprehensive understanding of the supply chain process with a 360-degree view. Identify supply origins and potential bottlenecks, while determining supplier responsibilities based on in-depth insights. Develop strategies to mitigate risks before they impact operations and ensure full compliance across the supply chain. Draw real-time insights from supply-side big data to improve operations and get dashboard views of how exactly your supply chain is performing. Keep a better grip on spend by understanding per-unit supply chain costs and continuously improving KPIs. Create targeted backup plans that focus on data for important supply chain tasks and improve your brand's reputation by increasing your supply chain sustainability scores.
Supply chain risk analysis:
We offer risk scores that can help you make informed decisions regarding your supply chain; you can also determine the risk profile of each segment of your supply chain. With access to origin and transit data, you can identify cost-cutting opportunities and keep track of any vulnerabilities. You can view the efficiency metrics of your supplier network by segment and assess potential risks to take appropriate action. By prioritizing the most critical risks, you can allocate your resources effectively. You can quantify the potential impact of any vulnerabilities on your business operations and predict and resolve supply chain inflation before it can inflame.
Success Stories: How SpendEdge helped a biotech company enhance procurement function
The biotechnology supply chain is critical and complex as it involves different vendors and intermediaries who are responsible for a streamlined supply chain and monitoring each segment carefully is a requirement.
A UK-based biotech company approached SpendEdge for a helping hand as they wanted to attain a smooth-sailing supply chain. They wanted to have complete visibility and traceability of the supply chain, anticipate risks beforehand, and resolve them immediately. They wanted to get information about all the vendors with the best service quality.
Our expertise enabled a comprehensive view of supply chain activities, for the company to closely monitor each segment. Our customized alerts and risk scores helped the client to anticipate risk and make resolving decisions. Our supplier intelligence and methodologies gave the company insights into supplier performance and the best-fit suppliers who promise quality service.
The company was able to achieve a streamlined supply chain with the help of our expertise, gaining more goodwill and success.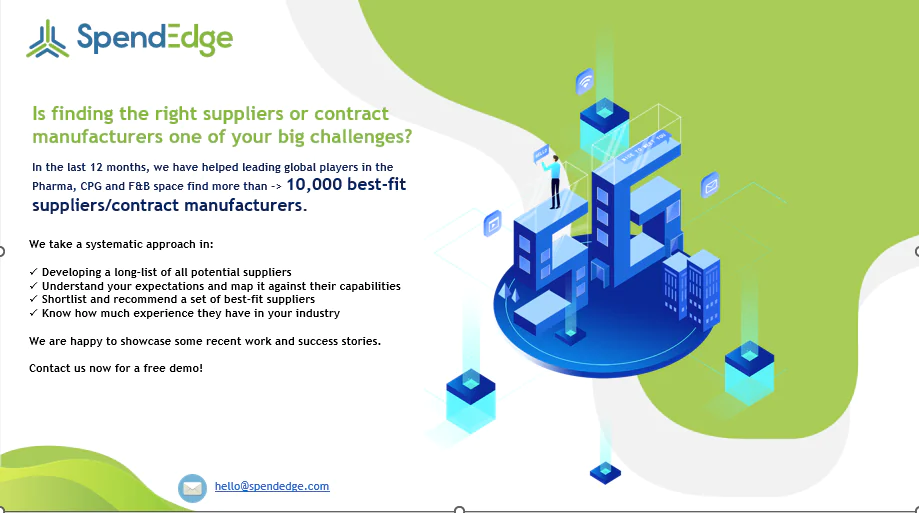 Contact us now to solve your procurement problems!
Author's Details
George Mathew
Associate Vice President, Sourcing and Procurement Intelligence
George is a procurement specialist at Infiniti Research and provides advisory services to clients across the pharmaceutical, CPG & FMCG, energy, and automotive sectors. He specializes in the procurement areas of industry benchmarking, cost modeling, rate card benchmarking, negotiation advisory, and supplier intelligence.