By: Ankur Rishi
China continues as a manufacturing powerhouse, responsible for a third of all global output. However, the world's manufacturing superpower might just be losing its steam after a dream run spanning more than four decades. A mix of factors is chipping away the country's hard-built and seemingly unassailable credentials in production capacity and efficiency. Rising supply chain overheads, input cost inflations, tightening labor markets, and minimum wage hikes in the country are turning into potential dampeners for investors in the manufacturing sector, and industrial-scale pharma production is no exception.
Besides, the country's growing focus on buttressing and expanding supply chains China, re-laying supply lines through allied states, and building a "fortress China" self-sustaining economy invariably conflicts with America's own designs to rebuild supply chains closer to its shores. Enterprises, including bulk drug manufacturers, sit at the crossroads geopolitical tectonic plates, and there are valid concerns about cost and risk escalations arising from a commercial cold war. This is creating opportunistic circumstances for "China Plus One" country markets to step up and help MNCs, including pharma players, ringfence supply risks by expanding their supply footprint outside of China.
The five or so "China Plus One" economies, including India, have done their homework on the Chinese manufacturing model, liberally borrowing its strengths. At the same time, countries, like India, have the benefit of hindsight – which China didn't have, to avoid the pitfalls of the Chinese example. With a perfect storm of circumstances around it, India has emerged as the world's pharmacy, backed by FDA-compliant facilities, better cost efficiency (vis-à-vis China), and a vast and skilled talent pool. Slowly but steadily, India's pharma sector is becoming more and more attractive for MNCs looking to script a China Plus One strategy that really works.       
Without a doubt, pharma players need pit-stops beyond China
By end of 2022, foreign investors had pumped in $180 billion into China, and despite a nearly 6% year-on-year drop in such investments in the first five months of this year, the country still succeeded in attracting $84.35 billion. Leaning on relatively lower labor costs, a standard VAT rate (of 13%), and a tightly coupled China supply chain, the country has cemented its place as a hot favorite of Western business investors in the last more than four decades. Lower compliance requirements (versus those in the West) and a currency that is 15-20% undervalued against the dollar have helped Chinese suppliers boost exports.
Conveyor belt of competitively priced goods and services
As for US consumers, China continues to be a conveyor belt of competitively priced goods and services. China's trade with the West and more particularly the US remains strong, and American businesses raked in around $200 billion from exports to China in 2021. On the flip side, China made nearly three times more from shipments to the US. US observers seem peeved not the least about a growing trade deficit with the Asian economic behemoth. There are also concerns in America's upper echelons about China seeking to step up sway over sensitive worldwide supply chains and its potential access to advanced dual-purpose semiconductors and chip fabrication tools.
Chinese manufacturing certainly contracted during the pandemic in February 2020, and further weakening of the sector amid fresh infections in December 2022 brought home to Western MNCs the perils of overreliance on a single country source.  The "China Plus One" concept, interestingly coined way back in 2013, has since gained significant currency in Western business circles as a means of firewalling businesses from unplanned supply disruptions, unresolved trade issues, and geopolitical tensions linked to China.
India, the next attractive destination
Essentially, the China Plus One strategy for supply chain involves pivoting away from China, without disengaging from the country, and leaning toward the other Asian giant, India, to take advantage of the latter's capability to deliver at scale in key sectors like pharma, besides IT/ITeS, and metals. (Other candidates vying for a share of the "China Plus One" pie include Vietnam, Thailand, Malaysia, and Indonesia). India's $42 billion pharmaceutical sector is third largest manufacturer of medicines, globally, and accounts for a third of all pills consumed in the US.
As input cost inflations threaten to progressively erode the cost advantage of China's manufacturing base, attractive investment sops, production-linked incentives, FDA-compliant facilities, and competitive wages are giving India an edge in the global pharma landscape. At current prices, it costs pharma MNCs a third lower to manufacture in India. Besides, the country's pharma sector is busy energizing the domestic chemical ecosystem to cut back its dependence on China for key active pharmaceutical ingredients (APIs) by nearly a third. 
---
How your business can benefit from SpendEdge intelligence and solutions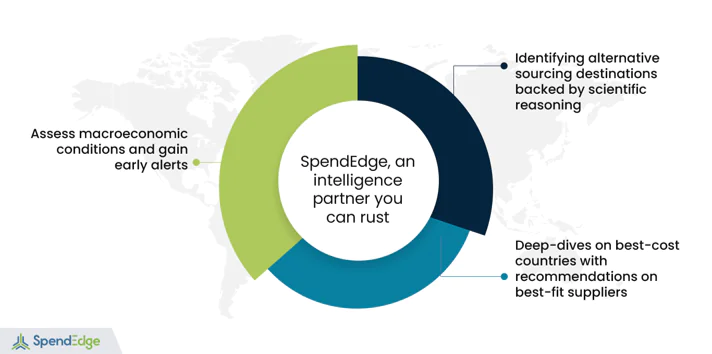 How Spendedge can help you:
Proliferation of chronic health conditions (e.g., cancer, diabetes, dementia) and elevated risk of pandemics is fueling growth in contract manufacturing spend by global pharmaceutical industry. Major pharma players are also betting big on post-China manufacturing locations, but businesses are scouting for partners who can put their money to work. At SpendEdge's pharmaceutical excellence center, 80+ experts work closely with market participants of all sizes in around 60 countries to streamline their contract manufacturer selection process.
Our clients have successfully expanded their manufacturing footprint in promising yet daunting markets like India, Vietnam, Thailand, Malaysia, and Indonesia with significant competitive advantages and competencies. This is helping clients reduce risk of overreliance on the supply from China, improve compliance score, and mercilessly cut back the cost flab. In a span of two decades, we have clocked 1,000+ demanding pharma projects! Our practitioners apply thoroughly vetted market intelligence data to specific contract manufacturing contexts to help clients discover efficient service providers in various country markets. We deliver services across the continuum of market intelligence services, covering regulatory requirements, sustainable practices, as well as supplier discovery, selection, and continuous KPI management.
An American pharma enterprise savors the early fruits of a China Plus One strategy:
Our client is a North America-headquartered pharma company with a significant dependence for dose manufacturing and packaging from vendors in eastern China. China is a key player when it comes to global API supplies, and this, along with lavish government incentives for pharmaceutical manufacturing and the famed China supply chain strategy, has attracted the client to Chinese shores nearly a decade ago. Affordable drug innovation was a big draw at that point with foreign drug manufacturers moving a diverse portfolio of R&D activities offshore to stay on the vanguard of innovation and breakthrough in drug development. Ever since, the client has improved its competitive edge a bit, besides benefiting from some cost efficiencies.
However, since the onset of the pandemic, there are a few disquieting questions about the continued feasibility of China as a single country source for drug development and production. For one, Covid lockdowns put the brakes on Chinese manufacturing, and domestic demand for medications moved the industry's focus in that direction, leaving MNC pharma players scrambling for alternative sourcing destinations. At the same time, the cost of China-made drug ingredients jumped by more than 2x. Moreover, minimum wages in several of the country's provinces are only about 4x lower than in the US.
Add to this input cost inflation and the country's cost competitiveness story seems to be losing its sheen. Besides, with the US clamping punitive tariffs on China since 2018, and Beijing responding in like manner, pharma businesses know there are going to be cost implications if they continue to build out their manufacturing bases in China. The tight pharma talent pool in the country, an after-effect of the one-child policy, is also proving to be a disincentive for foreign drug industry recruiters. Moreover, China's reported bid to increase its share of the global supply chain infrastructure might bring it into conflict with American interests, and as a US-domiciled business, our client is concerned that its supply networks might get embroiled in geopolitical tussles.
In early 2022, for the first time the client had a long and frank phone call with our experts about the potential of diversifying manufacturing away from China. In theory, overdependence on any one market certainly poses concentration risks for businesses, but only fact-based research can bear out the truth of that assumption. Our experts performed an in-depth assessment of the potential risks and limitations an exclusive China-centric sourcing policy is prone to. Furthermore, our teams looked over the sourcing best practices of peer groups to get an under-the-bonnet view of their sourcing markets with all their pros and cons. Our experts were able to give the client a measure of how various "China Plus One" opportunities (e.g., India, Vietnam, Thailand, Malaysia, and Indonesia) stack up against one another.
At the end of a month-long grueling study, our experts identified a short list of the top-three most attractive "China Plus One" sourcing destinations, further broken down by key considerations like supplier availability, capacity, quality, pricing, and political stability for each destination. As a next step, we assisted the client's procurement team in identifying the top 10 suppliers in each location, further detailing their capacity, market credibility, pricing, as well as certifications and qualifications. At the moment, the client's negotiation with tier-1 suppliers in a "China Plus One" market is in advanced stages.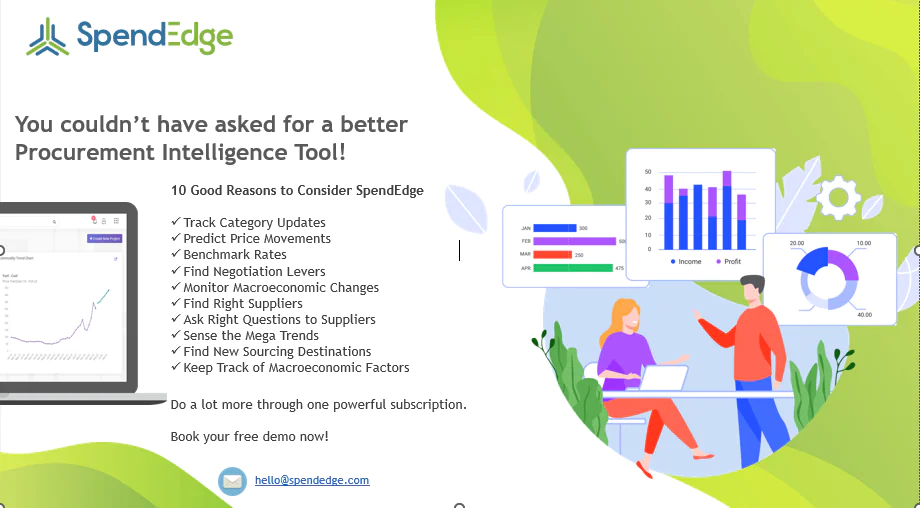 Click here to address your procurement problems:
Author's Details
Ankur Rishi
Vice President, Sourcing and Procurement Intelligence
With more than 12 years of advisory experience, Ankur manages platform content and services within the sourcing and procurement vertical. Over the years, Ankur has provided consulting services to category leaders from chemicals, energy, and packaging industry, on varied topics, such as category strategy, spend analysis, commodity pricing, and clean-sheet analysis.