If you ever wondered why your rice is clumped together or potato sticks to the pan, it is because of starch, a common carbohydrate found in staple starchy foods such as rice, potatoes, wheat, maize, and cassava. For plants, starch is an efficient way of storing more energy in less space. In industrial applications, starch has a wide variety of uses ranging from use to stiffen the textiles, give strength and shape to paper, add taste to beverages and confectionary items, to its use in various consumer products. Starch manufacturers produce different kinds of starch such as maize starch, potato starch, and wheat starch, but cornstarch is the most common form. The procurement market intelligence report from SpendEdge states that corn starch accounted for nearly 57% of the global starch production capacity by raw material during 2016.
With multiple starch manufacturers and suppliers located across the world, it is essential to evaluate supplier performance and competencies to make decisions for future contracts. So how can buyers assess supplier performance in the global starch market?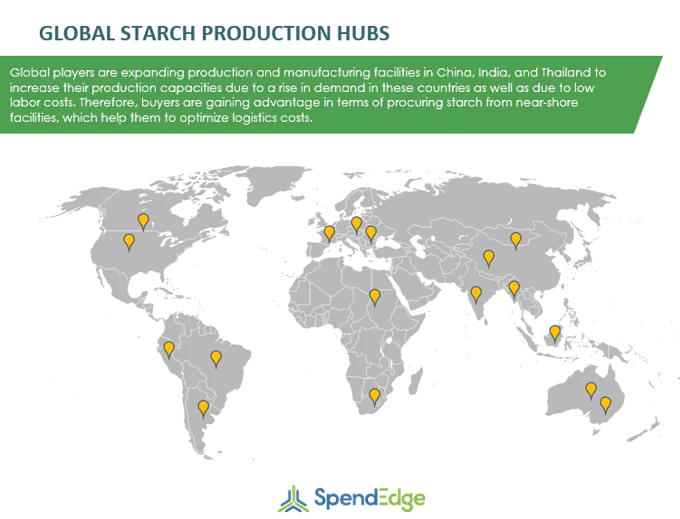 Supplier Evaluation Criteria in Starch Market
#1- Service Resolution Rate
Suppliers ability to respond to buyer's complaints in terms of quality of the starch, logistics issues, quantity, and packaging issues is a crucial indicator of the supplier performance. Ideally, buyers raise such complaints through complaint registration portal or email to which supplier should respond and ensure resolution within six weeks from the date the complaint was registered.
#2- Inventory Management Effectiveness
Buyers prefer to engage with suppliers who are reliable in terms of ability to provide effective inventory management. To assess supplier's effectiveness in inventory management, the buyer can use metrics such as reduction in average lead time, which should be within a week for local suppliers, 15-20 days for regional suppliers, and within a month for global sourcing of starch. Additionally, buyers should also ensure that starch manufacturers have adequate safety stock inventory in case of unusual demands. Other things to look for is JIT adherence and use of automated inventory management systems.
#3-

Efficient Plant Utilization Rate
Buyers can evaluate starch manufacturers based on their plant utilization rate; a higher percentage is indicative of lower variable costs. It signifies that the buyers can source starch from the suppliers at a lower rate. An ideal plant utilization rate in the starch industry is about 50%-60% of the total capacity.
#4- Lower Turn Around Time (TAT)
Apart from ensuring on-time delivery, starch suppliers should have a quick turnaround time (TAT) to respond to fluctuations in buyer's demand without any degradation in starch quality. Buyers will ideally stick around with starch manufacturers that can fulfill buyers needs in terms of JIT delivery of starch. In the starch market, an ideal turnaround time is considered to be around 4-5 days from the date of requirement.
#5- Logistics Capabilities
The transportation of starch is not straightforward as it looks. Complications arise due to the difference in transportation laws across borders and complexity in packaging due to exposure to heat or moisture. To evaluate supplier's logistics capabilities, buyers can assess the ratio of shipments damaged by shipments delivered.
Read more about the supplier assessment criteria for starch manufacturers along with pricing insights, sourcing strategy, key starch suppliers, procurement best practices and cost modeling in SpendEdge's upcoming report on the global starch market.

 Optimized procedure for starch preparation
Starch Source Selection:
The starting step is the selection of an appropriate source of starch based on your intended application, common sources include corn, potato, rice, and wheat. Different sources have varying properties, so the one that aligns with your desired outcome is chosen.
Raw material preparation:
This step of the chronological process involves cleaning the raw material to get rid of contaminants, waste, and filth, and the raw material should be ground or milled to remove the cell walls and liberate the starch granules.
Extraction of starch:
By combining the ground raw material with water, make a slurry. The source and the amount of starch in the raw material determine the water-to-raw-material ratio. The starch granules must be gelatinized by heating the slurry. This entails stirring while raising the mixture's temperature to a predetermined level (often between 60 and 70°C). If necessary, modify the slurry's pH. Alpha-amylase enzymes can be introduced to help break down starch into simpler sugars, to separate the starch slurry from the insoluble components, filter the mixture.
Separation and purification:
Now the starch slurry is left to settle so that it can separate from the other ingredients then cleanse the starch with water to remove any remaining contaminants after decanting the liquid portion. Further separating starch from water can be done using centrifugation or hydrocyclones.
Drying and milling:
Depending on the intended use, methods like drum drying, flash drying, or air drying to remove excess water from the starch are used to achieve the appropriate moisture content for storage and future use. The starch is next milled if it is determined to be necessary; this is typically done to achieve the desired size.
Quality control and storage:
Test the starch for parameters like moisture content, viscosity, gel strength, and purity to ensure it meets the required specifications, Store the prepared starch in moisture-proof containers to prevent degradation.